Posted on
By Mark Meissner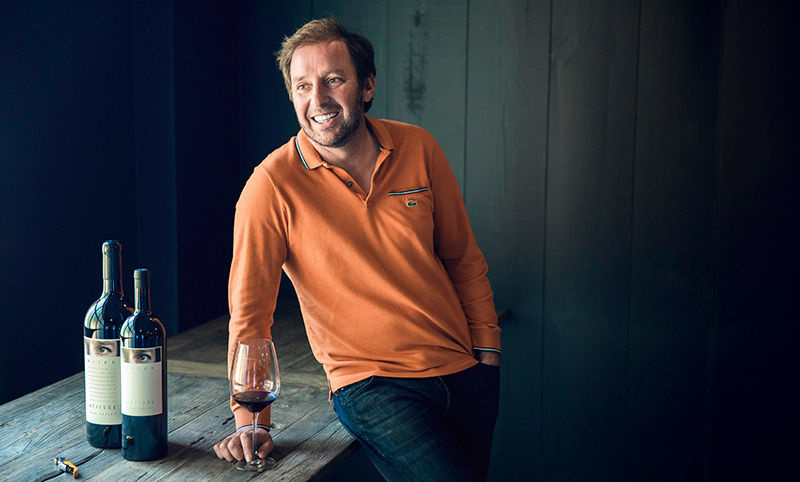 Greetings-
Join us this week, for our first Zoom-based wine event of 2021. We are starting off the year with a real bang, and are absolutely thrilled to bring you the first and most coveted french-born & trained winemaker in Napa Valley...
Philippe MELKA.
This ZOOM-based tasting starts at 6pm next Friday 1/22 with four celebrated wines handcrafted by Philippe. We will be tasting a lineup of one white and three reds, with a special bonus showing with Philippe's right-hand & spouse, Cherie Melka. It all happens online and you're invited.
So if you're passionate about MELKA wines and Napa Valley, THIS is a brilliant tasting you won't want to miss. And for those that are new to Philippe's wines, please read on. Let's get this 2021 started on a positive note and some really fabulous wines!
Rewind to pre-COVID and 2019... when we had the distinct pleasure of hosting Cherie Melka for a special wine dinner - so it's a real pleasure to have both Cheri and Philippe on the line. Yes, the wines are certainly higher-end, make no mistake - so consider the $79 tasting kit a real treat. We're hoping you'll consider the wines for your first special wine buys for the 2021 collection!
There are only 35 kits available at this price and it's first-come, first served. And with our early announcement, half of these have already been pre-sold. So let your 2021 wine resolution be "don't delay your next wine moment!"
Here's how you can PARTICIPATE - two-ways:
A) You can purchase the flight kit @ $79 (which includes all four wines in 5 ounce bottles, OR;
B) You can purchase all four bottles at $466, a very nice discount from $518 regular retail (this week, pre-event only).
Either way, you'll be enjoying the wines at a compelling price AND be drinking with this winemaking superstar and us, streaming live via ZOOM from Napa.
TO RSVP, please email or call us to pre-pay for either the tasting kit or the full bottle set.
Read on for the primer!
As always, our Zoom tasting events are carefully planned and presented, with the paramount goal of bringing you only the best and brightest winemakers to further your passionate wine journey - THAT is why we do these tasting events!
Here is your login info:
Topic: Petit Philippe Present's MELKA Estates!
Time: Jan 22, 2021 06:00 PM Eastern Time (US and Canada)
Join Zoom Meeting
https://us02web.zoom.us/j/87823215096?pwd=K1lrRWlaRGVDczRGalFnSGorcEYrZz09
Meeting ID: 878 2321 5096
Passcode: (provided upon reservation)
The wine tasting 'kit' pickup will be next Thursday 3-5pm and Friday 11-5pm.
We're also offering a compelling 20 Degrees Chocolate pairing with the wines, that's an easy $15 delicious way to round out this Zoom event, just ask.
You can also go all-in with our Orrman's cheese package @$37, just ask.
Be well & stay safe, read on and see you on the ZOOM!
Cheers-
Mark
MELKA ESTATES
ZOOM Tasting & Online Visit with the owner and winemaker Philippe Melka & Cherie Melka - LIVE Friday 1/22 @6pm via ZOOM
Like the celebrated wines on which he's built his reputation, Philippe Melka's career has been influenced by soil.
A native of Bordeaux, Melka grew up intrigued by the intricacies of the land around him. When it came time for college, he acted on his childhood interests, earning a degree in Geology at the University of Bordeaux. A class in winemaking in his final year was a turning point, propelling him to earn a Master's degree in Agronomy and Enology.
Melka has the rare combination of talent and fortune to be a winemaker who started at the top: his first job out of school was at Château Haut Brion. From there, he took a position with the reputable Moueix Company and was sent to Dominus Estate in Yountville to study soils in 1991. Napa Valley soil proved to be a revelation for Melka. He set out traveling, dividing time between soil study and winemaking at world renowned wineries Badio O Coltibuono in Chianti and Chittering Estate in Australia. He returned to France in 1993 to deepen his expertise at Chateau Petrus.
He has been fortunate to have been trained and influenced by some of the most notable personalities in the wine business such as Jean Delmas and Jean Philippe Masclef from Haut-Brion, Christian Moueix and Jean Claude Berrouet from Petrus, Paul Draper from Ridge, Daniel Baron from Silver Oak and the globetrotting wine consultant Michel Rolland with whom he continues to work with on consulting projects (LAIL, BRAND, ADAMVS, SEAVEY, MOONE-TSAI and VINEYARD 29 - to name just a few).
In 1994, he returned to Napa full time, and for the past 20 years, Melka has served as winemaking consultant for some of Napa's most highly regarded properties under his company Atelier Melka founded in 1995. As co-proprietor of Melka Estates, Philippe and Cherie produce four distinct labels that reflect their philosophy of soil driven wines: Metisse from Napa Valley, Mekerra from Sonoma Valley, Majestique from around the world and CJ, also from Napa Valley.
Join us Friday 1/22, meet Philippe Melka and taste through FOUR of his boutique estate wines:
2016 Melka Mekerra White 
$162 retail
2017 Melka Majestique GSM
$85 retail
2016 Melka Mekerra Merlot
$162 retail
2016 Melka CJ Cabernet Sauvignon
$109 retail
CALL OR EMAIL FOR YOUR KIT RESERVATION/PURCHASE. 704-332-9910.