Posted on
By Mark Meissner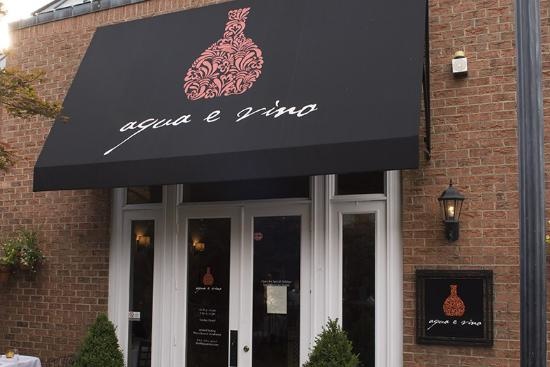 After our 2020 pandemic-related wine dinner hiatus, we're back.

And back big time.
We've put together an all-star lineup of Italian icons from Italy's renowned regions of: Soave-Veneto, Friuli-Venezia Giulia, Barolo-Piemonte, Etna-Sicilia and Bolgheri-Toscana. It's a brilliant tour around the country and co-hosted with Master Somm, Brett Davis. Brett is the educational ambassador for LUX, the exclusive US importer of the labels we've brought in for the dinner. Read on for more info on Brett!
Dinner information, menu and wines are noted below. Due to pre-sale announcements last week, tickets are already limited, so if you're interested in a firm reservation, please call us to purchase your tickets at 704-332-9910.
Tickets are $149/pp plus tax and due to pandemic and group reservation criteria to executing an event of this scale, we are unable to request chef adjustments or substitute menu items. Thank you for understanding. Menu is fixed and we are only able to accommodate 48 guests.
We will host half our guests inside and half outside on a tented patio. If you have a preference for interior or exterior seating, please let us know upon securing your reservation. Thank you!
We look forward to seeing you on Thursday Nov 11th 2021.
 _____________________________________ 
Chef/Owner Gabriele Grigolon
AQUA e VINO
CO-HOSTED with:
Mark Meissner, Petit Philippe
+ Brett Davis, Master Sommelier
Educational Ambassador
LUX Wine Estates
_____________________________________
M E N U
Thursday, Nov 11th 2021
6pm Arrival/Champagne Reception
6:30pm dinner call
Reception
Champagne Jacquart 'Mosaique' Brut NV
Rinfresco 
Barbajuan - swiss chard - sausage - butternut squash parmigiano 
Pieropan 'La Rocca' Soave Classico DOC 2019
Cena 
Crudo di branzino basil citrus
Jermann 'Vintage Tunina' Fruili 2019
Ricotta and Grano Arso Cavatelli, Broccoli rabe, marguez ragu,
Tornatore 'Trimarchisa' Etna Rosso DOC 2017
Faraona in tecia black truffle, butternut squash gnocchi, sonchokes 
Renato Ratti 'Rocche dell'Annunziata' Barolo DOCG 2017
Wild board filet, cavolo nero chestnut
Allegrini - Poggio al Tessoro 'Dedicato a Walter' Cabernet Franc 2015
Twenty Degrees Chocolate
Hand-crafted Seasonal Chocolate Truffles
We know you have an incredible passion for all things Italy, so please don't hesitate and make your reservation today for our Annual Italian Dinner.
________________________
THURS NOV 11th
6:00pm (reception) and 6:30pm dinner
AQUA E VINO
4219 Providence Rd., #3
Charlotte, NC 28211
If you can make it, kindly give us a call 
at the store (704) 332-9910 
to purchase your tickets today! 
We will make all efforts to refund your reserved ticket, but inside of the 48-hour window prior to event commencement, we cannot guarantee them. Thank you for understanding!
Thank you and we look forward to seeing you soon -
PETIT PHILIPPE
(704) 332-9910
About our host: Brett Davis, MS
Brett Davis is the Ambassador & Education Manager of Lux Wines, an importer and marketer of luxury wines with an emphasis on prestigious family owned Italian wineries including Allegrini, Pieropan, Jermann, Ratti, Otello Ceci, Poggio al Tesoro, Brancaia, Argiano and Tornatore. Lux Wines also imports Saint Clair from New Zealand and Department 66 from France and represents Pahlmeyer, Jayson and Mt. Peak from California.
In 2009, Brett passed the Court of Master Sommeliers' diploma level exam and earned the title of Master Sommelier. Just over two hundred fifty individuals worldwide have earned this certification over its fifty-year history.
In addition to his current position, Brett consults with restaurateurs, wholesalers and retailers nationally with beverage and service training. He consults with start-up brands creating new products, advising on flavor profiles and development. Considered one of the resident whiskey and spirits experts for the Court of Master Sommeliers, he judges spirits contests, gives regular lectures and proctors monthly exams for others going through the certification process.
Most recently. Brett Davis was the chief operating officer for Falls City Hospitality Group (FCHG) in Louisville where he spearheaded concept and design development, while managing the operations and beverage programs for all properties. Brett founded the group in 2010.
A native of Knoxville, Tennessee, Davis started working in kitchens at the age of 16. He's waited tables at legendary Commander's Palace in New Orleans and held positions at restaurants across the country including Michael's in Santa Monica and Geronimo in Santa Fe. Prior to FCHG, he spent 10 years as the Sales Manager for Vintner Select, a major wine importer and distributor carrying more than 2,500 wines from around the world.
We are thrilled to be co-hosting the event with Brett.