Posted on
By Mark Meissner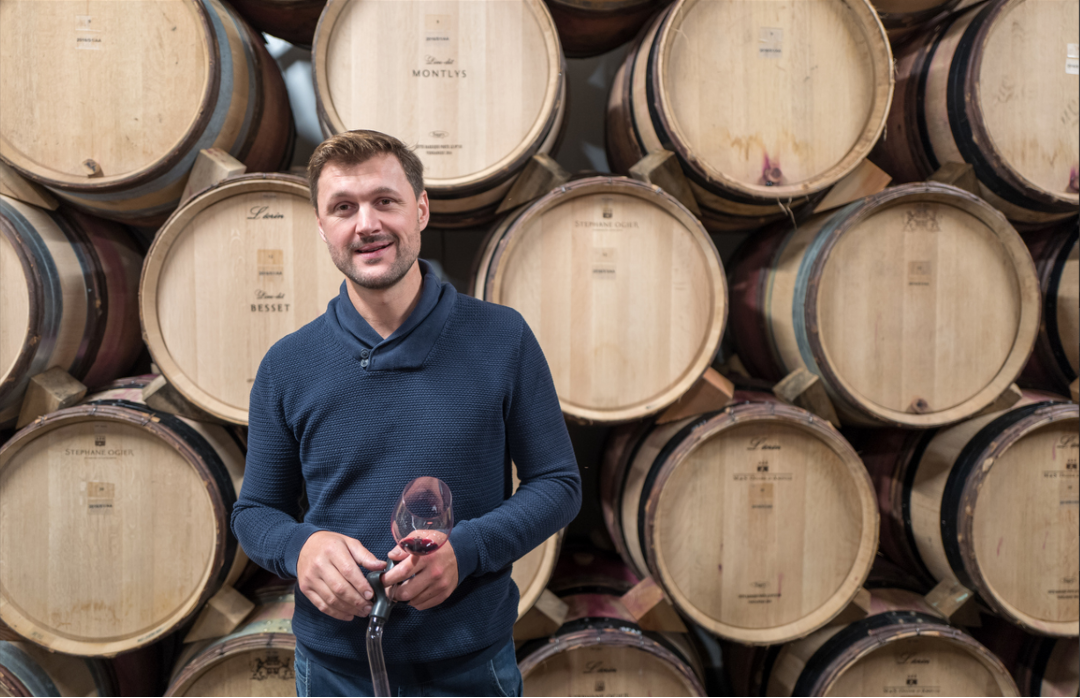 Greetings!
Join us for a very special in-store tasting with Côte-Rôtie celebrated producer, Stéphane Ogier, next Saturday March 19th at 5pm!
We're BACK with our full tasting room programing, and will have Stéphane joining us LIVE via the big screen.
Limited in-store tix are available as of TODAY, and just $33/pp.
More info on this Rhône Valley iconic producer from the village of Côte-Rôtie below.
We look forward to seeing you in-store next Saturday March 19th from 5-6pm. Tickets are available 
HERE
 with no online ticketing fees. The tasting is just $33+tax.
See you soon!
With much gratitude,
Mark
STÉPHANE OGIER, Live via big Screen from France's Côte-Rôtie!
Saturday March 19th @ 5:00pm (US Eastern) 11pm (France)
Côte-Rôtie Primer:
Côte-Rôtie is an AOC in the northern Rhône wine region known for its ribbon of vineyards hugging the granite western walls of the valley surrounding the town of Ampuis. As the name implies, various slopes are indeed "roasted" (rôtie) in the summer months given the long sun exposure. The terraced vineyards above the Rhône River can be very steep with gradients reaching 60% making the need to manage erosion and utilize pulleys/monorails a necessity in the winemaking process. The two original vineyards of Côte Blonde and Côte Brune exemplify the differences in terroir found throughout this AOC. The areas comprised with more granite, sandy/slate soil, and a limestone element yield softer, earlier-developing wines. Meanwhile soils featuring schist and iron-darkened clay highlight a firm tannin structure ideal for cellaring. The Syrah grape indigenous to the Rhône Valley thrives under these growing conditions to make dark, powerful, spicy reds with some savory notes. Unique to Côte-Rôtie, Syrahs can also be blended with a small percentage of white Viognier grapes to add texture and help accentuate red fruit and floral characters on the nose.
Côte-Rôtie Timeline:
- Origins date back to the Romans when the region was known as Vienne.
- The region began to attract local recognition once again in the mid to late 1700s. At the time, most of the wine was sold to locals as transportation was difficult.
- This started to change in 1829, thanks to the advent of steamships, and again in 1855, when shipping by rail become cost-effective, making it easier for wine to be transported to Lyon.
- During the 1800s, Côte-Rôtie lagged behind Hermitage in price and stature.
- Like the majority of Europe, the vineyards were devastated by Phylloxera in the late 1800s.
- The depression-era did not help, as the hillsides were too difficult and expensive to re-cultivate. Between World War 1 and World War 2, landowners made more money growing apricots and cherries than they could by selling wine!
- Côte-Rôtie became an official AOC appellation in 1940
- It took the arrival of the energetic Etienne Guigal in 1946 to the region to bring the wines to the forefront of the world wine stage. The revival of the fortunes for Côte-Rôtie started to take place in the late 1960's.
- While more land was being cultivated in the 1970s, many growers were still planting apricots, cherries, and vegetables in order to earn a living.
- It took until the late 1980s for the growers in the region to begin earning enough money to become full-time vignerons.
- The world has since "discovered" Côte-Rôtie, prices have risen, and by 2017 the vineyard area had more than quadrupled to 761 acres- overtaking Hermitage in terms of amount of wine produced.
Stéphane Ogier – Owner & Winemaker
Stéphane Ogier represents the 7th generation that has taken care of the family vines on the hillsides of Ampuis in the Northern Rhône valley. At age six he proclaimed his desire to be a winemaker and at 14 he really began to find his passion for wine. Having studied in Beaune (Burgundy), he retained a fascination for terroir and for the finesse of Burgundian tannins. He also spent some time in South Africa, an experience that galvanized his mindset: "Wines in other countries are extraordinary, but I wonder if France's terroirs have something you can't find elsewhere." He also believes in the potential of Côte-Rôtie to produce wines that equal Burgundy's grands crus. "I don't even want to blend them, they're so good on their own."
Upon his arrival back in France, Stéphane and his father wanted to create a single-parcel cuvée using the old vines they grew on the Côte Brune. They called it 'La Belle Hélène'. It is an exceptional cuvée named after Stéphane's mother and it always stands out from the rest. In its third vintage (1999) the cuvée received a full score of 100/100 from Robert Parker, putting it at the same level as Guigal's trio La Mouline, La Landonne and La Turque. Subsequent vintages of "La Belle Hélène" have also received 100 point scores.
Beyond the creation of single-parcel cuvées, the domain has evolved with the inauguration of a €3 million, ultra-modern winery in 2015. It took two years of discussion with their architect to reach a design that worked: on the ground floor, there are 600 casks for vinifying and maturing the wine, then there is a reception, offices and a tasting room upstairs. Nothing has been left to chance, and the domaine now has space for 45 stainless steel vats, meaning that they can extend the harvest when necessary.
The domaine now produces wines from 27 acres of vineyards in some of the most famous Côte-Rôtie areas, such as Lancement, Côte-Rozier, and La Viallière. Today, the wines have become a reference point for the appellation and are sought after by the greatest chefs and most serious wine lovers around the world.
I'm very pleased and honored to be pouring FOUR brilliant wines with Stéphane Ogier, LIVE via big screen into the tasting room. We'll be pouring:
1) Domaine Stéphane Ogier Viognier de Rosine
Northern Rhone 2018
2) Domaine Stéphane Ogier Le Temps est Venu
Côtes du Rhône Rouge Northern Rhone 2018
3) Domaine Stéphane Ogier Syrah La Rosine
Northern Rhone 2018
4) Domaine Stéphane Ogier Côte Rotie Réserve
Cote Rotie 2015
Prices range from $30 to $169 retail, with special pricing at the tasting!
Tickets are available for the IN-STORE tasting 
here.
There are a limited number of in-store tix available.
DUE TO THE ANTICIPATED DEMAND FOR THIS EVENT, WE ARE ONLY TAKING ONLINE ORDERS, ON A FIRST-COME, FIRST SERVED BASIS. THANK YOU!
PARTICIPATE TWO-WAYS:
IN-STORE Tasters will experience the wines poured for you with Stéphane OGIER on the BIG screen via live telecast.We look forward to tasting with you.