Posted on
By Mark Meissner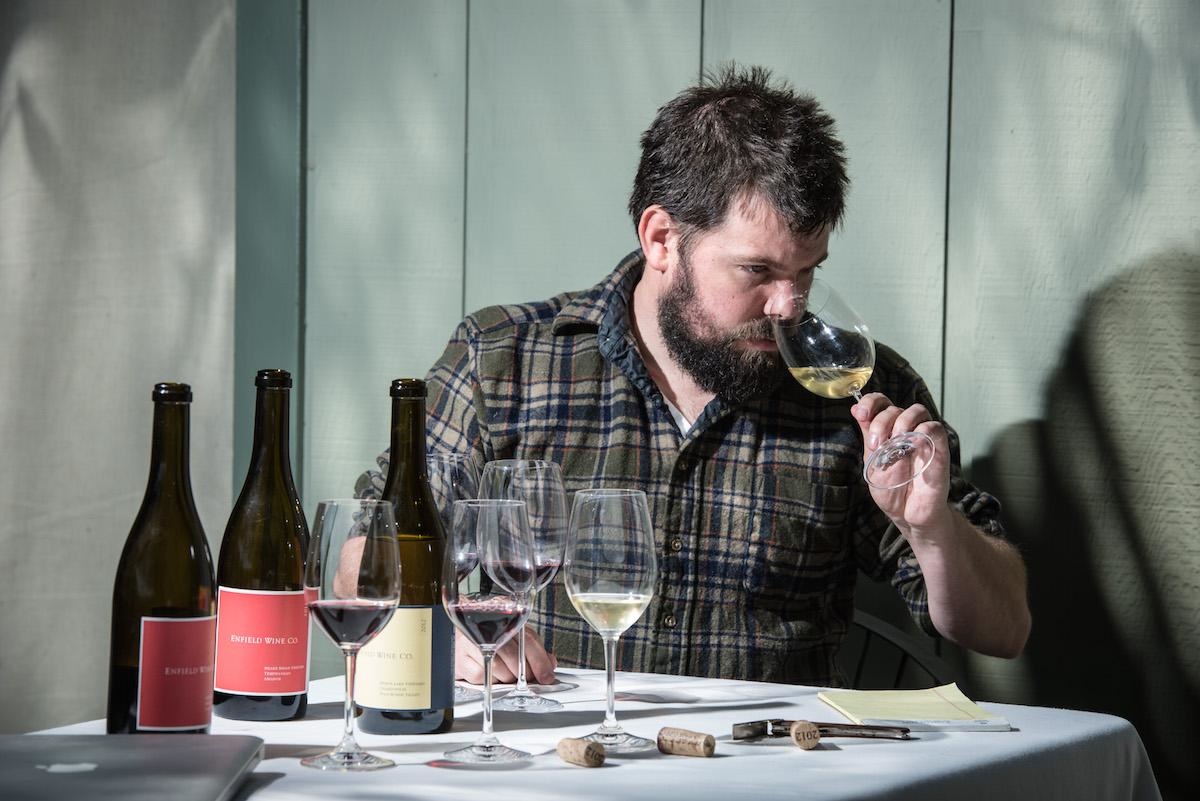 THIS THURSDAY, MARCH 3rd we bring you a special in-store tasting streamed LIVE with John Enfield Lockwood of ENFIELD WINE CO.
The tasting will be available for you in two ways:
~> 
Reserve
 a seat (limited) for an IN-STORE experience; OR
~> 
Reserve
 a tasting kit for an IN-HOME experience (for two ppl).
This vintner visit is an opportunity to taste and interact with THE WINEMAKER, John Lockwood, streaming live to the tasting room from Sonoma:
FOUR expressive, boutique wines from ENFIELD WINE CO
$29 flight (in-store per person)
Or pickup your $59 tasting kit for two (take-home)
JOIN US!
... while the zooms last.... they are coming to an end soon. Yup.
Your choice: joining us in-store, or pickup the take-away kit!
More details - read on for ticket info and the primer on ENFIELD Wine Co.
ENFIELD WINE CO.
Hosted with John 'Enfield' Lockwood
THURSDAY March 3rd 6-7pm
$29/PP in-store tasting OR
$59/Kit-for-two PPL takeaway tasting kit
Enfield Wine Co. is the family project of John Lockwood and Amy Seese, with a focus on producing wines of personality. We do not subscribe to the ideal of the perfect wine, but to the notion that the very best wines tell a unique story.
Driven by soil first and foremost, Enfield Wine Co. seeks out vineyards that possess a distinct and powerful sense of place – across region, grape variety, and vine age. Working only with small vineyards and independent growers, every step of the process is guided by the intent to maximize this character of terroir. Grapes are harvested for balance and the wines are all given the chance to ferment naturally.
The lineup of wines extends from fresh, mineral driven everyday wines, to quirky "off the beaten path" vineyards and varietals, and age-worthy wines of elegance and power from classic regions of California. Each has its own story to tell.
MEET JOHN LOCKWOOD
After surviving a summer job in high school hand-weeding grape vines at a winery in Vermont and studying as an apprentice to a Master Luthier (guitar builder) in Oakland, John got his start in the California wine industry in 2004 working up at Heron Lake vineyard with David Mahaffey. He went on to work harvests with Ted Lemon at Littorai, Bodega Melipal in Argentina, and Failla Wines with Ehren Jordan where he worked for 5 years farming and managing the Sonoma Coast and Russian River estate vineyards. He started Enfield Wine Co. in 2010 as small side-project while still working at Failla, and in 2013 took the plunge with Enfield as a full time project.
You'll find a great article from the NY Times which I've included below. It was just a few years ago that we first noticed the wines from John.... please READ on!
I'm very pleased and honored to be pouring FOUR brilliant wines with John Lockwood hosting us LIVE via Zoom:
1) Enfield, Heron Lake Pinot Noir, Wild Horse Valley 2018
2) Enfield, "Pretty Horses" 2019
3) Enfield, Abba Vineyard Grenache 2020
4) Enfield, Waterhorse Ridge Cabernet Sauvignon 2018
Prices range from $30 to $70 retail, with special pricing at the tasting
Tickets are available for the IN-STORE tasting or TAKE-HOME kit tasting-for-two .
There are a limited number of in-store tix and tasting kits available 
HERE
.
DUE TO THE ANTICIPATED DEMAND FOR THIS EVENT, WE ARE ONLY TAKING ONLINE 
ORDERS
, ON A FIRST-COME, FIRST SERVED BASIS. THANK YOU!
PARTICIPATE TWO-WAYS:
IN-STORE Tasters will experience the wines poured for you with JOHN LOCKWOOD on the BIG screen via live telecast.
AT-HOME Tasters will experience the same wines in the comfort of your home when you pickup the small bottle tasting kit from 12 noon onward, on the day of the event. You'll then be able to connect to the tasting and interact via ZOOM.
We look forward to tasting with you.
Excerpt from the NY TIMES:
THE POUR
The Art of Winemaking on the Cheap
Young producers with little money and no vineyards face obstacles in building their businesses, but with maximum effort it can be done.
How do you make a small fortune in the wine business? Start out with a big one.
Yes, it's an old joke, but that does not diminish its essential truth. To live the mythical good life as a wine producer is excruciatingly difficult, unless you start out with a lot of money, inherited vineyards or both. Particularly in California. Especially in Napa Valley.
Even so, a number of young, intrepid winemakers are demonstrating that it can be done, by working around the edges, going where few have gone before and putting in plenty of sweat equity. Some are making great wines, too.
He is based here in the city of Napa, but few of his wines are entitled to the Napa Valley appellation. Until recently, Mr. Lockwood never made a Napa Valley cabernet sauvignon, the wine for which Napa is most famous. He could not afford to buy the grapes, which he said sold last year for an average of $7,500 a ton.
Instead, he patrols the fringes, buying fruit grown in the Heron Lake Vineyard, just over the border from Napa County in Solano County — the wrong side of the tracks. Consequently, the grapes are much less expensive than Napa fruit, and their appellation, Wild Horse Valley, has none of the built-in selling power that comes with being able to put Napa Valley on the label.
Nonetheless, Heron Lake, on a stony hillside of shallow volcanic soil, produces excellent fruit that dovetails with Mr. Lockwood's taste for fresh, intense, textured wines that are expressive at low levels of alcohol, generally under 14 percent and frequently under 13 percent.
Aside from Heron Lake, Mr. Lockwood also buys chardonnay from Calaveras County, tempranillo from Amador County, cabernet sauvignon from Fort Ross-Seaview on the Sonoma Coast (an area widely thought to be too chilly for cabernet) and small amounts of syrah and chardonnay from the Haynes Vineyard in Coombsville, in the southeastern corner of Napa Valley.
Casting such a wide net for grapes is not unusual for a producer in Mr. Lockwood's position.
"It's challenging in California, but also sort of the norm among my peers," he said, as we sampled a few wines in the dining room of his house in the suburban Alta Heights section of Napa, which also doubles as his tasting room. As we drank, Amy Lockwood, his wife, showed him a mock-up of a possible wine label she was designing before darting off to pick up London, their 5-year-old daughter.
In his last vintage while at Failla, Mr. Lockwood produced 400 cases. This year, he expects to have 2,400 cases, which may be the limit of what Enfield can do under its current configuration.
In 2017, Mr. Lockwood for the first time drew a full salary from Enfield. Ms. Lockwood left the chamber and is now helping with the wine company.
"I have to decide whether I want to stay small and keep it a one-man show or grow it into a proper business and hire an employee or two," Mr. Lockwood said. He is conscious, however, that the more he grows, the more administrative work may intrude on what he loves to do: work in the vineyards and the cellar.
"I enjoy the physical work," he said. "I got into the work because I didn't want a desk job."
Complicating his decision is the fact that this year Mr. Lockwood took charge of farming the 10-acre Heron Lake vineyard. The owners were otherwise planning to sell it, and taking responsibility for the vineyard was the only way to ensure a supply of fruit. He has also taken charge of a one-acre, dry-farmed, organic cabernet sauvignon vineyard on Hennessey Ridge in the Vaca Mountains on the east side of Napa Valley, and finally has had the chance to make Napa cabernet.
"The whole point is to learn," he said.
Mr. Lockwood grew up far from vineyards, in Washington, D.C., where his father was a lawyer and his mother a speechwriter. In high school, he was more interested in hot sauces and the nuances of their flavors than wine. But he gained a taste for wine as a student at Bowdoin College in Maine, and fell in love with it on a trip to the Bay Area.
Simultaneously, he was developing an interest in woodworking. After college, he moved to Taos, N.M., to work in a furniture shop. A co-worker was constructing his own mandolin and, Mr. Lockwood said, he became obsessed with building instruments.
But one day a winemaker, David Mahaffey, came in the shop. He was an amateur woodworker who was building himself a guitar and wanted to trade wine for woodworking tips.
From there, Mr. Lockwood was hooked. He left guitar-making after three-and-a-half years, worked the harvest at Littorai in 2007, spent a year in Argentina, then joined Failla in 2008.
While Mr. Lockwood is gratified at the reception the Enfield wines have received, he fears he will never have the opportunity to own a vineyard himself, and wonders about his future.
"Is the goal to grow and then to sell out? I don't love that," he said. "Or is the goal to do the best you can and make the best wine? Maybe that's enough.
"Honestly, I spend so much time trying to make this thing a business that I don't have a lot of time to think about it," he said. "It's the nature of the wine industry: we're all kind of maxed out."