Posted on
By Mark Meissner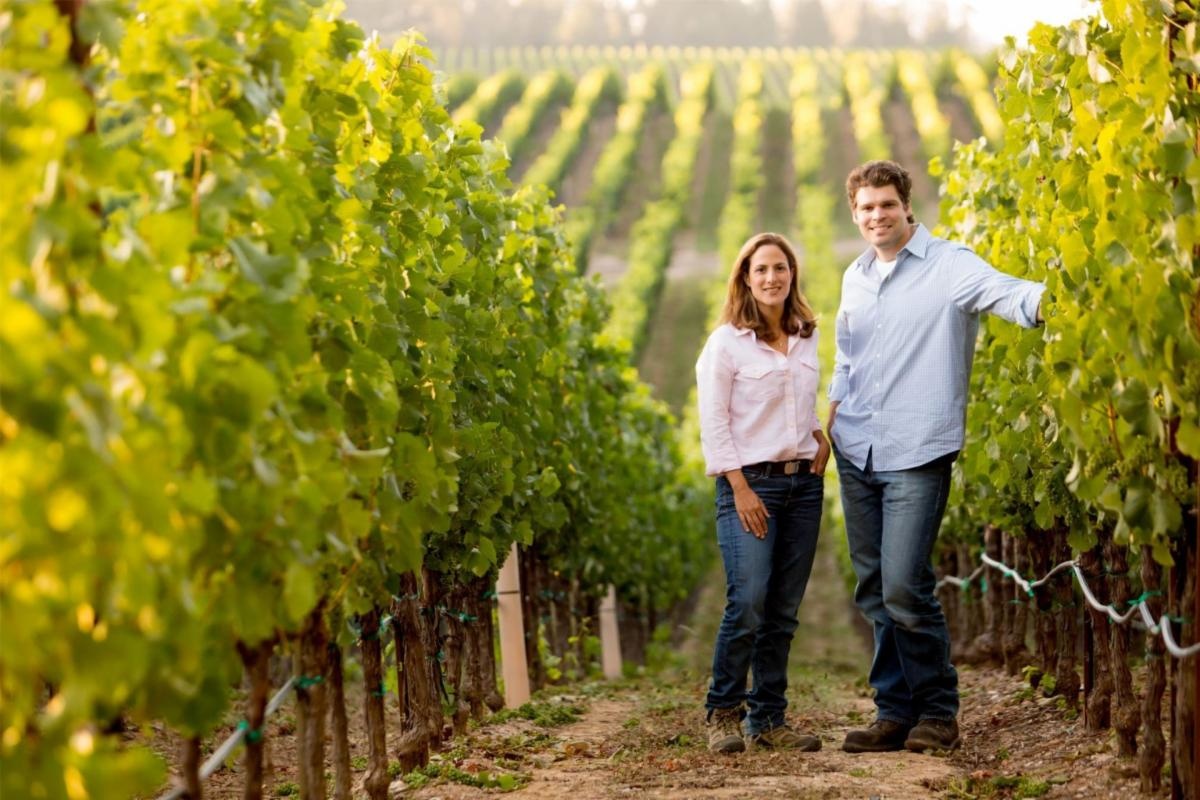 What attracted a driven Columbian, globe trotting winemaker to California's Santa Lucia Highlands? Well, another successful winemaker..!
JOIN US for our next winemaker zoom-based tasting with California winemaking husband and wife superstars Jeff Pisoni and Bibiana González Rave-Pisoni!
Learn why they're a match made in wine-heaven THIS Friday April 23rd at 6pm. The focus will be SIX wines: Rosé, white and red wines, across multiple varietals and two distinct wine estates!
Bibiana and Jeff are a power couple who blend a storied family legacy with smarts, grit and determination!
We'll be 1-on-1 with Jeff Pisoni of Pisoni Vineyards and Bibiana González Rave of Alma de Cattleya. It's not a surprise that they're on everyone's radar… and have been for some time. Thanks to their award-winning wines, deeply rooted philosophy towards winemaking and constant pursuit of excellence, this husband-wife team, married since 2011, are a force.
We are fortunate to have both of them online for a special spring virtual tasting of new releases & delicious examples from Pisoni Vineyards and Cattleya wines.
You will have the opportunity to taste these small production, highly expressive wines that have been exclusively selected by Petit Philippe.
There are a limited number of tasting kits available at this price and it's first-come, first served!
Here's how you can PARTICIPATE:
* You can purchase the flight kit @ 49! (which includes all SIX wines in 5 ounce bottles.
* You can purchase a discounted bottle set for $287.85! (discounted from $303 retail)
or copy this link to your browser:
https://www.eventbrite.com/e/zoom-tasting-of-cattleyapisoni-with-bibianajeff-winemaking-duo-tickets-151230605813
DUE TO THE ANTICIPATED DEMAND FOR THIS EVENT, WE ARE ONLY TAKING ONLINE ORDERS, THANK YOU.
As always, our Zoom tasting events are carefully planned and presented, with the paramount goal of bringing you only the best and brightest winemakers to further your passionate wine journey - THAT is why we do these tasting events!
Zoom login information will be provided with your confirmed reservation via email.
The wine tasting 'kits' will be available next Thursday, April 22nd after 3pm and Friday April 23rd after 11am!
We're also offering:
Our 20 Degrees Chocolate pairing with the wines, that's an easy $15 delicious way to round out this Zoom event, just ask.
Our Orrman's cheese package @$37
FOR ALL RESERVATIONS, PLEASE PURCHASE ONLINE 
HERE
!
Be well & see you soon!
Mark
Meet Jeff and Bibiana...
ZOOM Tasting & Online Visit with the winemaking husband & wife duo!
LIVE FRIDAY APRIL 23rd @6pm via ZOOM
Jeff Pisoni
Termed "California's Best Single Vineyards" by Steve Heimoff in Wine Enthusiast, "one of California's true 'cult' vineyards" by Jeff Morgan in Drinks Magazine, and "some of the top wines from California" by Jeff Dunnuck, the Pisoni family is exactly where it wants to be. Their legendary wines, cultivated in premium vineyards in the Santa Lucia Highlands, are hand-crafted with consistency and exceptional quality. The state of the art winemaking facility at Pisoni Vineyards uses gravity flow as part of the custom design developed to integrate the estate vineyards and winery. There are three labels: Pisoni Estate, Lucia and Lucy.
The Pisoni Family handcrafts Lucia wines from the Pisoni, Garys' and Soberanes Vineyards of the Santa Lucia Highlands. Jeff shared that 2018 was an exceptional year for grape growers and winemakers due to optimal amount of rain in the winter, moderate temperatures in spring and summer and a magnificent harvest season.
As a child, Jeff grew up in a family immersed in the practices of farming and winemaking. A fascination with science prompted him early on to elect winemaking for his own profession. Jeff earned a Bachelor of Science degree in Enology at California State University, Fresno and put his degree into practice at Peter Michael and Bernardus wineries prior to becoming vintner for Pisoni. Making wine allows him to extend his knowledge of and appreciation for the natural sciences every day.
Now meet his rockstar wife... who is also a brilliant winemaker. We had Bibiana on ZOOM last year and it was a thrill to meet her. The event was a huge hit, so we've got her back for her new releases!
Bibiana González Rave
After an extraordinary experience working at Château Haut-Brion, Bibiana moved to Sonoma County in 2004 and gained winemaking expertise working 14 harvests in California at wineries that included La Crema, Peay Vineyards, Au Bon Climat and Qupé, before becoming the director of winegrowing and winemaking at Lynmar Estate in 2009. Bibiana would leave Lynmar Estate in 2011 and become the winemaker for Pahlmeyer's Sonoma Coast project, Wayfarer, in 2012. At Wayfarer she has crafted exceptional Pinot Noirs and Chardonnays that have made my annual All-Americans list. Bibiana was named "2015 Winemaker of the Year" by The San Francisco Chronicle, and her wines have received considerable praise from the wine press.
Most recently, she launched her own brand, Cattleya ("Cat-LAY-a"), the culmination of a dream that started more than 20 years ago, offering vineyard-designated Pinot Noir, Chardonnay and Syrah. Cattleya is an orchid, the national flower of Colombia, and is one of the most beautiful and delicate orchids in the world. They reflect passionate and experienced winemaking of the highest standards and are connoisseur's wines by a Colombian-born, French-trained, California-based winemaker.
Bibiana González Rave wants her wines to be accessible, affordable and, of utmost importance, to be shared and enjoyed with friends and family. With each sip, these wines embrace the soul of her California home with its vineyards, orchards and farms and the love for her homeland and those important to her there. 
In their newest joint endeavor, Bibiana and Jeff have partnered to make a wine called Shared Notes, a high-end Sauvignon Blanc.
Here is the ZOOM tasting lineup!
2020 Pisoni Lucy Rose $23 retail - JEFF presents!
2020 Alma Cattleya Sauvignon Blanc $24 retail - BIBIANA presents!
2018 Pisoni Lucia Chardonnay $50 retail - JEFF presents
2019 Cattleya Cuvee No 5 Chardonnay $62 retail - BIBIANA presents!
2019 Cattleya Cuvee No 1 Pinot Noir $67 retail - BIBIANA presents!
2017 Pisoni Gary's Vyrd Pinot Noir $77 retail - JEFF presents!