Posted on
By Mark Meissner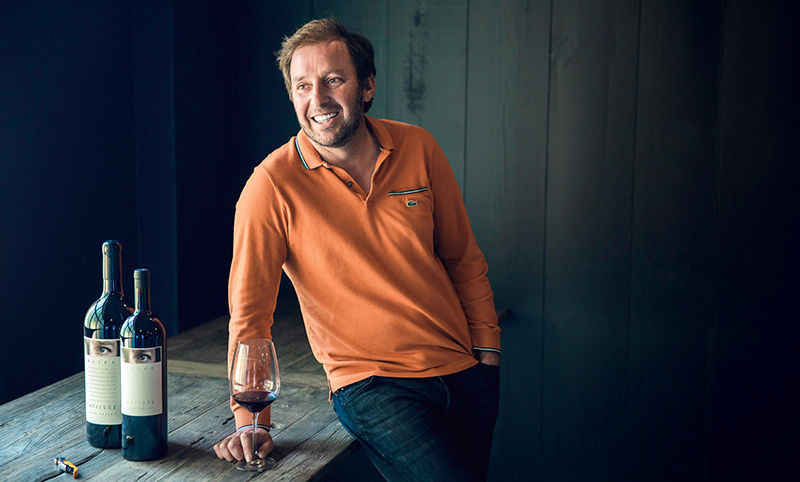 Wine Dinner Reception with
Napa winemaking celeb:
Philippe Melka
of
MELKA
Estates
Thursday, April 28th
6pm champagne arrival
6:30pm dinner reception
Reserve your tickets today!
Join us Thursday evening, April 28th for our first in-store reception and wine dinner (post Covid). This CLT exclusive event features the first and most coveted french-born & trained winemaker, now considered Napa Valley's most celebrated french winemaker:
Philippe MELKA.
Yes, Philippe Melka will be in the house.
Arrive at 6pm for a Champagne aperitif, meet up with old friends and allow us to introduce you to winemaker, Philippe Melka!
The official start time is 6:30pm, but instead of sitting down for a formal affair, this grande repast will be reception-format, with small plates prepared by our friend and brilliant chef, Charlie Reid. You might remember Charlie from his days running the culinary program next door at Clean Catch. Well, Charlie now is a private chef and operates a boutique catering company called Crafted Plate and you'll be delighted with the food pairings he'll be preparing for us. See the menu and wine pairings below.
With a maximum guest count of 35 people, we have taken over 20 reservations from our newsletter announcement last month. So, today, you'll at last, now find the details... but today, we have just 14 tickets available.
Join us and mingle one-on-one with Philippe as he guides us through his opulent wines from the Napa Valley. This exceptional evening of wine and food is being delivered at our cost, no kidding. Tickets are $150/pp plus tax/tips (20%) and tax.
We hope you will join us!
For tickets, which are first-come, first-served, RSVP to 
[email protected]
 who will coordinate your confirmed reservations and paid tickets.
To best ensure your spot, CALL US at 704-332-9910 and ask for Naquan for securing your tickets with immediate confirmation.
After 35 tickets we will start a waitlist for cancellations. Thank you. Tickets are non-refundable inside of 72 hours from event start time.
The lovely prix fixe menu and MELKA wines and the estate primer are all below.
A limited allocation of the celebrated MELKA wines will be offered at the event at discounts and with prices ranging from $99 to $199/bottle. 
We hope you'll take advantage of this one evening, one-on-one with winemaking celeb Philippe Melka.
We look forward to hearing from you! 
Cheers,
Mark
MELKA ESTATES
Grande Reception/Wine Dinner
Hosted with Philippe Melka
Thursday, April 28th
6pm Champagne Reception
6:30pm Tasting starts/Dinner Reception
Like the celebrated wines on which he's built his reputation, Philippe Melka's career has been influenced by soil.
A native of Bordeaux, Melka grew up intrigued by the intricacies of the land around him. When it came time for college, he acted on his childhood interests, earning a degree in Geology at the University of Bordeaux. A class in winemaking in his final year was a turning point, propelling him to earn a Master's degree in Agronomy and Enology.
Melka has the rare combination of talent and fortune to be a winemaker who started at the top: his first job out of school was at Château Haut Brion. From there, he took a position with the reputable Moueix Company and was sent to Dominus Estate in Yountville to study soils in 1991. Napa Valley soil proved to be a revelation for Melka. He set out traveling, dividing time between soil study and winemaking at world renowned wineries Badio O Coltibuono in Chianti and Chittering Estate in Australia. He returned to France in 1993 to deepen his expertise at Chateau Petrus.
He has been fortunate to have been trained and influenced by some of the most notable personalities in the wine business such as Jean Delmas and Jean Philippe Masclef from Haut-Brion, Christian Moueix and Jean Claude Berrouet from Petrus, Paul Draper from Ridge, Daniel Baron from Silver Oak and the globetrotting wine consultant Michel Rolland with whom he continues to work with on consulting projects (LAIL, BRAND, ADAMVS, SEAVEY, MOONE-TSAI and VINEYARD 29 - to name just a few).
For the past 28 years in Napa Valley, Melka has served as winemaking consultant for some of Napa's most highly regarded properties under his company Atelier Melka. As co-proprietor of Melka Estates, Philippe and Cherie Melka produce four distinct labels that reflect their philosophy of soil driven wines: Metisse from Napa Valley, Mekerra from Sonoma Valley, Majestique from around the world and CJ, also from Napa Valley.
Join us April 28th!
Reservations will be accepted on a first-come, first-served basis. Thank you!
A maximum of 35 tickets will be sold and 14 are now available.
MELKA GRANDE RECEPTION/DINNER
THURSDAY APRIL 28th 6pm Champagne reception
6:30pm start!
Concludes at 8:30/9pm (est)
MENU: Small plates, reception format
(fun, cocktail attire please)
__________________________
2017 Mekerra Proprietary White
Amuse:
"The Trinity" - Purees of Cauliflower and Mango with Creme Fraiche, Caviar, and Chive
2015 Melka "Majestique" La Chatelet Vineyard St. Emilion
2nd Course:
Braised Pork Belly with Sorghum & Blueberry Glaze,
Pickled Mustard Seeds, and Micro Mustard Greens
​
2016 Mekerra Knights Valley Merlot
3rd Course:
Pan-roasted Foie Gras
with Bittersweet Chocolate and Cognac Demi-glace
​2018 "CJ" Napa Valley Cabernet Sauvignon
4th Course:
Grilled Deckle of CAB Beef
with Whipped Parnsips, Leeks, and Bearnaise Sauce
2016 "La Mekerra Vineyard" Knights Valley Proprietary Red
Dessert:
Twenty Degrees Chocolate truffles