Posted on
By Mark Meissner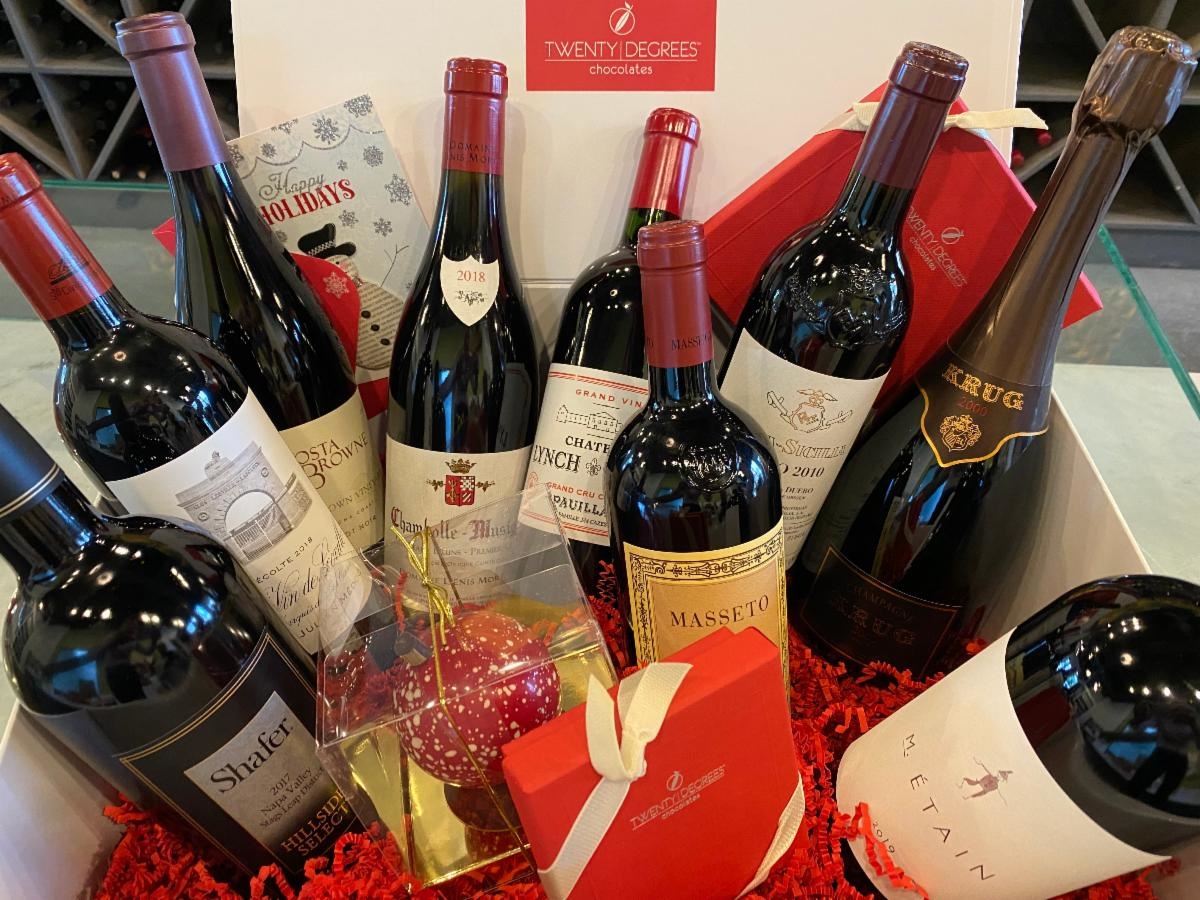 Just 4 days to Christmas
FINE WINE
20 DEGREES CHOCOLATE
and Caviar!?
RETAIL/TASTING ROOM HOURS:
TUES DEC 21st 10am-8pm
WED DEC 22nd 10am-8pm
THUR DEC 23rd 10am-8pm
Christmas Eve FRI DEC 24th 10am-2pm
Christmas Day SAT DEC 25th CLOSED
SUN DEC 26th CLOSED
MON DEC 27th CLOSED
TUES DEC 28th 10am-7pm
WED DEC 29th 10am-8pm
THURS DEC 30th 10am-8pm
FRI DEC 31st 10am-5pm
JUST A FEW DAYS LEFT BEFORE CHRISTMAS!
Happy holidays. As you shop these last few days before Christmas, stop in for something special for under the tree. Something for the wine lover who has it all...
Speaking of something special, we have a dozen 30 gram tins left from our caviar event! If you would like any caviar for Christmas or New Years, we have the highest quality Osetra from MARSHALLBERG Farm (ROYALE grade and propagated here in NC!) at $96/tin. Compare at much higher prices online for Osetra from other NY merchants and this was recently harvested (ie. fresh) for our event! Email me to reserve your's today!
We also have 'special' cult wines from folks like MASSETO (Ornellia), PULIDO-WALKER, SHAFER Hillside, SCARECROW M.Etain, Champagne CRISTAL, LEOVILLE-LAS CASES, LYNCH-BAGES, VINE HILL RANCH, PURLIEU, SEA SMOKE, REALM, PETER MICHAEL, KONGSGAARD, CIRQ (Kosta-Browne), KISTLER, and rare Burgundy from MORTET, MONGEARD-MUGNERET, LEFLAIVE, PHILIPPE COLIN plus many others..!
This holiday season is sure to be busy and we're excited to offer an elevated assortment of chocolate and fine wine, collections carefully assembled for the discerning foodie. Our passion is building a one-of-a-kind gift which embodies our craft and curating focus: authentic Petit Philippe. It's what we do during the holidays, and all year around.
This week we bring you some of our house favorites - wines perfectly suited for next week's holiday! Come by for our new & classic wines we've showcased this season. We have an incredible selection of highly allocated wines from the west coast, France and Italy.
ON THE TASTING BAR this week, we'll be showcasing some great wines from the ALSACE, BURGUNDY, Northern RHÔNE VLY, plus OREGON, and NAPA. See the tasting chalk board below... join us to shop and sip this week!
W're OPEN today 'till 7pm... tomorrow and Thursday 10-8 and Christmas Eve 10-2pm! And wee're here to serve all your holiday needs.
Make it a brilliant holiday & be well-be safe.
CHEERS!
Merry Christmas and Happy Holidays,
THE PETIT TEAM
ZALTO Stemware
Hand-blown stems from Austria...
SORRY, on back-order until Spring 2022, pickup a gift card and pre-order your stems for late spring delivery....
ON THE TASTING BAR this week, we'll be showcasing some great wines from the ALSACE, BURGUNDY, Northern RHÔNE, plus OREGON, and NAPA.
See the tasting chalk board below!
Here are our 'sipping hours in the tasting room:
TUES DEC 21st Tasting Bar open 3pm-8pm
WED DEC 22nd Tasting Bar open 3pm-8pm
THUR DEC 23rd Tasting Bar open 3pm-8pm
Join us to shop-'n-sip this week!
EUROPEAN STYLE
CHOCOLATES + CONFECTIONS
BY TWENTY DEGREES CHOCOLATES
Our in-house rockstar chocolatier produces an array of hand-made confections, from truffles and fleur de sel caramels to caramelized nuts and the uniquely French-inspired pâtes de fruit. Some of our core offerings include:
Truffle Collections
________________________
4pc Chocolates $12
9pc Chocolates $25
16pc Chocolates $41
25pc Chocolates $58
Caramels, Nuts and More
________________________
Seasonal Chocolate Bars $8
Caramelized Chocolate Almonds-Hazelnuts-Pistachios $14
Orangettes $15
Fleur de Sel Caramels $14
Pâtes de Fruits $18
Chocolate Crunchy Pearls $10
Any of these items may be combined in one of our custom
containers to create the perfect gift for the true gourmand. 
FINE WINE
We offer hundreds of wines at any given time, and continue to evaluate hot new wine projects weekly – consciously rotating our selections from among several thousand smaller producers. We strive to keep it edited and emphasize small production wines from France, the West Coast, and other Western European regions. We are obsessive about balanced, expressive wines that convey a true sense of place. Excessively-manipulated and mass-produced wines are not in our DNA. Every year we also travel with our client friends to special European wine destinations such as Burgundy & Champagne. The shelves are stocked to perfection, but things change by the hour this time of year!
MORE OF SOME OF OUR GLORIOUS, CURATED WINE PRODUCERS:
Subject to change... by the hour!
Adler Deutsch Vineyard Anthill Farms Winery Antica Terra Arnot-Roberts Bedrock Wine Co. Belle Pente Bethel Heights Big Basin Vineyards Blackbird Brand Broc Cellars Burgess Castello Di Verduno Caterwaul Wines Cayuse Champagne Laherte Freres Champagne Philipponnat Chanin Chartogne Taillet Chateau Beycheville Chateau Fombrauge Chateau Fontanes Chateau Giscours Chateau Lafon Rochet Convexity Cristom Croze Cruise Wine Co. Darms Lane Del Dotto Domaine Alain Gras Domaine Carillon Domaine Christian Clerget Domaine David Duband Domaine Dujac Domaine Fourrier Domaine Jobard Domaine Jouard Domaine Marcel Servin Domaine Marquis d'Angerville Domaine Mongeard-Mugneret Domaine Parent Domaine Vincent & Sophie Morey Domaine du Pelican Drew Dunn Vineyards Edict Ellman Enfield Wine Co. Evening Land Failla Farella Fontodi Forlorn Hope Georges Descombes Ghostwriter Giacomo Borgogno Guardian Cellars Hall Hamacher Henri Gouges Hirsch Hoopes Hourglass Hubert Bouzereau-Gruere Illahe Immich-Batterieberg J.Brix Wines Jean Paul Brun Jean-Luc Joillot Jolie-Laide Keenan Ken Wright Cellars Kistler Krug Kutch Le Pich Lewis Cellars Lieu Dit Winery Lioco Long Meadow Ranch Long Shadows Vintners Marc Hebrart Martin Woods Matthew Wallace Matthiasson Meyer Family Cellars Mount Eden Movia O'Shaughnessy Ojai Ornellaia Outpost Palmaz Paloma Papapietro Perry Pax Cellars Peay Philippe Colin Philippe Melka Pierre Gimonnet Pride Mountain Vineyards Pulido-Walker Purlieu Reynolds Family Rivers-Marie Rudd Ruinart Sandhi Sea Smoke Shafer Shane Wine Cellars Shea Wine Cellars Smith Story Smith Wooten Spring Mountain Vineyard Tarlant Thibault Liger-Belair Tortochot Trimbach Trisaetum Turley Usseglio Venge Vietti Vieux Telegraphe Vilmart & Cie Vine Hill Ranch Vineyard 29 Violin Wine Whitcraft Zind-Humbrecht
PEACE, LOVE, JOY.
... AND GREAT FOOD + WINE!