Posted on
By Mark Meissner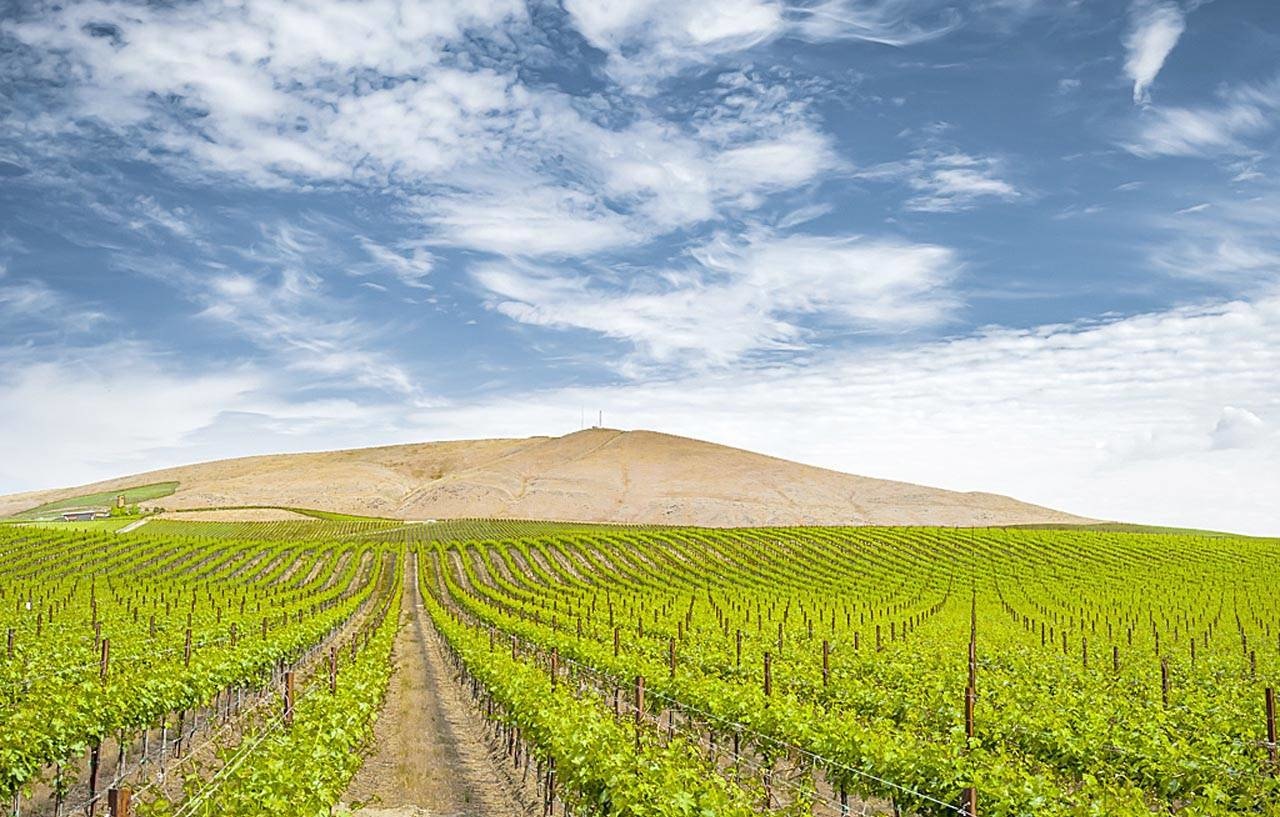 WASHINGTON STATE'S RED MOUNTAIN AVA
Full-bodied REDS to warm your bones this week...
Happy hump day,
This week we bring you a regional review of four Washington State reds! Trailing only California, Washington is the USA's second-biggest wine-producing state and these four wineries are amongst the best pours around.
Surprisingly still a relatively newcomer in the New World wine world, Washington's history of winemaking actually goes back to grape growing in the early part of the 19th century. The inception started at Hudson Bay Company's vineyard at Fort Vancouver. Following prohibition, the burgeoning wine business was spurred by the population of European immigrants, many from wine-loving countries like Italy, France, and Germany. The 20th century brought big growers in the 60s and 70s, with names like Chateau Ste. Michelle, and newcomers such as Quilceda Creek and Leonetti. Today there are hundreds of boutique producers who rival some of the best names in the Napa Valley. So this week we'll showcase four such labels from probably the most sought-after sub-AVA, known as Columbia Valley's Red Mountain appellation. It's a great study in value-driven wine, but more importantly, the undeniable quality coming out of the region. And even without the value proposition, WA State is a force to be reckoned with when it comes to polished, high-expression wines with terror and real substance! Join us. It all starts tonight.
Believe it or not, Valentines Day is just around the corner. We have a very limited and always, very special special set of offerings. Stay tuned for new offerings coming soon or visit our 20 Degrees Chocolate boutique in South End.
In addition, WATCH for updates on our PARK ROAD new store project, slated for opening this FALL! Interior demo complete! Our plans are in-the-works and we look forward to sharing all the fun when construction starts...
Punctuating a COLD slushy weekend forecasted, get your Sorel boots on and join us for a delicious flight of full-bodied Washington State reds. Stop in for the $26 tasting or order your discounted 4-pack this week for $190 (regularly $200!)
The PETIT PHILIPPE retail store & tasting room remains OPEN and we simply ask that you wear your favorite mask when you shop with us. We also will continue to offer CONTACTLESS curbside/rear parking lot and home delivery.
Be well. And drink more Red Mountain red!
Cheers -
Mark
this week's flight/tasting
REGIONAL REVIEW:
RED MOUNTAIN AVA, WASHINGTON STATE!
Primer -
In recent years, Washington's wine industry has become the fastest-growing agricultural sector in the state. The number of Washington wineries has increased 400% in the last decade, creating a multi-million dollar wine-tourism industry. Located on approximately the same latitude (46ºN) as some of the great French wine regions of Bordeaux and Burgundy, Washington State wine country now includes 14 federally recognized American Viticultural Areas (AVAs), commonly known as appellations. Three of them share territory with Oregon State; one is shared with Idaho. 
Climates of individual Washington wine regions differ dramatically. Cross cut north to south by the Cascade Mountains, Washington State is more mild and lush to the west of this volcanically formed barrier than the lands to its east. Eastbound marine air masses drift over the ridges of the Coast Range and flow toward the Cascade range. Clouds must rise to continue their eastward heading, and temperatures decrease as elevation increases causing moisture to fall as rain or snow before the north-south barrier of the Cascade ridges is breached. Very little moisture reaches the east side of these towering mountains, and a "rain shadow" effect keeps more than half of Washington State's territory arid to semi-arid. 
The resulting dry climate combines with long daylight hours at this northern latitude to create prime wine-growing conditions in the lands of eastern Washington. Vineyard canopies can be controlled by irrigation management and grapes can fully ripen here, bringing complex fruit flavors, good acid levels and pleasing aromatics to Washington wines. 
The southwest slope of the Red Mountain sub-AVA provides the vineyards in the region with a directional aspect to the sun that is ideal for prolonged sunlight exposure and warmth. These highly desirable conditions allow for a ripeness in tannins that is recognized as a primary characteristic of Red Mountain fruit.
So with the new year, if you're a fan of Walla Walla, Horse Heaven Hills and Red Mountain wines (and tired of California juice) try some new wines from WA State's Red Mountain AVA - our focus this weekend and arguably our top pick of AVAs for the region.
This week's RED MOUNTAIN Washington State wine FOUR-PACK
Januik Winery "Klipsun Vineyard"
Merlot 2017 - $36
Red Mountain AVA, WA
Hedges Family Estate, Cuvee DuPont "Les Gosses Vineyard"
Syrah 2016 - $52
Red Mountain AVA, WA
Guardian Cellars "Alibi"
Red Blend 2016 - $50
Red Mountain AVA, WA
Mark Ryan Winery "Dead Horse"
Cabernet Sauvignon 2017 - $62
Red Mountain AVA, WA
Taste the wines: Flight of 4 - $26/person (2.5 oz. pours)
 

TASTE ALL FOUR WINES IN THE TASTING ROOM:

 

Flight of 4 - $26/person (2.5 oz. pours)

 

WED-THURS-FRI 5-7:30pm

SATURDAY 1-7:30pm

 

OR ENJOY AT HOME WHEN YOU ORDER THE 4-PACK:

 

$200.00 regular retail

5% off - $190.00 this weekend!

 

REPLY with your order via email
 

Januik Winery "Klipsun Vineyard"

Merlot 2017 - $36

Red Mountain AVA, WA

 

Nicknamed "The King Of Merlot", Mike Januik has been making wine for over 35 years. Januik grew up in California and came north to the University of Oregon to earn a bachelor's degree. He and his wife owned a wine shop in Ashland when Mike's wife decided to go back to college to earn her MBA. About the same time, they sold the wine shop and Januik decided to pursue a career in winemaking. But to get into UC-Davis' world-renowned winemaking program, more chemistry classes were required, so he went back to school at Southern Oregon University while his wife earned her MBA. In 1984, after Mike earned his degree in enology at UC-Davis, he left for the town of Sunnyside in Yakima Valley where the owner of Steward Vinyeards offered him a head winemaker position. He took the job and ended up staying for three years. For nearly 10 years, Mike Januik was the head winemaker for Chateau St. Michelle, Washington's oldest and largest winery. In 1999, Januik knew it was time to leave St. Michelle and begin his own winery.

 

After destemming and crushing, this estate Merlot is fermented on their skins for nine days. Aged for 20 months in new French oak barrels.. 100% Merlot

 

293 cases produced!
 

Hedges Family Estate, Cuvee DuPont "Les Gosses Vineyard"

Syrah 2016 - $52

Red Mountain AVA, WA

 

It was 1986 when Washington native Tom Hedges found his first employment in the wine industry marketing American wines in Taiwan. From that humble beginning, Hedges Cellars, then a "virtual" winery, found its first customer: the government of Sweden. Tom and his wife Anne-Marie marketed their Cabernet/Merlot blend to foreign buyers exclusively for two years before going domestic and opening up North American distribution. Still without their own winery, they took a chance buying acreage on an obscure little hill called Red Mountain.

 

The Hedges have concentrated their efforts on Cabernet Sauvignon and Merlot, and the concept of terroir since their first vintage in 1987.

 

Their daughter, Sarah Hedges-Goedhart, is the head winemaker with their son Christophe Hedges being the General Manager. Hedges Cellars transitioned to Hedges Family Estate, and farming practices became more focused towards being organic.

 

The Cuvee DuPont Syrah is destemmed and partially crushed into stainless steel fermenters where it is pumped over twice daily until desired tannin extraction is achieved. It is then pressed to barrels where it undergoes malolactic fermentation, then racked off the lees and 100% barrel aged for 19 months in new American and French oak.

 

Just 800 cases produced.
 

Guardian Cellars "Alibi"

Red Blend 2016 - $50

Red Mountain AVA, WA

 

Started by retired police officer, Jerry Riener, the name "Guardian" is to honor the role of police across the country that protect and serve their country.

 

Jerry tells the told the story of when he served as an undercover agent for 3 years, living in a penthouse over-looking Seattle and driving a sports car. Though the assignment wrecked havoc on his personal life, in the end the taskforce was able to bring down one of the largest drug cartels in the US. After this feat, Jerry decided it was time to pursue another dream – to start a winery. 

 

Today Guardian Cellars, located in Woodinville, Washington, produces around 10,000 cases of delicious wines. Jerry also was able to finally settle down with family and enjoy life. He admits that he stills stay in touch with his buddies on the force, and that police officers around the country are one of his larger customer bases. Love that.

 

The Alibi wine from Jerry is Bordeaux-style blend sourced from Quintessence and Obelisco vineyards in Red Mountain.

 

61% Cabernet Sauvignon, 31% Merlot and 8% Petit Verdot. A wonderful mix of fresh and savory. The nose features hints of dark fruit and savory herbs. As you drink this wine fresh black cherry and plum, black currant, licorice and bay leaf will dominate. Honestly, this wine is just delightful.
 

Mark Ryan Winery "Dead Horse"

Cabernet Sauvignon 2017 - $62

Red Mountain AVA, WA

 

Mark Ryan McNeilly founded Mark Ryan Winery in 1999 with the goal of making the very best wines in Washington State. Largely self-taught, Mark honed the craft of winemaking through rigorous study and the welcomed advice of some of the area's most experienced producers. In the early years the winery was transient. The first vintages of Long Haul and Dead Horse were produced crushed and pressed in garages of friends and family, barrels aged in warehouses in the Seattle Area, and finally settling in Woodinville, WA in 2003.

 

Mike MacMorran, the winemaker, is a native of New Zealand, and made the wines at Delille Cellars.

 

Under a layer of firm tannins, the "Dead Horse" is Cabernet dominant - with flesh and sweetness, offering black cherry, rhubarb and black olive flavors that mingle effectively on an impressive finish!

 

- 91% ​Cabernet Sauvignon, 6% Merlot, 1% Cabernet Franc, and 1% Petit Verdot. Notable source vineyards: Quintessence, Ciel du Cheval, Klipsun and Obselisco fruit.