Posted on
By Mark Meissner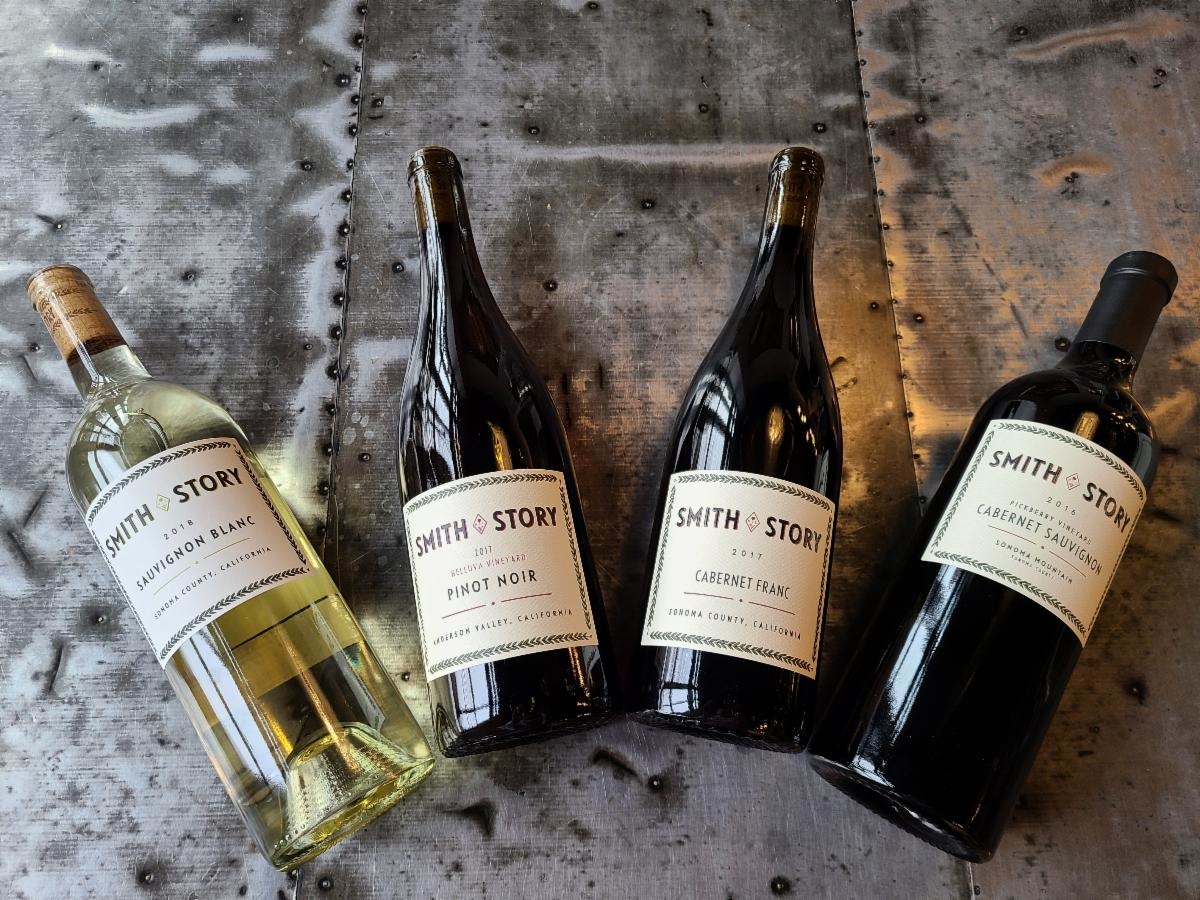 Happy Tuesday -
This week, we'll be showcasing four expressive bottles from my old San Francisco pal Ali Smith. She and her husband (now winemaker), Eric Story, have built a brilliant brand focused on Anderson Valley and Sonoma Valley wines, made in the Russian River Valley. Pick up our 4-pack of one white and three reds, as our vintner showcase this week for $183, on special!
Mark your calendars for our next official Zoom tasting, Friday February 5th at 6pm with Colene Clemens Winery from Oregon. Details forthcoming soon!. Call or email for pre-reservations.
The PETIT PHILIPPE retail store is OPEN, but any onsite tasting or on-premise consumption remains on-hold and we simply ask that you wear your favorite mask when you shop with us. We also will continue to offer CONTACTLESS curbside/rear parking lot and home delivery.
ORDER YOUR VALENTINES CHOCOLATES SOON! The TWENTY DEGREES chocolate boutique in the South End's Design Center is OPEN Wednesday thru Sunday. See 
www.20degreeschocolates.com
 for hours and online shopping, or just visit us at 1930 Camden Road. We continue to also offer our confections at the Petit Philippe location.
Be well. And this week, drink more wines from SMITH-STORY!
Cheers -
Mark
Our limited Valentine's Day offering:
Regular price (LIMITED QTYS!)
$88.00
Our limited Valentine's Day offering:
Regular price (LIMITED QTYS!)
$41.00
Our limited Valentine's Day offering:
Regular price (LIMITED QTYS!)
$25.00
Smith Story Wines: Primer
Smith Story Wine Cellars crafts wines that are made with respect for the land, kindness for the grower, and love from the winemaker. Each vineyard Smith Story works with is family-owned as a central tenet; the founders believe firmly that the integrity of the vines can only be ensured by grape growers who safeguard the land for the next generation. The resulting wines have heart and soul. They show restraint, balance and the integrity of the grape. Eric and Ali's winemaking philosophy is to utilize classic, old world techniques and let the grapes - and sense of place where they are grown - speak for themselves.
 In 2013, Eric Story and Ali Smith Story co-founded Russian River Valley-based Smith Story Wine Cellars out of a desire to make the kind of wine that "wine people" drink. Both came from wine industry backgrounds, and their palates remain well attuned to both the sublime and the delicious – at every price. They dreamed of starting a wine project that could produce wines that were both attractive and approachable…but that wouldn't require a savant to enjoy them.
Working on a wine-industry budget, the duo tapped into the support of their extensive networks, successfully launching Smith Story Wine Cellars on Kickstarter in 2014. 3 Their campaign was called "Farmers First," and the very first American winery to be crowdfunded was born. Today the winery produces over 4,000 cases annually and has been called "one of California's top emerging wineries." The wines begin with the land, places that are special to Eric and Ali in Northern California, from twelve family owned vineyards throughout Sonoma Valley, Sonoma Coast, Russian River Valley, Knights Valley, Pine Mountain, Anderson Valley and the Rheingau region of Germany. As the vineyard program grows, so will their story.
This week's SMITH STORY CELLARS 4-PACK Showcase:
Smith Story Sauvignon Blanc 2018 - $22
Sonoma County, CA
Smith Story "Helluva Vineyard" Pinot Noir 2017 - $46
Anderson Valley, CA
Smith Story Cabernet Franc 2017 - $50
Sonoma County, CA
Smith Story "Pickberry Vineyard" Cabernet Sauvignon Sauvignon 2016 - $75
Sonoma Mountain, Sonoma County, CA
4-pack regular retail price - $193
This week- $183.35 !
 

Smith Story Sauvignon Blanc 2018

Sonoma County, CA

$22/bottle retail

 

This vintage brought fantastic surprises. In addition to their vineyards in the Knights Valley and Sonoma Mountain AVA's, 2018 brought a new Russian River Valley vineyard to their portfolio. We believe this Russian River Valley fruit adds a new level of elegance to the white wine lineup.

 

Mother Nature delivered a long and beautiful growing season due to the cool and steady weather throughout the year. Grapes were handpicked, hand sorted then slowly pressed before fermentation in their stainless steel tanks.

 

The Smith Story Sauvignon Blanc has been one of our top favorites for domestic white.

 

Winemaker Notes: The 2018 Sauvignon Blanc brings a clean fresh and citrusy character with a hint of wet-stone on the aromatic. It's a pure palate feel with plenty of mineral energy and citrus inspired flavors and long finish. This is a classic Sauvignon Blanc, reminding us so much of why we fell in love with this varietal while sipping Sancerre from the Loire Valley especially. We are so very pleased with the 2018.

 
 

Smith Story "Helluva Vineyard"

Pinot Noir 2017

Anderson Valley, CA

$46/bottle retail

 

"The 2017 Pinot Noir Helluva Vineyard is a very pretty wine. Bright red berry fruit, mint, cedar, sweet tobacco, cinnamon and star anise give this translucent, weightless Pinot striking aromatic presence. This is an especially airy style, with all the elements nicely balanced." Antonio Galloni

 

The Helluva Vineyard has consistently been the "crowd favorite" among Smith Story reds and garnered high scores from wine critics alike. It's hard to believe that the 2017 Helluva is the 4th bottling of the Helluva Vineyard Pinot Noir. This vineyard has proven to be so classic Anderson Valley for Ali & Eric each year. They've steadily grown production size to a minuscule 500 cases, beginning with just 4 barrels produced in 2014 of this precious wine.

 

Winemaker Notes: Joyous…the word that pops in our head first when tasting the 2017 Helluva Vineyard Pinot Noir. Bright red fruits with a streak of cardamon, spice cake and red licorice. The tannins are fuller than the 2016 and this wine will be known as a classic Anderson Valley Pinot Noir. The mouthfeel is well structured and focused.
 

Smith Story Cabernet Franc 2017

Sonoma County, CA

$50/bottle retail

 

Located on the eastern edge of Sonoma Valley, this vineyard is a stone's throw from Scribe Winery. These four acres were planted in 2005, on a beautiful, secluded hillside. The vines have a southwestern exposure on a considerable slope and consisting of rocky soils. Rhyolitic ash and alluvial wash soil mean the vines must struggle to reach root depth, producing deeply colored, extracted but balanced wines.

 

This Cabernet Franc is heavily inspired by Eric & Ali's deep love of this grape, Cab Franc reminiscent of France's Loire Valley.

 

Winemaker Notes: A "fan favorite", a delicate red wine full of elegance and finesse. The wine exudes traditional spicy aromatic characteristics of Cabernet Franc that is full of complex fruit flavors with soft tannins and freshness which begin with the aroma and then linger on the finish. Clean and bright, with wonderful complexity that you'd expect from Franc.
 

Smith Story "Pickberry Vineyard"

Cabernet Sauvignon Sauvignon 2016

Sonoma Mountain, Sonoma County, CA

$75/bottle retail

 

 

A Cabernet Sauvignon, without question on the nose. A Cabernet true to the Smith Smith story style; cooler and dancing aromatic while having density and layers of texture. Lots of spicy red fruits up front while fresh bramble fruits bounce around the palate which is rounded out by a savory, almost cinnamon-bark spice mouth-filing finish and pretty tannin structure.

 

Winemaker Notes: Steady and mostly uneventful growing season with a bit of midsummer spikes of heat but nothing maddening. A cool slow end of the growing season led to really pretty and balanced fruit. We did get lucky though… we had some rain come in just a few days after picking. Speaking of… the grapes were hand picked. hand sorted, destemmed and fermented in stainless steel with daily manual punch-downs. Wine was then aged in neutral Bordeaux barrels for 22 months before bottling.