Posted on
By Mark Meissner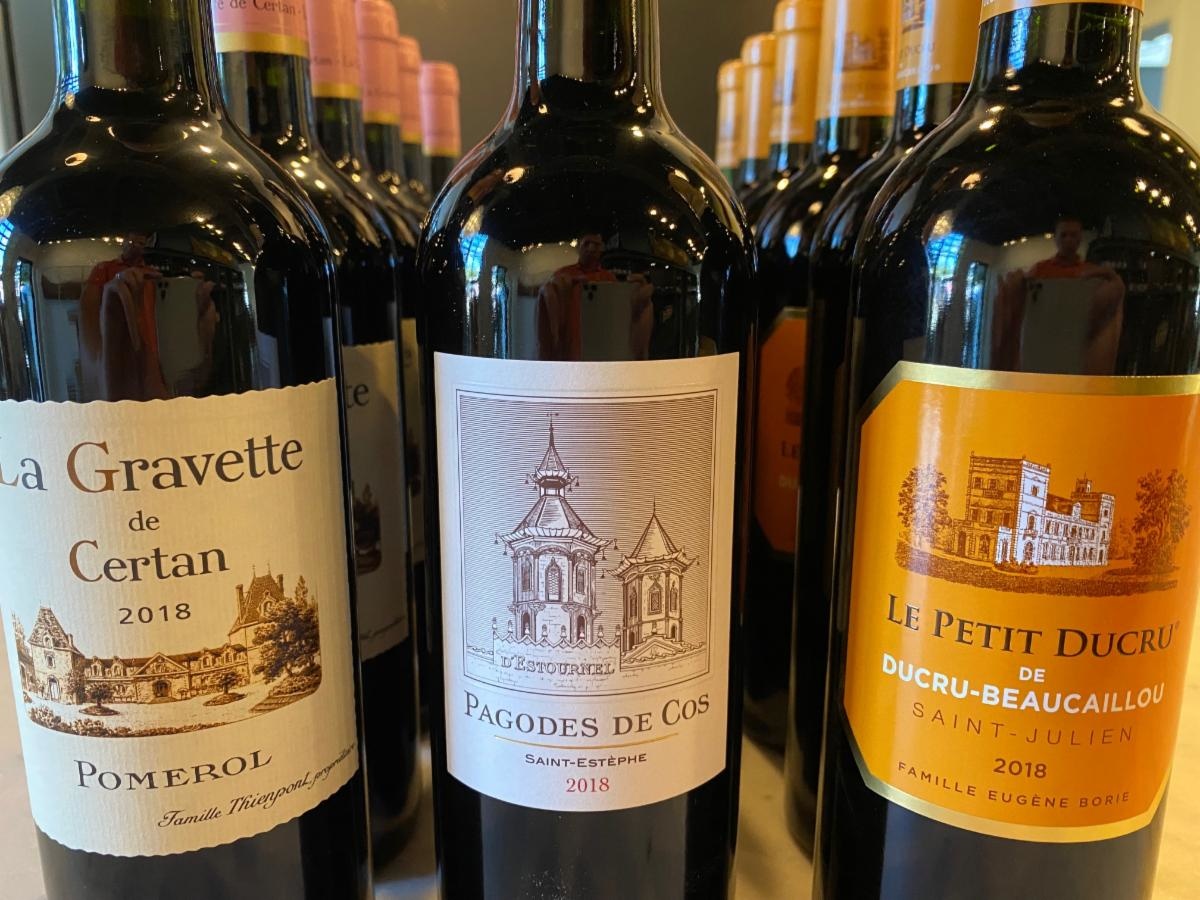 Starting tonight, we will be pouring our annual review of Bordeaux Grand Cru Classé 2nd labels! Three brilliant producers of Bordeaux, from the following renowned Chateaux:
Ducru-Beaucailloux - St. Julien
Cos d'Estournel - Pauillac
Vieux Chateau Certan - Pomerol
The 2018s have gotten rave reviews and these bottles were bought en-premieur, so we're able to offering brilliant pricing to boot. Drop by soon as the 2nd labels from these estates won't last through the weekend. Read on for the deets and see you soon.
Here are some of our upcoming tasting room events, please make note!
·  GRAND CRU BORDEAUX 2nd Labels! OCT 13-16
·  VINEYARD 29 VINTNER VISIT RSVP Event OCT 22 (almost full)
·  ANNUAL ITALIAN HOLIDAY WINE DINNER Aqua e Vino NOV 11
·  VINTNER VISIT WITH THOMAS MEUNIER FRENCH IMPORTS NOV 13
·  END-OF-VINTAGE NAPA CULT CABS RSVP Event NOV 19
·  CHAMPAGNE & CAVIAR Annual Holiday event - Friday DEC 10
Come taste with us anytime Thursdays and Fridays from 5pm to 7:30pm and all day Saturday afternoons. It's always changing every week as we focus on regions, grapes and producers to further your own personal wine journey.
With much gratitude,
Mark
This weekend's flight:
BORDEAUX BONANZA!
Flight of 3 wines: $30 tasting
WED, THURS & FRI 5-7:30pm
AND Saturday 1-7:30pm
2nd Label Grand Cru Classé Bordeaux:
The concept behind a Bordeaux "2nd label" is that the production of a second wine allows the winemaker to choose vineyard lots and barrels which reinforce the style of the Chateau's first label - the one which press will rate with scrutiny and competitively score each vintage. This ranking process results in an estate's ability to increase the quality of the estates "Grand Vin", or top wine. But the positive benefit to the second labels from the Grand Vine is that more wine that used to go into the Grand Vin is now going into the 2nd (and 3rd labels). And with BDX pricing through the roof for the last 20 years (and will increase BTW for 2018-2019 and 2020 - all exceptional releases), the 2nd label market is now getting hotter and more attractive to folks looking for great BDX bottles under $100. Think of it, same estate, winemaker and winemaking. Prices are half or a third of the Grand Vin price point, and no where near that discount in terms of quality! In fact, most experts would agree that the 2nd labels of today are vastly better than the Grand Vins produced in the '70s and '80s.
So jump on this and think of your Thanksgiving weekend! Heck, think of the whole winter season, because these are some delicious bottles!
Join us as we meander from Pomerol on Bordeaux's Right Bank, to the formidable appellations of the Left Bank: Pauillac and St. Julien. This weekend we bring you three stunning 2018s from three favorite Chateaux, priced from $49 to $99.
Here's the BDX 2nd label lineup!
Le Petit Ducru de Ducru-Beaucaillou
(2nd label to Ducru-Beaucailloux)
Saint-Julien 2018 - $49
Pagodes de Cos
(2nd label to Cos d'Estournel)
Saint-Estephe 2018 - $83
La Gravette de Certan
(2nd lable to Vieux Chateau Certan)
Pomerol 2018 - $99
 

Le Petit Ducru de Ducru-Beaucaillou

(2nd label to Ducru-Beaucailloux)

Saint-Julien 2018 - $49

 

The 2018 Le Petit Ducru is a wine of balance and harmony. An elixir of youth. A deep garnet color, the nose is fruity followed by red fruit aromas. A generous structure on the palate, a spherical wine with great charm - very seductive. It will make for a perfect marriage with poultry where it will bow down before the crispy, brown skin and envelop the meat with its tannins.

 

Blend: 60% Merlot, 40% Cabernet Sauvignon

 

Critical Acclaim - James Suckling:

Blackberry and blueberry aromas with black licorice and dark violets that follow to a medium to full body with ultra fine tannins and a pretty finish. Very fine texture.

 
 

Pagodes de Cos

(2nd label to Cos d'Estournel)

Saint-Estephe 2018 - $83

 

 

Winemaker Notes

Pagodes de Cos 2018 combines a nose of eucalyptus and spices with magnificent aromas of juicy red and black berries and wonderful fullness. Silky tannins find lovely balance against the vintage's very fresh quality. The 2018 vintage is a discreetly seductive, refined wine, the latest in a series of vintages whose incredible qualities continue to enchant us more and more with each passing year.

 

Blend: 54% Cabernet Sauvignon, 37% Merlot, 6% Petit Verdot, 3% Cabernet Franc

 

Critical Acclaim - James Suckling:

Pure aromas of currants, plums, cherries and Spanish cedar follow through to a full body with super concentration of fruit, yet forever polished and long. A cylinder of wonderfully ripe fruit and tannin's goes on for minutes. This needs at least three or four years to soften and begin to come together. Super second wine. 
 

La Gravette de Certan

(2nd lable to Vieux Chateau Certan)

Pomerol 2018 - $99

 

 

The second wine of Vieux Château Certan, comprises Merlot blended with younger Cabernet Sauvignon vines, raised in 50% new oak. It has a more complex, nuanced bouquet with brambly red fruit, intermixed with light truffle, clove and espresso scents. The palate is medium-bodied with fine tannins and light cracked black pepper notes mingling with the black fruit. Then it tightens up toward the finish, which feels fresh and delineated. This is an excellent La Gravette that should give more than a decade of drinking pleasure.

 

Critical Acclaim - Jeb Dunnuck:

A seamless, sexy style of the Grand Vin, only with the volume turned down slightly. Red currants, truffle, tobacco, hints of chocolate, and damp earth all emerge on the nose, and it's medium to full-bodied, with a beautiful core of sweet fruit, silky tannins, and a great finish. It can be drunk today or cellared for 15 years or more.