Posted on
By Mark Meissner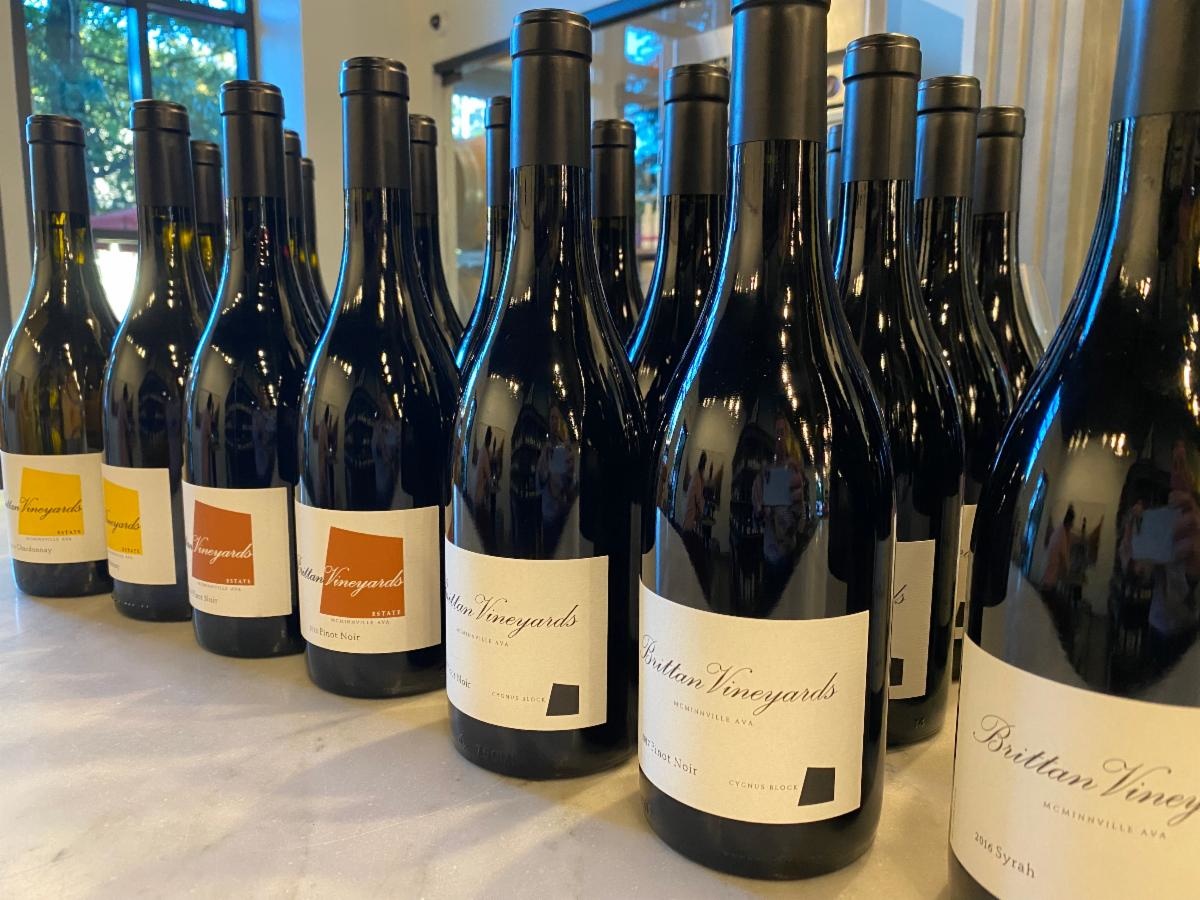 Fall is in full swing with colors changing and leaves falling. It's hard to believe Halloween is upon us! With your trick-or-treating plans, consider your wine picks for the weekend - drop by for a tasting of Oregon favorite, BRITTAN Vineyards. We haven't seen the label in NC for a couple years, so it's a pleasure to have the wines back at Petit.

Willamette Valley legend, Robert Brittan crafts wonderfully expressive Oregon Pinot Noir, Chardonnay and Syrah from his estate vineyard in Oregon's McMinnville Foothills. The winery produces elegant, intense, site-specific Oregon Pinot Noir, along with Chardonnay and Syrah. We'll have four wines from Brittan starting tonight! Please join us.
Robert Brittan left Stags' Leap Winery in Napa after 16 years as Winemaker and Estate Manager to fulfill his dream of making Pinot Noir, Chardonnay and Syrah from unique sites in cooler climates. His winemaking career began in his dorm room at Oregon State University, where he was a physics and philosophy major. After leaving OSU he spent three years working in a large winemaking facility in the Central Valley, where he realized that this was something he wanted to do for the rest of his life. He then completed a degree in Enology at UC Davis and moved to Napa Valley, where he made wines for Far Niente, Saint Andrews and Stags' Leap Winery.
Over the years Robert developed a passion for cool climate Pinot noir, and in 2004 he and his wife Ellen purchased a 128 acre estate in the foothills of the Coast Range in Oregon's Willamette Valley. With almost 50 years of experience growing grapes and making wine, Robert brings a significant amount of viticultural and winemaking knowledge to this estate project, and believes that he has brought a new voice to the McMinnville AVA, helping define the style and definition of Pinot Noir from this unique winegrowing region. Along with six different expressions of Pinot noir, Robert also makes an Estate Chardonnay and Estate Syrah from this site.
In addition to his own wines, Robert is the consulting winemaker for several other brands, including: deLancellotti Family Vineyard, Fairsing Vineyard and Winderlea Winery and Vineyard. As a result of these collaborations, Robert is now making wines from six of the Willamette Valley's nested AVAs, and has learned first hand that Pinot Noir lends itself to many wonderful interpretations, depending on the soils and microclimates where it is grown, and the intention of each vineyard owner.
Here's the wine lineup from Brittan Vineyards this week:
BRITTAN Vineyards
2018 Chardonnay, McMinnville OR
$42/bottle
BRITTAN Vineyards
2018 Pinot Noir, McMinnville OR
$42/bottle
BRITTAN Vineyards
2017 'Cygnus' Pinot Noir, McMinnville
$62/bottle
BRITTAN Vineyards
2016 Syrah, McMinnville OR
$52/bottle
 

BRITTAN Vineyards

2018 Chardonnay, McMinnville OR

$42/bottle

 

Robert Brittan developed a love for Chardonnay during his tenure as the first winemaker at Far Niente Winery in the early 1980's, a passion that continued to grow during his 16 years at Stags' Leap Winery. In 2004, Robert decided to leave California and start a vineyard project in the cool climate of the northern Willamette Valley, the home of the finest New World Chardonnay grown today.

 

Tasting notes

The nose of our 2018 Chardonnay, the first vintage sourced exclusively from the estate, draws you in with a stylish flintiness and aromas of sweet Meyer lemon, pea tendrils, and a hint of honeysuckle. Scents of Asian pear carry through to the palate, mingling with lemon curd, yellow peach, and brioche. This sleek, taut, acid driven wine evolves in the glass and will continue to develop with cellaring. 580 Cases produced!

 
 

BRITTAN Vineyards

2018 Pinot Noir, McMinnville OR

$42/bottle

 

Winemaker Robert Brittan, a wine industry veteran with the experience of over 45 harvests, has always had a passion for Pinot noir; a love affair that began in the 1980's when he made several vintages under his Britt Hill label with fruit from Carneros. In 2004, Robert decided to leave Stags' Leap Winery in Napa and start a Pinot noir project in the cool climate of the northern Willamette Valley.

 

Vintage notes

The 2018 vintage started cool and wet in February and March, which led to a more "normal" budbreak in April. The season quickly accelerated and was warm and dry beginning in May. Summer brought very warm, dry weather through August, which put pressure on the vines and produced fruit of great depth and concentration. September was dry but more moderate and allowed the fruit to reach full maturity by the end of the month.

 

Tasting notes

A true expression of vintage and site, the 2018 Estate Pinot noir showcases notes of red currant, red plum, cherry and pomegranate which are accented with hints of five-spice, anise and tobacco. A lovely vein of salinity runs through the palate which finishes with the power and richness indicative of the 2018 vintage. 693 cases made!

 
 

BRITTAN Vineyards

2017 'Cygnus Block' Pinot Noir,

McMinnville

$62/bottle

 

Site notes:

The three-acre, east facing Cygnus Block was planted in 2008 to the low-yielding Swan Selection of Pinot noir (the only single-selection block on the property). Unlike the rest of the vineyard, rows here are planted in an east/west orientation giving the block a different exposure to the sun and reducing the influence of the Van Duzer winds, which are channeled through the rows instead of across them. This block's unique aspect, orientation, and selection create fresh, balanced, seamless wines brimming with red fruits.

 

Tasting notes

The trademark red fruits of Cygnus Block Pinot noir are in good supply this vintage, including the bright sweetness of red currants, Amarena cherries, red plum and a hint of raspberry alongside more savory notes like black tea, bergamot, licorice, and baking spices. The wine wraps-up with bright acidity, lingering juiciness, and a long, elegant finish.

 
 

BRITTAN Vineyards

2016 Syrah, McMinnville OR

$52/bottle

 

Vintage notes

2016 was the third vintage in a row in the Willamette Valley where flowering started earlier than normal, and the weather remained warm throughout the growing season. After a warm summer, the last ten days of the growing season gave us beautiful days in the low 70's, making for an easy and unhurried harvest. The grapes exhibited ripe flavors, but with more restraint and elegance as we get better and better at handling warmer growing conditions.

 

Tasting notes

Cool climate Syrah is one of Robert's passions and our 2016 vintage shows why. Ripe blue and black fruits, plum, cherry cordial, and a hint of vanilla mingle with smoked meat, violet petals, mint and clove. Impressively warm and rich on the nose, the palate turns toward Syrah's cool climate qualities: nervy and taut with grippy tannins well supported by a backbone of bright acid.