Posted on
By Mark Meissner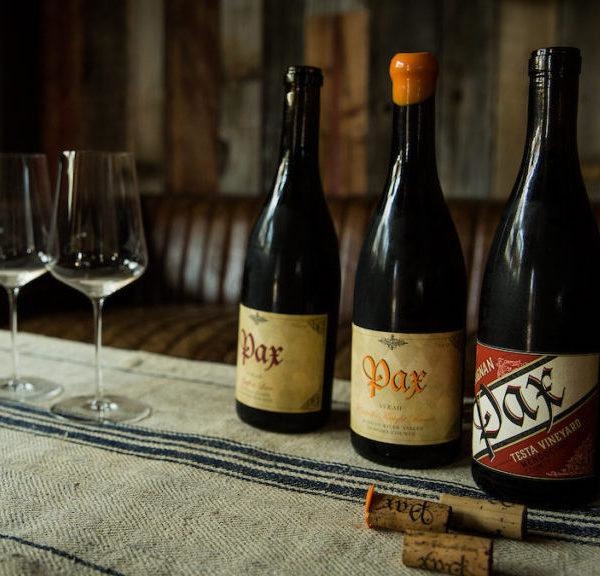 Every fall we're excited to pour these very limited production wines from Pax Mahle and the northern California coast. This year we were thrilled to receive four wines from PAX and the lineup is Chenin, Gamay, Syrah and Syrah. It's an all-star lineup of beautiful old world inspired wines with high expression without the high price. Wines are produced when possible whole cluster, from single vineyard sites with cool coastal influences.

If you're new to Pax, don't miss this one. And if you're already a big fan, we look forward to pouring you the new releases. See you this week!
Pax Mahle's idea of making wines started when he and his wife Pam moved to the California wine country in 1997. Pax was a Somm on the East Coast when he decided to partner with Joe Donelan on producing some Syrah from the Alder Srings Vineyard. It was the year 2000 and Pax Wine Cellars was born. The 'PAX' label became the default brand for Mahle & Donelan, and after some early successes, Joe and Pax went from partners to having grave differences in their goals for PAX. In the meantime, Mahle and his wife began another label (which you've probably heard of) known as Wind Gap. Without disclosing the ugly details of the Mahle/Donelan divorce, the Pax label was dead for years. And recently, after the dust settled, the Donelan Wines and the Pax labels now live on independently. And Mahle is now free to make the wines he's passionate about.
PAX was the first winery to produce a Gamay Noir from the Sonoma Coast! It's done in 100% whole cluster and partial carbonic maceration. Think raspberries, fresh earth, cinnamon and pomegranate aromas - all jumping from the glass. It's supple and elegant in the mouth with fresh mouthwatering acidity.
We'll also be pouring Syrah, the varietal which Pax is really known for. You'll have an opportunity to try both the Bench Vineyard AND the North Coast. The Bench Vineyard comes from the Clements Hills area and is new to his repertoire. The North Coast is an old classic from the Mendocino ridge area. Both are 100% whole cluster and 100% delicious Syrah - framed by black pepper, black plums, pomegranate and bittersweet chocolate. The aromas of these classic expressions of Syrah carry on and on... and the production levels? Miniscule.
We'll also be pouring Pax's white wine, made with the beloved Chenin Blanc grape. The grapes come from Buddha's Dharma vineyard, located just north of the City of Ten Thousand Buddhas and east of downtown Ukiah.The vineyard is steeped in history, dry farmed without chemicals at the base of Enlightenment Mountain in gravelly volcanic soils. Here you'll find balance and concentration - and if you don't know Chenin Blanc, THIS is the bottle to introduce your palate to the thrilling nature of this stunning variety.
Join us for the Flight!
Thursday and Friday 5-7:30pm 
Saturday 1-7:30pm
Flight - Producer Probe: PAX WINERY
Pax Wines "Buddha's Dharma Vineyard"
Chenin Blanc 2019 - $34/btl
Pax Wines Alpine Peaks
Gamay Noir 2020 - $34/btl
Pax Wines "The Bench Vineyard"
Syrah 2020 - $32/btl
Pax Wines North Coast
Syrah 2019 - $35
Flight of 4 - $18/person (2.5 oz. of each)