Posted on
By Mark Meissner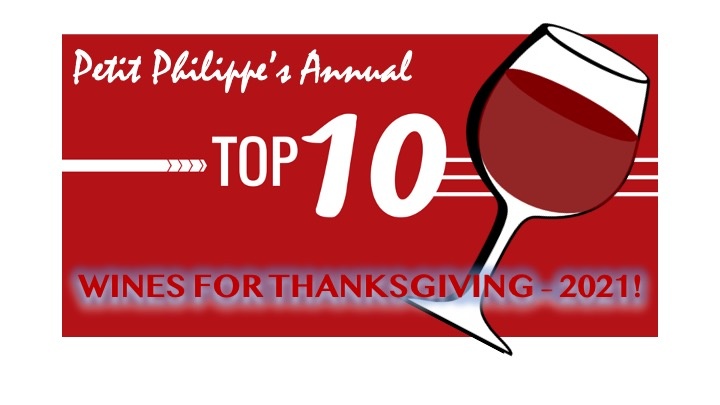 Today marks the end of our TOP-10 for Thanksgiving and our #1 is revealed.

JOIN US TODAY AS WE'LL BE OFFERING ALL TOP-10 WINES ON THE TASTING BAR.

Pick 3 or pick 5 of any of the top-10, all afternoon till 8pm. Taste 3 for $15, 5 for $30... or do the full flight pour of 3 or 5! It's been a bustling day in the tasting room and we look forward to helping you select some great bottles for the holiday.
THANKSGIVING 2021
TOP-10 LIST!
 

COS D'ESTOURNEL

"Pagodes de Cos"

Saint Estèphe, Bordeaux FR 2018

 

#1

 

At last, our number ONE wine for the season.

 

And it's a bombshell from Bordeaux!

 

This wonderful introduction to the signature style of the prestigious Grand Cru Classé of Saint-Estephe - Chateau Cos D'Estournel - the Pagodes de Cos 2018 is in line with the most beautiful references of its vintage.

 

From a selection of vines aged 35 years on average, ths estate's glorious 2nd Vin Pagodes de Cos Red 2018 was born from a great terroir in the Saint-Estephe appellation of the Medoc, on the left bank of Bordeaux.

 

While now hailing as an outstanding vintage, 2018 was a vintage marked by strong climatic contrasts, the vintage required all the attention and know-how of the Chateau Cos D'Estournel technical teams in order to get the best out of the vines. Blending Cabernet Sauvignon (54%), Merlot (37%), Petit Verdot (6%) and Cabernet Franc (3%), the Pagodes de Cos Red seduces with its intense aromatic bouquet.

 

Literally gushing from the glass, the wine reveals magnificent fruity notes. At once seductive and elegant, the palate combines freshness, roundness and suppleness. With great precision and balance, the 2018 Pagodes de Cos is one of the most beautiful wines of this vintage.

 

Deep purple-black in color, it practically explodes from the glass with rambunctious notions of baked black cherries, plum preserves and crème de cassis with hints of cigar box, fungi, tilled soil and woodsmoke plus a touch of crushed rocks. The full-bodied palate delivers mouth-coating black fruit preserves with a beautiful earthy undercurrent and a rock-solid frame of grainy tannins, finishing with fantastic length! A very serious second wine from one of the most celebrated left bank producers in the history of french wine.

 

This claret is already drinking beautifully, making this our top candidate for Thanksgiving... but this bottle will also age with grace.

 

We had this wine in our Bordeaux tasting one month ago. And the feedback was a resounded "wow, that was the best wine" and we thought so too... so much so, that we perceived this wine as the best Bordeaux we've tasted all year, particularly at this very agreeable price point for red Bordeaux from a Grand Cru producer.

 

Enjoy and make it a brilliant Thanksgiving.

 

Cheers!

 

COS D'ESTOURNEL

"Pagodes de Cos"

Saint Estèphe, Bordeaux FR 2018

 

It's our #1 this year.

$83/bottle
 

STRINGER CELLARS

Cabernet Sauvignon

Napa Valley, 2018

 

#2

 

We were first introduced to the boutique wines from winemaker Casey Stringer back in February of this year. We were so smitten with all of the STRINGER wines that we quickly ordered the highly allocated amount we could get our hands on and put a zoom tasting on the calendar.

 

Casey Stringer was a highschooler from Wisconsin traveling to California with his parents to visit colleges in the Bay area. Due to an unfortunate passing of a distant relative who they had planned to visit during the trip, they had a gap in their schedule. They decided to head to the Napa Valley, a place that they had all certainly heard about, but knew little about. He and his father Chip were taken with Napa's laid-back lifestyle, vineyard filled landscapes and the wines. Casey knew then that his path in life will be with wine. Back at home in Wisconsin with those memories still fresh, Casey picked up a job at a local wine shop to begin learning all he could while Chip began collecting wines both from Napa and around the world.

 

Casey did end up going to college in California, but in Santa Barbara where he studied photography. He immediately got a job as a cellar hand at a local winery where he soon realized that he wanted to spend his time in the cellar and vineyards and not in photography school. Throughout his twenties, Casey traveled both near and abroad seeking different experiences in winemaking. He worked at Robert Sinskey Vineyards in Napa, Archery Summit in Oregon and a few wineries in Central Otago and Hawke's Bay, New Zealand, where he attended school for a formal winemaking education. Upon returning to California, Casey worked in the cellar at the esteemed Santa Ynez cult winery Jonata.

 

While visiting his family in Wisconsin he met a girl, and as the story goes, decided to stay put and get married. While this seemed like a detour in his winemaking journey, the wine bug was still firmly planted. Casey reached out to his California connections and began shipping premium West Coast fruit to Wisconsin and making what was arguably Wisconsin's best-ever wine produced in a garage, but as he says, that wasn't a sustainable business model. So it was back to the vines in California with his wife, Brooke, and their two young boys in tow.

 

Stringer Cellars now makes their wine high up on Atlas Peak in the Napa Valley and at winery in the heart of Sonoma County. It's a whole family affair: Casey serves as lead winemaker, Chip oversees operations, his brothers, Andrew and Tim, help with marketing and sales and his wife, Brooke can often be found pouring tastings behind the bar. Their winemaking philosophy is simple: Use the finest grapes they can find from the best vineyard sites in California to make small lot wines you will not soon forget. Casey employs minimalist winemaking techniques, allowing the fruit and individual vineyards to shine through in each bottle.

 

Simply stated, all of Casey's wines are good, great in fact. But one wine really stood out for us this year, the Stringer 2018 Napa Valley Cabernet.

 

This Cabernet Sauvignon is blend of the cabernet vineyards that Casey sources fruit from - in Rutherford, the Stagecoach Vineyard and a vineyard at the base of Howell Mountain - all represented in the final blend.

 

The hand-picked fruit is all de-stemmed and fermented in new 60-gallon French oak barrels. The wine stayed on its skins for an average of 21 days before being pressed. This delightful Napa Cabernet is made in a rich modern style with silky tannins and red fruit to spare. The wine shows class and purity. While attractive in its youth it will only become more refined as it matures. But we personally believe it's drinking beautifully now.

 

96% Cabernet Sauvignon 4% Petit Verdot

 

It's #2 on our list and a gorgeous bottle to enjoy this Thanksgiving. At last, a great ~60 dollar Napa cab, amongst the sea of Napa red that ranges from $125-250 these days...

 

I'm grateful for folks like Casey Stringer - he keeps it real, and his passion and authenticity makes me excited about coming to work every day.

 

It's #1 on our list.

$64/bottle
 

MAISON DE MONTILLE

1er Cru "Les Coères"

Chardonnay (white Burgundy)

Montagny, Côte Challonaise, FR 2017

 

#3

 

If #3's label looks familiar, that's because it is! Our number eight wine came from the same producer (Domaine Montille) and we were so smitten with their lineup of stellar burgundies, that we decided (for the first time ever in our 10 years of doing the TOP-10) to offer a second wine from the same producer.

 

There is however a key difference, their Montagny (which is a white burg, unlike the Monthelie, which is a red burg) is reflective of a farmed (not owned) property in the Côte Challonaise, hence the "Maison" vs "Domaine" labeling. But just because it's not an estate holding shouldn't have you turning your cheek.

 

In 2003, the sister-and-brother team of Alix and Étienne de Montille created a micro-négociant project with the goal of producing predominantly white wines from reliable, top-notch growers in the Côte de Beaune and Côte Chalonnaise to balance the prestigious, mostly red, vineyard holdings of Domaine de Montille. This boutique winemaking project is a natural extension of their common experience in Burgundy. And as the children of Volnay legend Hubert de Montille, Alix and Étienne undoubtedly have wine in their veins, yet each also has their own independent accomplishments to be proud of. The Montilles control all crop levels, the harvest date, and pick the grapes according to the high-standards of Domaine de Montille. All the wines are produced in their recently renovated cellars, located in the famous winegrowing village of Meursault. Their wines represent a stylistic approach to winemaking that is directly in line with the heritage and pedigree of their legendary family's estate, namely purity of fruit, moderate alcohol levels and mineral-driven, textured wines.

 

The village of Montagny is comprised of large number of Premiers Crus vineyards. Chardonnay here tends to have a finesse and body not found elsewhere in the Cote Chalonnaise. The lieu-dit of "Les Coères" is one of the largest in the Montagny appellation in terms of surface area and the parcel vinified by Alix is situated at the top of the vineyard, an area favorable to minerality. The vines, whose average age is 25 years, are farmed organically.

 

In the glass you'll find soft citrus aromas with faint smoke, pear liqueur and salinity which gives way to a nicely rich body. It's wonderfully light on it's feet with terrific vibrancy and persistent texture, giving way to a clean, long finish. If you love french Chardonnay, and are thinking this is your preferred varietal for Turkey Day, this is OUR pick for the holiday. Just love it.

 

It's #3 on our list.

$55/bottle
 

DOMAINE BLAINE

"Pierre Bleue" Côte de Brouilly 2018

Beaujolais, FR

 

#4

 

Domaine Blain was founded in 2014 when siblings Lucie and Marc-Antonin Blain acquired 14 acres of vineyards planted with old vines on the slopes of Mont Brouilly in Beaujolais. Marc-Antonin maintains the vineyards and vinifies the wine while Lucie runs the business. Vinification occurs in Chassagne-Montrachet.

 

Their vineyards in the southernmost crus of Brouilly and Côte de Brouilly. Brouilly is the largest cru and gives soft and fruity wines, while Côte de Brouilly is a volcanic slope that offers more structured wines. Vines are Gobelet trained, and the average vine age is over 50 years old.

 

Côte de Brouilly "Pierre Bleue" is a cuvée coming from 9 acres of vines planted in 1954, 1956, and 1996 in the climat of Gilets. The name refers to blue-green granite (known as "corne verte") that is rich in minerals. This cuvée was created to showcase the unique mineral specificity of this ancient volcanic soil. Marc-Antonin uses up to 30% whole bunches with "Burgundian" fermentation for 20 days then aged in large wooden tanks ten months. 

 

Marc-Antonin describes this wine as "linear with a straight structure." Northwest-facing vines bring tension to the wine while the meager soil provides a mineral backbone. The wine shows aromas and flavors of ripe red fruits such as strawberries and cherries, while a percentage of whole clusters add to the wine's complexity.

 

Gamay has low tannins and refreshing acidity, making it an ideal red wine partner for turkey and we know even after Thanksgiving you'll be clamoring for more of this beautiful cru-level Beaujolais. Get on the cru Beaujolais bandwagon, it's the hottest somm category right now for a reason - enjoy this 2018 vintage of Domaine BLAIN Côte de Brouilly, Pierre Bleue!

 

It's #4 on our list.

$29/bottle
 

PIERRE GIMONNET

Cuis 1er Cru, Blanc de Blancs NV

Champagne, FR

 

#5

 

Number five on our list is GIMONNET Champagne, a 'grower' house we continue to be delighted with, particularly if you love Champagne and are as discriminating as we are about sublime bubbles.

 

Since before 1750 the Gimonnet family has been farming their vines in the village of Cuis, a small town near Epernay with just 400 residents. Historically, they supplied the 'great' Champagne houses with grapes up until the 1930's. But with sales of grapes falling during the prolonged recession, Monsieur Pierre Gimonnet decided to take up the challenge of vinifying and commercializing his own harvest. It was a great struggle at first, establishing a clientele who were not accustomed to a "blanc de blancs" or 100% Chardonnay-based Champagne, and certainly not from a new & independent producer. Over time, it was a brilliant and gutsy move and the effort paid off. Today, the name of Champagne Pierre Gimonnet et Fils is one of great renowned, and highly respected grower Champagne houses.

 

Pierre Gimonnet built their reputation on their vineyard terroir (in the famed Côtes de Blancs), with a half a century of real experience and the uncompromising standards that he imposed upon the winemaking and their quality imperative. Production levels remain minuscule compared to most Champagne houses. And to this day, the estate is run by Pierre's sons, Michel and Didier, who share the fanaticism of their father for the Gimonnet Champagnes.

 

This 'Cuis Premier Cru' bottlin is 100% Chardonnay, and the assemblage is 73% from the 2017 vintage, with the remaining 27% from 2010-2015. It offers up aromas of citrus oil, fresh peach, clear honey, white flowers and oyster shell. It's medium to full-bodied, pillowy and elegantly fleshy,

with crisp acids, elegant mousse and

a chalky back-end grip. A truly exceptional bottle of enticing & energetic grower Champagne for the season!

 

It's #5 on our list.

$62/bottle
 

DAMILANO

"Lecinquevigne" Barolo 2015

Piemonte, IT

 

#6

 

The Damilano family business dates back to 1890 when Giuseppe Borgogno began to vinify his own estate wines. It is with great passion that Giacomo Damilano, the founder's son-in-law, developed with his children a love for the vineyards, selecting and caring for them with great care in order to improve the quality of the wines. Over time, the winery's production was transformed into a jewel that was passed down with pride in 1997 to Giacomo's grandchildren, who continue to manage the winery today. Paolo, Mario and Guido Damilano, the fourth generation, have brought new vigor to the family business while upholding Damilano's historic production philosophy: high quality wines can only come from high quality grapes. With the assistance of agronomist Giampiero Romana and enologist Beppe Caviola, Damilano continues to hone and improve this brilliant estate - which incidentally was our showcase producer for the annual Italian Holiday wine dinner back in 2019!

 

Taking its name from five different vineyards within four villages (Barolo, Grinzane, Monforte and Novello), 'Le Cinque Vigne' perfectly represents the tradition in Barolo of focusing on a noble Nebbiolo blend rather than a single cru. Grinzane-Cavour dominates in this wine, as suggested by the more ready to drink, velvety style. But you shouldn't really consider it the entry level Barolo from Damilano because of its affordability - this gem of a bottle has layered complexity, ranging from wild strawberry to cacao beans underlined by rose aromas, leather, tobacco and emerging notes of violet and tar. Soft and persistent, we were exhilarated to have gotten more 2015 to offer you this Thanksgiving!

 

It's #6 on our list.

$45/bottle
 

MÉLANIE PFISTER

"Mel" Blanc 2018

Alsace, FR

 

#7

 

Mélanie Pfister is one of the most talented young winemakers in Alsace and since she took over the cellar from her father, André, in 2006 she has steadily improved the quality of the estate's wines. Leading up to that transition, Mélanie did internships at the following estates: Zind-Humbrecht (Alsace), Méo-Camuzet (Burgundy), Château Cheval Blanc (Saint Emilion), Château d'Yquem (Sauternes) and Craggy Range (New Zealand). It's worth considering that most aspiring winemakers would take it as a fine feather in the cap to be accepted into any one of those training programs, and Mélanie got into all of them. In 2005, she made the first Cuvée 8 (now called Mel), a blended wine that she had long envisioned and so named because she is the eighth generation Pfister to make wine at the domain.

 

Domaine Pfister began in 1780 during our Revolutionary War. That seems a long time ago, until you learn that Pfister's village of Dahlenheim was favorably noted for wine production in the distant year of 884. A written record has survived, detailing how the village supplied wine to the Abbey of Saint Michel de Honan during that era. It's located due west of Strasbourg in the northern reaches of the Bas Rhin. Here, vineyards are not as shielded from cold weather and this cooler climate, along with the abundance of hillsides (with limestone and less sandy soils), favor Riesling and make for particularly elegant, mineral renditions of Alsatian noble varieties.

 

Mel (named for Mélanie) is an exotic blend of Riesling, Pinot Gris, Gewurztraminer, and Muscat, in that order. Each year the percentages vary according to what variety does best, but the order is preserved. Accordingly, the wine is intended to reflect the best of a given year and to be flagship wine of Alsace. Production averages 500 cases annually and aligns wonderfully with every flavor for Thanksgiving.

 

It's #7 on our list.

$38/bottle
 

DOMAINE DE MONTILLE

Pinot Noir 2019

Monthelie, Burgundy, FR

 

#8

 

Monthelie is probably the prettiest village in the Côte de Beaune, with Volnay to the northeast, Meursault to the south and Auxey-Duresses to the west. The monks from Cluny planted the first vines here around the year 1000, but traces of human settlements go all the way back to Gallo-Roman times and beyond. I just love Burgundy.

 

Domaine de Montille crafts wines with great aromatic purity, always favoring balance and elegance over power and extraction. The wines are classic expressions of Burgundy, produced in the most natural way possible and possessing an impressive ability to age, as the family believes only time can reveal the true potential of the greatest wines. The domaine's current style remains faithful to founder Hubert Montille's natural and idealistic approach, which demanded considerable patience while waiting for appropriate drinking windows for certain vintages. New guard Etienne Montille, however, has taken up the task to bring greater aromatic expression and silkier, more unctuous textures to their wines, allowing them to be consumed earlier, without compromising their ability to age.

 

The domaine's red "Monthélie" is a superlative wine that doesn't break the bank (for Burgundy) and translates with great authenticity and simplicity the quality of Burgundian Pinot Noir. Vinified with whole clusters and aged in neutral barrels, this wine is an incredible companion to any Thanksgiving feast and is a glorious introduction to Burgundy for those who historically have only known domestic Pinot Noir. It will, no doubt, be in my glass on Thanksgiving!

 

It's #8 on our list.

$52/bottle
 

DOMAINE HUET

"Le Haut-Lieu" Chenin Blanc 2019

Vouvray, Loire Valley, FR

 

#9

 

Our list is off and running and number nine comes from the Loire's Vouvray region - home to the greatest Chenin and the greatest producer of the grape - HUET.

 

Since its founding in 1928, Vouvray's Domaine Huet has been the standard-bearer for great, age-worthy Chenin Blanc. And to this day, year after year, the estate produces some of the world's most compelling white wines—and in a remarkable range that spans sparkling, dry, semi-dry, and breathtaking dessert styles.

 

Today, Domaine Huet may be making its most consistently great wines. As was one of the earliest adopters of biodynamic practices, and with years of experience working with the appellation's greatest terroirs, winemaker Jean-Bernard Berthome and his team are achieving a fascinating level of transparency, purity, and knife-edged balance in the wines.

 

This label shows off the original Huët vineyard (less than 9 hectares), a representation of the richest soils of the domaine's three crus - a deep limestone-clay - and the wines are generally the estate's most approachable, bringing a lovely Chenin fruitiness.

 

Ripe pear, tangerine and orange fruits with notes of lemon grass and green pimientos intertwined with very fine chalkiness. Remarkably fine, elegant and harmonious, subtly complex and simply gorgeous bouquet with floral blossoms. Immediately attractive, delicate and linear on the palate, this is a pure, fresh, bone-dry, lean and textured, highly refined and perfectly interwoven Chenin with persistent purity, finesse and tension. Pure excitement and energy in a white wine begging for Thanksgiving day.

 

It's #9 on our list.

$42/bottle
 

The EYRIE Vineyard

"SPARK" Sparking NV

Willamette Valley, OR

 

#10

 

It seemed fitting to start this year's TOP-10 list with a beautiful sparkling wine to get thing poppin'! The Eyrie Vineyard is one of the original historic wine estates in Oregon and by all accounts one of the most historic in this country.

 

Founder of Eyrie, David Lett moved to Oregon's Dundee Hills area with a vision of creating some of the greatest domestic Pinot Noir and other noble wines which historically were only found in France. His vision and 3,000 clippings of source material brought to the valley in the '70s were the foundation of much of the success found today in Oregon. Today, my sense is that his son (now proprietor and winemaking icon, Jason Lett) has profound gratitude for the pioneering efforts and passion his father had 5 decades ago. Where would the Oregon wine scene be today without Eyrie Vineyard?!

 

In the winery, Eyrie's "gentle touch" vineyard philosophy is carried over in their winemaking approach. This wonderfully fun sparkling wine is a truly unique blend of 8% Pinot Blanc, 55% Pinot Noir and 37% Chasselas Doré. It's Rosé color and delightful frizzanté make this an easy choice for the holidays. The 'Spark' gets an afternoon, evening or even brunch going! It is an "ultra brut," made using forced carbonation instead of méthode Champenois. Medium to deep cherry-pink in color, it has aromas of cantaloupe, strawberries, raspberries and lemon peel with notes of stone and toast. The palate is dry with citrus and red berry flavors, spritely mousse and a refreshing, mineral-driven finish.

 

This wine starts our attitude of gratitude list - something so fun and delicious - an aperitif sparkler to get into the season! It's our most exciting non-Champagne sparkling wine of the year.

 

It's #10 on our list.

$36/bottle