Posted on
By Mark Meissner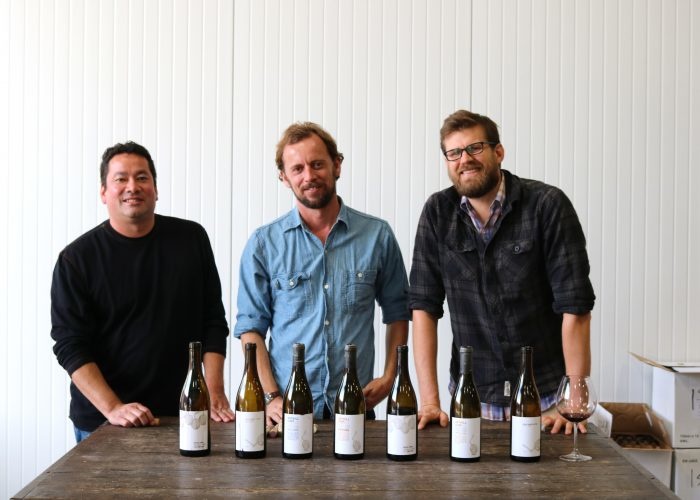 Happy Tuesday!

Hopefully the Thanksgiving turkey is in the back of the sled or already in the frig and you're working through the rest of your holiday errands today with great success!

MAKE IT A GREAT HOLIDAY OF GRATITUDE WITH YOUR FAMILY & FRIENDS!

Join us this Saturday for our ANTHILL FARMS flight, and take a break from the couch and the family conversations for a nice lineup of Pinot Noir & Syrah from one of the most allocated California cult labels! We'll also have the wines on flight the following weekend too (if anything is left...)
This weekend's flight, ANTHILL FARMS WINERY!
Flight of 3 wines: $20 tasting (healthy 2.5 oz pours!)
Here is the primer!
ANTHILL FARMS WINERY
"We didn't know whether the name was really great or really dumb," admits Anthill Farms Winery partner Web Marquez. "It came about because we're all winemakers and people would see us all scrambling around trying to grab the same hose at once; they said it was like watching a bunch of ants." 
The partners (trio of ants) themselves farm many of the small plots where they buy their grapes, and the results of this labor of love are remarkably seductive wines that combine concentration and finesse.
The three ower/winemaker musketeers comprise the entirety of Anthill Farms, and they come from three different parts of the country: Web Marquez (Virginia), Anthony Filliberti (Sonoma) and Dave Lowe (Kansas). They met by serendipity as twenty-somethings back in 2003 when they independently landed jobs as cellar rats at one of the pinnacles of California Pinot, Williams-Selyem. After their first crush had finished, they took a road trip together to Oregon, driving up the coast to visit wineries in the Willamette Valley. The trip ended with great plans for the future and a cult Pinot Noir producer was born.
The Anthill 'guys' are part of a second or possibly third generation that's redefining California Pinot Noir. Most of these winemakers have day jobs at larger wineries and pursue their passion for small production Pinot Noir on the side. With some exceptions, they don't own wineries or vineyards. And many make big, jammy zins and cabs for their employers, but the new Pinot Noir paradigm emphasizes balance and restraint over power and volume. This is the Anthill story.
ANTHILL's geographic focus is the Anderson Valley, the Sonoma Coast and the Russian River Valley. The wines are concentrated but not overly rich and also have that racy acidity you'll find from the Sonoma Coast. The wines have a purity and complexity that we rarely see in New World Pinot Noir - a style more akin to the great wines of Burgundy.
Anthill's properties are managed with intensive and meticulous farming practices, with minimal ecological impact. They emphasize gentle handling from crushing to bottling, judicious use of oak, and, perhaps most importantly, leaving the wine alone as much as possible. 
We are huge fans of these wonderfully expressive, beautiful wines and are thrilled to be releasing the newest vintage from Anthill Farms this weekend! 
Join us for our showcase flight this weekend. 
 

ANTHILL FARMS WINERY

Anderson Valley AVA Pinot Noir 2019

$42/bottle

 

As mentioned in the primer, Anthill Farms is a group of three friends who went against all the odds to start a winery in California. They didn't have money saved nor were they born into the business. They were cellar rats, the guys moving hoses and cleaning floors, for some pretty significant wineries, Williams Selyem being the most influential. However, while still quite young, the three decided to pull together a tiny amount of cash and started making wine at a crushpad facility. Before long the wines had a cult following and we've been carrying them for years. Many of Anthill's wines only make it to a mailing list or restaurants; we are lucky to offer them once per year.

 

The spectacular 2019 Anderson Valley AVA release is a barrel selection of four small, cool-climate sites throughout Anderson Valley.

 

And, given Anthill's devotion to sourcing sustainably farmed fruit and bottling small-batch wines that evolve in breathtaking fashion over time, it has absolutely no business being this affordable.

 

This wine (really, most of their wines) unquestionably exists in the top tier of California Pinot and, by extension, the Western Hemisphere. Therefore, if you enjoy multi-textural Pinot Noirs driven by finesse, perfume, and verve this will blow the doors off the overwhelming majority of competition.
 

ANTHILL FARMS WINERY

"Comptche Ranch"

Mendocino County Pinot Noir 2019

$62/bottle

 

As mentioned, the partners, who all previously worked at Williams Selyem, are deeply committed to crafting high quality, cool climate single vineyard Pinot Noir, Syrah and Chardonnay sourced from vineyards in Northern California. These wines are super limited.

 

96 Points Antonio Galloni (Vinous): "Another stellar wine in this range, the Anthill Farms Pinot Noir Comptche Ridge is fabulous. In this vintage, the Comptche Ridge is a bit richer and deeper than it has been, while avoiding some of the austerity this wine can show. Beguiling in its aromatics and finely sculpted, the 2018 is marvelously complex. There is plenty of tannin, and the acids are bright (as they are for all these wines), but the 2018 is deep and so multi-faceted. It will appeal most to readers who enjoy taut, structured reds."
 

ANTHILL FARMS WINERY

"Campbell Ranch"

Sonoma Coast Syrah 2019

$47/bottle

 

Campbell Ranch Vineyard is a short way from the Pacific and farmed by Steve Campbell. At 750 feet above sea level, this site sits on the very edge of the residual marine layer from the Pacific. It's another of the Anthill Farm's choices for a cool coastal, late-ripening style. The vines are about twenty years old, low yielding, sitting atop Goldridge soil. This site farms both Pinot Noir and Syrah for Anthill Farms. 

 

Campbell Ranch appears as the darkest, most intense ruby color in the glass. The nose showcases overripe raspberry, plum skin, cherry liquor, tea leaf, rose petal and citrus peel and subtle fresh mushroom. Over time, this fans out on the palate in flavors mirroring the nose. The texture in 2019 is far more structured than the past. Expressive right away however, as the saying goes, a little air goes a long wine. In Campbell's case, with time and oxygen, this impactful, long wine changes into a more ethereal & perfumed experience that glides on the palate with a character specific to the northern Sonoma Coast/Annapolis AVA, and this site in particular.