Posted on
By Mark Meissner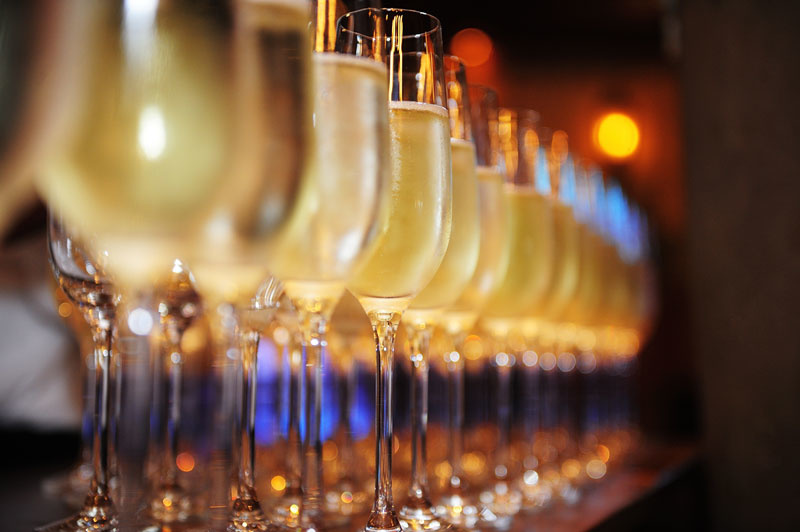 ANNUAL GROWER CHAMPAGNE
TASTING ALL WEEK!
FAB 5 Bubbly Pack...
Open today 'till 7pm
WED & THURS 'till 8pm
New Year's Eve 'till 2pm
Then closed till Jan 6th...
We hope you had a joyous and restful Christmas.
2022 is almost here.
So as you're closing out the year, pick up a new favorite or the FAB5 pack of our most expressive grower champagnes - wines that are our house favorites this year!
We love bubbles and this is our once-a-year grower bubbles offering.
We carry a number of brilliant labels like Roederer, Tarlant, Delamotte, Gaston Chiquet, Laherte, Waris Larmandier, Paul Launois, Chartogne Taillet, Krug, Larmandier-Bernier, Voirin-Jumel, Robert Moncuit, Lombard, Philipponnat and Pierre Gerbais - just to name a few... along with great sparkling producers from non-Champagne regions in Italy's Veneto, France's Loire Valley and Burgundy, plus great value finds from Germany & Austria!
We're excited about this year's every evolving 'bubbles wall' - some new, some classic - true 'grower' Champagne, and other delightful sparkling wine for all palates and pocketbooks.
Plus, start your new year off with our P2 custom monthly wine club!
- PETIT CLUB DE VIN -
Our individualized wine program designed for your adventure level and budget.
Let us set up a special, gratis tasting appointment (no obligation to join) for the month of January. Email mark@petitphilippe for more details! We look forward to furthering your wine journey in 2022!
Be well, be safe this NYE, as it relates to consumption and the OMICRON variant of COVID-19. Let's stomp out this virus in 2022 - that happens when we don't give the virus an opportunity to spread and mutate. We want to see you and look forward to a time post-COVID illness!
Thank you for your patronage and friendship -
it's been a crazy 2021.
We're grateful for your patronage and passion.
HAPPY NEW YEAR from everyone at Petit Philippe & 20 Degrees Chocolates.
Cheers and 'Here's to 2022' !
- Mark
TUES DEC 28th 10am-7pm
WED DEC 29th 10am-8pm
THURS DEC 30th 10am-8pm
FRI DEC 31st 10am-2pm
CLOSED JAN 1st thru JAN 5th
NYE WEEK ANNUAL
GROWER CHAMPAGNE TASTING! And WINE PACK offering...
This year, we're back! The tasting room is buzzing with passionate bubbly consumers... This year we'll be offering FIVE showcase producers of grower Champagne and sparkling wine:
Champagne Paul Launois "Composition" Brut NV
$62/bottle
Champage De Sousa & Fils Tradition Brut NV
$69/bottle
Champagne Voirin-Jumel Blanc de Blancs Brut Zero Grand Cru NV
$49/bottle
Champagne Laherte-Freres Blanc de Blancs Brut Nature NV
$59/bottle
Champagne Chartogne-Taillet Rosé Brut NV
$79/bottle
You can purchase all grower champagnes in the "FAB5" sparking pack this week, when you pick up all 5 bottles TODAY AND TOMORROW for $299- (Regularly $318!)
Or just drop in all week, and taste all five wines for $25/pp and decide which you like most!
TASTING HOURS:
TUES DEC 28th 5-7pm
WED DEC 29th 3-8pm
THURS DEC 30th 3-8pm
Pending supplies: FRI DEC 31st 11am-1pm (WE CLOSE @ 2PM!)
$25 tasting flight of FIVE Grower Champagnes (1.5 oz healthy pours)
 

NYE WEEK ANNUAL

GROWER CHAMPAGNE OFFERING

 

GROWER CHAMPAGNE Offering 1:

 

Champagne Paul Launois "Composition" Brut NV

$62/bottle

 

Three generations of the Launois family have remained faithful stewards of 6.5 hectares of Chardonnay vines in the Grand Cru village of Le Mesnil-sur-Oger, in the heart of the Cote de Blancs region of Champagne. The husband-and-wife team of Julien and Sarah craft these wines by hand as they raise their young son Paul to one day carry on the family legacy. "Composition" is a true expression of Le Mesnil terroir through the lens of Julien Launois. All bottles are hand riddled and disgorged "A la Voleé." Tiny production from the village known for the greatest Chardonnay in Champagne! The wine has a great sense of place, with good mid palate weight and density - great for an apero or after dinner (pre-Apple drop)!
 

GROWER CHAMPAGNE Offering 2:

 

Champage De Sousa & Fils

Tradition Brut NV

$69/bottle

 

This is classic blend of the three varieties known in Champagne: 50% Chardonnay, 40% Pinot Noir, and 10% Pinot Meunier.

 

Erick de Sousa's grandfather fought with the Allied forces in France during WWI. When he went home to Portugal after the war he found an economy in disarray and perhaps sensing the military dictatorship that was to come, moved to Avize, a village in the Côtes des Blancs. His son married into a family of local growers, planting the seed for his son, also named Erick, to start De Sousa & Fils in 1986. De Sousa began converting his vineyards to organic viticulture in 1989 and went biodynamic ten years later. The family now has vineyard land elsewhere in Champagne in Montagne de Reims, the Vallée de Marne and the Côte de Bar.

 

Fermented and aged in enamel tanks, using indigenous yeast. Afterward it goes through complete malolactic fermentation and spends 24 months on the lees. This is a pure, easy brut, with a light and airy style sure to please all Champagne lovers, novice and seasoned collectors alike - it's a true bubbly crowd-pleaser.
 

GROWER CHAMPAGNE Offering 3:

 

Champagne Voirin-Jumel

Blanc de Blancs Brut Zero

Grand Cru NV

$49/bottle

 

This 30-acre domaine is located in Cramant, the prestigious "Grand Cru" village of the Côte des Blancs. Jean Voirin, who owned some vines and sold all his grapes in bulk, decided to begin bottling his own champagne at the end of World War II. The Jumel family started producing champagne around the same time. As the champagne market grew, René Jumel began buying vineyards around the Côte des Blancs, which his wife, Paulette Richomme, worked and oversaw. Between 1950 and 1970, all the grapes were sold in bulk. Then in the early 1970's, Francoise Jumel (daughter of Paulette and René) began bottling champagne with her husband Gilles Voirin under the name Voirin-Jumel. That year they sold nearly 10,000 bottles. Minuscule by today's standards, but a big commitment to bring 'their' wine to market.

 

This wine is based on 2014 vintage with 20% reserve wines, from Cramant, Chouilly, Avize and Oger. The 'Dosage' is a tiny 6g per liter, making this almost an Extra Brut in terms of dryness. This is probably our best value for both a true Blanc de Blancs (100% Chard) and from Grand Cru sites!
 

GROWER CHAMPAGNE Offering 4:

 

Champagne Laherte-Freres

Blanc de Blancs Brut Nature NV

$59/bottle

 

Can you tell we love our Blanc de Blancs? Well, this is a house favorite.

 

The Laherte family has a long history in the region. Founded in 1889 by Jean-Baptiste Laherte, the estate was originally made up of vines primarily in the village of Chavot. Fourth generation vigneron Michel Laherte expanded the family estate which then covered about five hectares. With his wife Cécile, the two young vignerons modernized the press and tanks, but soon realized that too much modernity such as the use of herbicides and pesticides would prevent full terroir expression in the wines. They began working the soils, gently vinifying the juices, and remaining humble and patient as the wines develop. This philosophy is the foundation of the estate and has endured through the generations.

 

Today, under the direction of Aurélien Laherte who took over in 2005, they farm the best parcels of Chardonnay from the southern slopes of Epernay and the Côte des Blancs. 50% of reserve wine is included in this blend. Primary fermentation takes places in a combination of foudres and barrels with regular lees stirring. This is wonderfully dry, clean style with beautiful minerality and razor-focus. I'm always surprise by it's taste AND value!
GROWER CHAMPAGNE Offering 5:
Champagne Laherte-Freres
Blanc de Blancs Brut Nature NV
$59/bottle
Just when you thought we only were foused on Blanc de Blancs Brut, here you'll find and old classic label we've carried for almost a decade, but in ROSÉ!
The Chartogne family arrived in Merfy in 1870 and in 1920 Marie Chartogne married Étienne Taillet and created the Chartogne-Taillet estate. Philippe Chartogne and his wife Élisabeth took over the estate in 1978, and since 2006 their son Alexandre has been in charge of the cellars and vineyards.
The town of Merfy is located in the northwestern part of the Champagne region, just northwest of the capital of Reims. "What is special about Merfy is that we have clay and sand over chalk," says Alexandre, "so the vines live in two different environments. It's important that the roots go deep into the soil to gain real minerality, and sometimes our roots go more than 20 meters deep."
This very tasty cuvée of 60% Chardonnay and 40% Pinot Noir (8% vin rouge) is aged 40% in stainless steel and 60% in oak barrels. With that slight vin rouge, you have a beautiful saignee method Rosé sparkling champagne with good depth of aroma and superb mouthfeel. Perfect for ringing in the new year.