Posted on
By Mark Meissner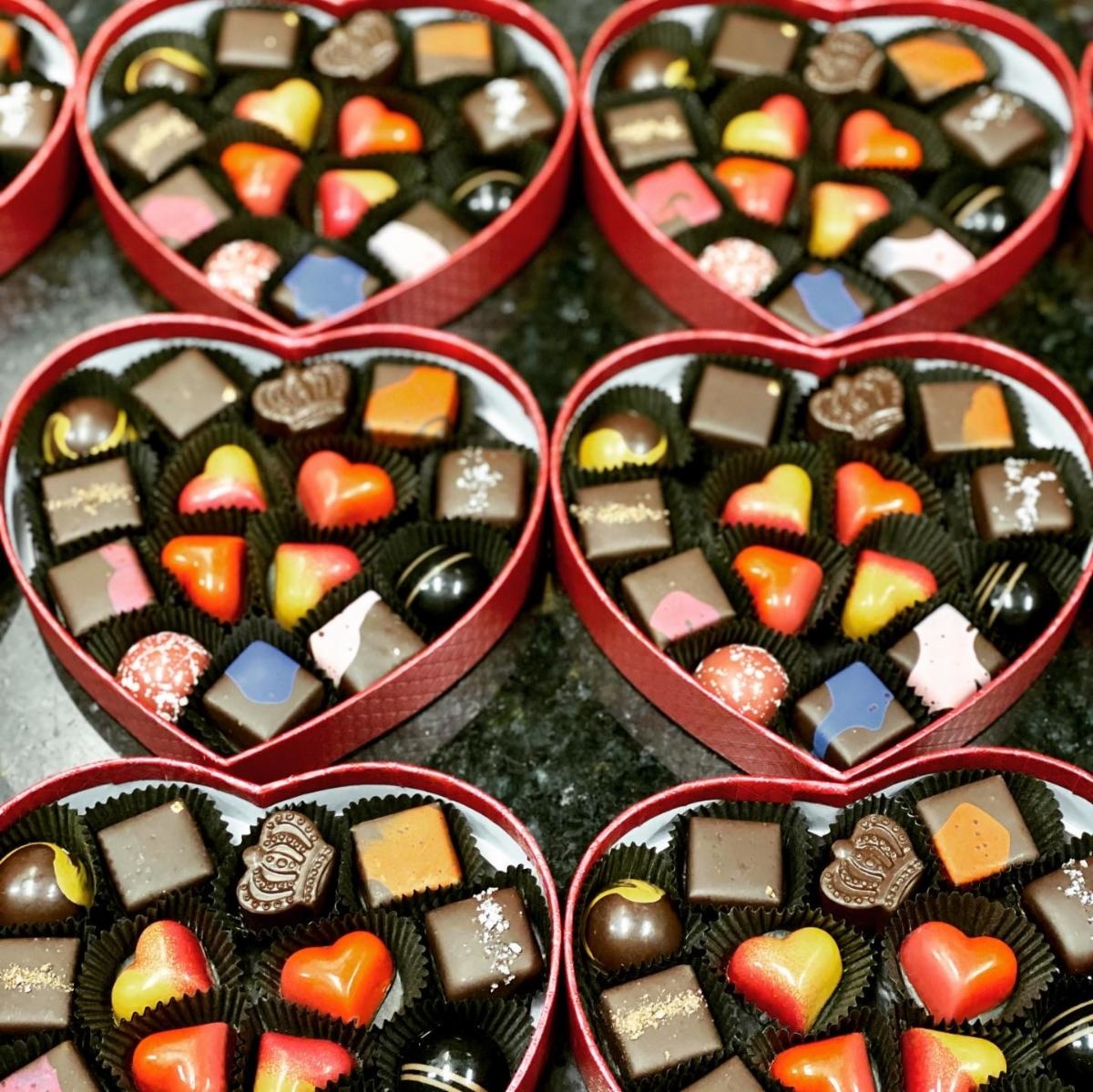 THE LOVERLY FLIGHT!
Our seasonal wine & chocolate pairing:
Taste in-store or pickup the limited gift set...
Happy Wednesday,
With Valentine's Day coming up this Monday, we've selected a brilliant a set of wines for you to enjoy with your Valentine this weekend. It will be a glorious CLT weekend with warming temps, perfect sippin' with your Valentine.
Join us for four wines: a house favorite sparkling Crémant de Bourgogne and three delightful reds, including a lovely Pinot Noir from Anderson Valley's best vineyard sites, a 2015 Barolo and a powerhouse red made by the legendary Andy Erickson. Read on for the wine lineup and try the $28 tasting flight with four paired chocolates for an added $12. It's a perfect pre-dinner game this weekend. And if you're thinking more of a Netflix kinda evening, pickup the four bottles and chocolate pairing for $199 out the door!
The 2022 event calendar has been heating up and we appreciate your interest in both tasting room and hybrid-zoom winemaker visits! Mark your calendar for our upcoming key events:
Exploring four ITALIAN DOCGs (Weekend of Feb 17-19)
FISHER Family, live from Spring Mtn with Cameron Fisher (Thurs, Feb 24)
Stéphane OGIER live from Côte Rôtie, France (Sat, March 19)
Philippe MELKA vintner visit & grande tasting (Thurs, April 28th)
ROSÉFEST 2022 (Sat, April 30th)
More details revealed as events are released, but please mark your calendar!
Valentine's Day is this coming Monday and our offerings are quickly selling out.
See our offerings below and place your orders before limited 2022 collections are gone. You can visit us at Petit Philippe or visit our 20 Degrees Chocolate store in South End's Design Center.
Be well. Happy Valentine's y'all.
Cheers -
Mark
 

TASTE ALL FOUR WINES IN THE TASTING ROOM WITH A VALENTINE'S FLIGHT:

 

Jean-Luc JOILLOT Crémant de Bourgogne

FEL Pinot Noir Anderson Valley

DAMILANO Barolo

LEVIATHAN Red Blend

(see below for the full wine primer!)

 

Flight of 4 - $28/person (2.5 oz. pours)

 

Add the 4pc chocolate pairing for just $12!

 

THURS-FRI 5-7:30pm

SATURDAY 1-7:30pm

 

OR ENJOY AT HOME WHEN YOU ORDER THE 4-PACK wine set, including a handsome wooden gift box and the Twenty Degrees four-piece chocolate pairing

 

$186 retail

OR $199.49 TOTAL (INCLUDING TAX) !

 

First-come, first-served. REPLY with your order via email if your card is on file.

 

OTHERWISE, please give us a quick call at 704-332-9910 to place your order! Please note, some of these wines and vintages are limited.
 

JEAN-LUC JOILLOT

Crémant de Bourgogne

Burgundy NV

$39/bottle (retail) 

 

On a Burgundy trip years ago, I had the distinct privilege of sharing dinner and copious vintages of red and white Burgundy with vigneron Jean-Luc Joillot. His small wine estate in Pommard is just near his home - which was my first experience with tasting his delightful sparkling Rosé crafted just down the Côte in Chassagne-Montrachet.

 

Jean-Luc takes 100% Pinot Noir from Pommard then lets a local Crémant facility (great tour btw) elevate this still wine into a sparkling dry wine, with 18 months on the lees - very much as it's done further north in the region of Champagne. The result is a very expressive, dry Brut Rosé akin to grower bubbles at twice the price. You'll find nice pinpoint bubbles with a creamy red-fruit mousse of strawberry & rhubarb flavors. Clean and refreshing. Terrific value. A crowd pleaser and perfect Valentine's aperitif.
 

FEL

Pinot Noir

Anderson Valley 2019

$47/bottle (retail) 

 

If you remember the BREGGO wines from Anderson Valley we sold over 10 years ago, then you'll be delighted to know this is from the same winemaker, appellation and source vineyards.

 

The grapes in FEL (owned by Cliff Lede today and named after Lede's grandmother) come from premier vineyards in the Anderson Valley, including the iconic Ferrington, Wendling and Savoy sites. It's a remarkably good blend of select Pommard, Mt. Eden, Martini and Dijon clones. The Anderson Valley vineyards which are more inland are protected from the constant coastal breeze off the Pacific. Here you find lovely fruit aromas of black cherry, raspberry, and plum. Naturally cooler vineyards (closer to the influences of the Pacific Ocean) offer more spice-driven grapes, which bring notes of cedar, cigar box, and cinnamon. The balance of these fruit and spice components shows off the complexity found in the appellation and elegantly manages tannins with a lush and lengthy finish. Love me a great Anderson Valley Pinot!
 

DAMILANO

Nebbiolo 'Lecinquevigne'

Barolo 2015

$45/bottle (retail) 

 

The Damilano family business dates back to 1890 when Giuseppe Borgogno began to vinify his own estate wines. It is with great passion that Giacomo Damilano, the founder's son-in-law, developed a love for the vineyards, selecting and caring for them with great care in order to improve the quality of the wines. Over time, the winery's production was transformed into a jewel that was passed down with pride in 1997 to Giacomo's grandchildren, who continue to manage the winery today.

 

The 2015 Barolo Lecinquevigne is delightfully fruit-forward, with red primary fruit like raspberry and dark cherry taking center stage. The wine then develops with richness, complexity and velvety concentration, offering wonderful notes of rose petal, dried cedar, hazelnuts and tobacco. And while the wine is nicely structured and powerful as any Barolo should be, the generous fruit makes this traditional varietal much more approachable! Full-bodied and long on the finish, this is Barolo without the overly aggressive tannins and great mouthfeel.
 

LEVIATHAN

Proprietary Red Blend

California 2019

$42/bottle (retail) 

 

Leviathan is a red wine from legendary winemaker Andy Erickson, the former winemaker for Screaming Eagle. Made from multiple appellations in California, this blend mixes Cabernet Sauvignon from Moon Mountain, Red Hills, and Fountaingrove. The Merlot comes from Coombsville, while the Syrah is sourced from Fountaingrove and the Sierra Foothills. A dollop of Petite Syrah is brought into the blend from Red Hills and Moon Mountain, where Andy also sources some Cab Franc. The blend changes slightly every vintage, and we're smitten with the 2019 cuvée.

 

The 2019 Leviathan boasts an intense mix of fresh boysenberry, black cherry, and plum with cocoa powder, allspice, and nutmeg. Its earthy elements from rocky California hillsides offer bay Laurel, sage, cedar, and dry red earth. Supple and balanced tannins lead to a long savory finish with hints of graphite and star anise. It is approachable now and will also age gracefully!
TWENTY DEGREES CHOCOLATES
Orders from our 
20 Degrees Chocolates
 website are available for pick-up at the 20 DEGREES Chocolate boutique in South End. You can also shop the South End store for in-store collections available for immediate purchase. If you ORDER 
HERE
 through our 20 Degrees Chocolate e-commerce site, our shipping deadlines have passed for this season, BUT you can order have them ready for pickup in South End upon arrival. Yes!
OR, you can drop into the PETIT PHILIPPE wine store on Selwyn for a selection of Valentine's chocolates and fine wines, which we'd be thrilled to pair with a custom assortment of chocolates for your Valentine. Many of the collections below ARE still available, but inventory is being depleted daily and we will likely sell out of stock at this location on Saturday! If you'd like to place an order to pickup chocolates at PETIT PHILIPPE, please reach us via phone 704-332-9910 or just drop by the store and make your purchases with instant gratification (knowing you'll have something handmade, unique and truly delicious for your Valentine this Monday.
Thank you!
 

Hello, I Love You Collection: $88

 

This rockin' collection of ♥ bonbons is sure to make your queen (or king) of angels sigh this Valentine's Day! The vivid leather heart box opens to reveal 35 pieces of handcrafted, heart-shaped caramel and ganache bonbons.

 

Flavors include:

 

Bananas Foster, Hazelnut Latte, Peanut Butter Gianduja, Yin Yang, Dulcey Chocolate Caramel, Chai Tea, Earl Grey Tea, Manjari 64% Dark, Matcha Lemongrass, Hazelnut Praline, Speculoos Spice, Salted Chocolate Caramel, Raspberry Rose, Sweet Passion, Black Forest, Raspberry Pistachio, Sorghum Bourbon Caramel and Vanilla Peanut Crunch.

 

(there will be 2 variants of this product - a red leather heart and a pink leather heart)
 

Valentine's 16-piece Assortment: $45

 

Delight your Valentine with a stunning collection of our special-edition heart bonbons complimented by a selection of classic ganaches. 

 

Flavors include:

 

♥ Earl Grey Tea

♥ French Roast

♥ Bahibe

♥ Peanut Butter Gianduja

♥ Dulcey Chocolate Caramel

♥ African Queen

♥ Chambord

♥ Sorghum Bourbon Caramel
 

Valentine's Hearts: 9-piece assortment - $27

 

Our chocolatiers have created a gorgeous collection of heart-shaped bonbons in nine swoon-worthy flavors. 

 

♥ Black Forest

♥ Chai Tea

♥ Raspberry Rose

♥ Bananas Foster

♥ Speculoos Spice

♥ Salted Chocolate Caramel

♥ Sweet Passion

♥ Yin Yang

♥ Manjari 64% Dark

What better way to show your love than with a box of edible art!

For all Valentine's specialties:

LIMITED QUANTITIES; ORDER EARLY!

Order today; Valentine's shipping begins January 31. Final day to ORDER for Valentine's shipping is February 7.