Posted on
By Mark Meissner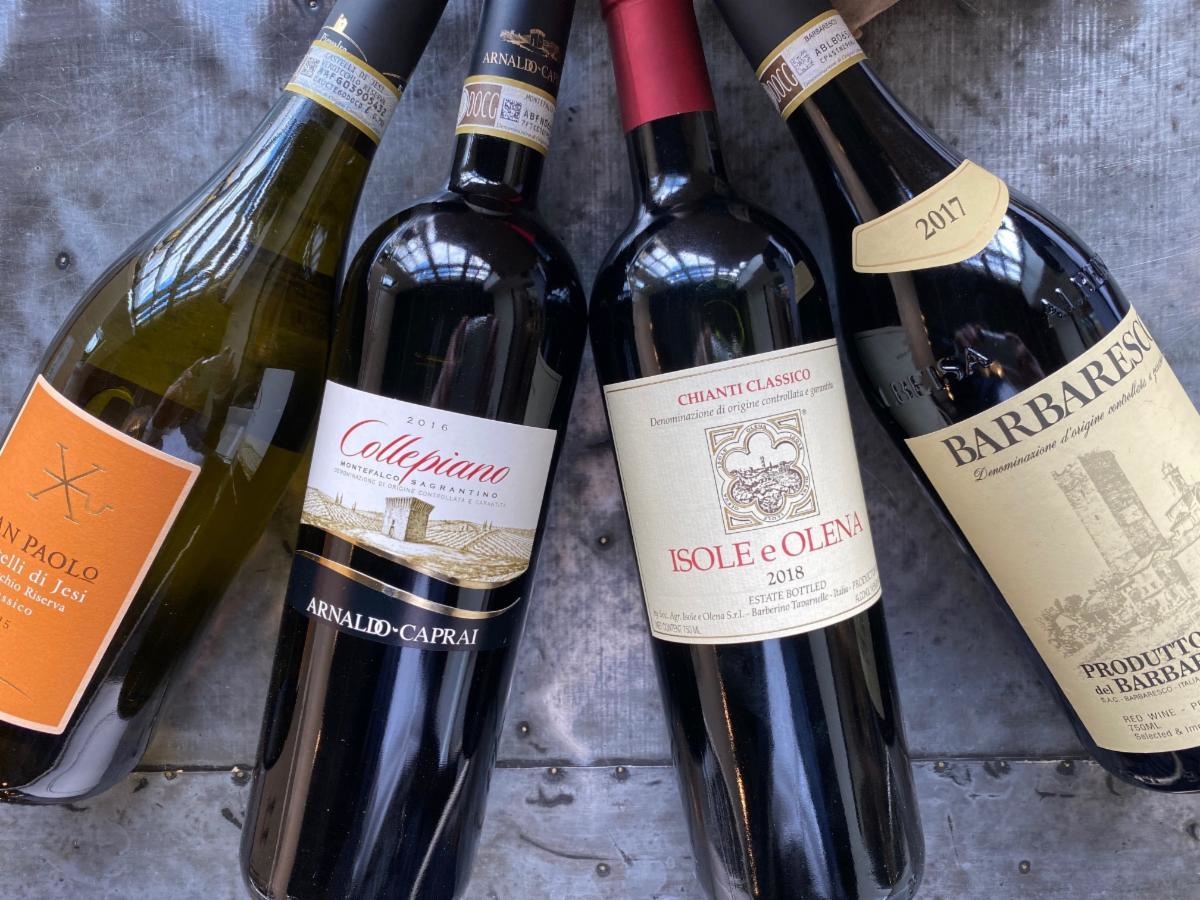 Happy Wednesday,
I hope you had a fabulous Valentine's Day and thanks for the support of our 20 Degrees Chocolates this season!
This week, we head to Italy for an exploration of four DOCGs. The DOCG stands for Denominazione di Origine Controllata e Garantita. The DOCG represents the highest controlled level of quality in Italy, representing 77 wines across 21 wine zones. Our goal is to bring you a select set of those regions this year.
So this weekend, join us for our first four in the 2022 DOCG study: Verdicchio dei Castelli di Jesi Riserva DOCG from the Marche, Chianti Classico DOCG from Tuscany, Barbaresco DOCG from the Piemonte and the Montefalco Sagrantino DOCG from Umbria. More in my primer below, we look forward to your analysis and tasting notes this weekend! And if you're doing your tasting at home, the 4-wine pack for pickup is just $169, on deal from $178. Email or call us at 704-332-9910 to place your order!
The 2022 event calendar continues to evolve as wines and producers become available. Kindly note our upcoming events shows Roséfest moving out two weeks due to importing challenges for the newest releases of Rosé. Mark your calendar for these upcoming key events:
Exploring four ITALIAN DOCGs (Weekend of Feb 17-19)
FISHER Family, live from Spring Mtn with Cameron Fisher (Thurs, Feb 24)
Stéphane OGIER live from Côte Rôtie, France (Sat, March 19)
Philippe MELKA vintner visit & grande tasting (Dinner TBD, Thurs, April 28th)
ROSÉFEST 2022 (Sat, May 14th)
More details revealed as events are released, but please mark your calendar!
See you soon.
Cheers -
Mark
DOCG - Primer
All Italian wines fall into one of the four categories on the pyramid. Think about it as a pecking order of quality, with the DOCG at the pinnacle.
Wines have been produced in Italy for over 2,000 years, but it wasn't until 1963 that Italy installed a wine system of quality. So when you consider that Bordeaux implemented its famous Grand Cru classification in 1855, Italy at that time, had no unified system of quality in their country. In 2009, Italy conformed its system with the newly enacted European Union classification system. Today, you may see either the Italian or EU classification name on the label. But suffice to say, the Italians really lagged behind the french here. And while the Italian wine classification system was modeled after the French, one key difference is that it has two quality classifications that fall within the EU top level "PDO" designation: DOCG and DOC. Collectively, these wines account for about thirty percent of all Italian wine production.
DOCG (Denominazione di Origine Controllata e Garantita) is the highest Italian quality level and as of today, there are 77 DOCGs across 21 larger wine zones. Note, however, that despite the use of the word "garantita" (guarantee), the DOCG designation doesn't really guarantee the quality of a specific wine. That is because the classification is awarded to specific regions, not to particular vineyards or producers. Thus, all producers in Chianti Classico are DOCG, but the quality of wines will vary among producers!
At the highest level, to qualify as a DOCG, a wine must:
come from a specified geographical area.
be made from authorized grape varieties.
conform with strict regulations on how the grapes are grown, how the wine is made and aged.
conform with restrictions on the amount of grapes ("yield") that can be produced.
DOCG wines generally come from smaller delimited areas than lower quality wines, and are held to stricter production standards, both in the vineyards and in the winery. These wines must undergo both a laboratory analysis and a blind tasting to assure conformity with the region's wine laws. Before an appellation can be promoted to DOCG, it must have held DOC status for 10 years!
This week, we'll focus on just four distinct DOCGs:
Verdicchio dei Castelli di Jesi Riserva DOCG
Marche, Italy
Chianti Classico DOCG
Tuscany, Italy
Barbaresco DOCG
Piedmont, Italy
Montefalco Sagrantino DOCG
Umbria, Italy
Explore more, with your palate... This week's flight of FOUR DOCG examples is $25!
More DOCGs to come... so get ready this year for more, in an extended series on Italy's DOCGs. There is so much to explore, so we'll eat this elephant one bite at a time.
 

TASTE ALL FOUR WINES

DISCOVERING ITALY'S DOCGs:

 

Pievalta San Paolo Castelli di Jesi Verdicchio Riserva Classico 2015

Verdicchio dei Castelli di Jesi Riserva DOCG

Marche, Italy - $33/retail

 

Isole e Olena Chianti Classico 2018

Chianti Classico DOCG

Tuscany, Italy - $32/retail

 

Produttori del Barbaresco Barbaresco 2017

Barbaresco DOCG

Piedmont, Italy - $54/retail

 

Arnaldo Caprai "Collepiano" Montefalco Sagrantino 2016

Montefalco Sagrantino DOCG

Umbria, Italy - $59/retail

 

Flight of 4 - $25/person (2.5 oz. pours)

 

WED-THURS-FRI 5-7:30pm

SATURDAY 1-7:30pm

 

OR ENJOY AT HOME WHEN YOU ORDER THE 4-PACK

 

$178 regular retail

$169.10 this week, on-special!

 

First-come, first-served. REPLY with your order via email if your card is on file. OTHERWISE, please give us a quick call at 704-332-9910 to place your order!
 

Pievalta San Paolo Castelli di Jesi Verdicchio Riserva Classico 2015

Verdicchio dei Castelli di Jesi Riserva DOCG

Marche, Italy - $33/retail

 

Stretching along Italy's eastern coast with neighbors, Umbria to its west and Abruzzo to its south, Marche is a region with a varying climate from north to south. Its coastal plains roll into hills that become the Apennine Mountains, which run the length of the country. 

 

Verdicchio's long tradition as the Marche's banner grape and its reputation as one of Italy's greatest Italian white varieties is highly respected by the stewards of viniculture at Pievalta. Verdicchio production is centered in the key appellation of the Marche region: Verdicchio dei Castelli di Jesi. Verdicchio dei Castelli di Jesi is a recognized DOCG and boasts a microclimate well suited for lighter and fresher Verdicchio expression.

 

Pievalta refrains from conventional winemaking production, and has, since the outset, been farmed organically. In 2005, they began conversion to biodynamic farming using legume cover crops between the rows. Clay and limestone amplify minerality and freshness of fruit character. The tell-tale varietal note of most Verdicchio is often described as sweet almond. Verdicchio is a non-aromatic variety, but expect a streak of citrus to show, especially lime, and offers crisp, refreshing acidity.
 

Isole e Olena Chianti Classico 2018

Chianti Classico DOCG

Tuscany, Italy - $32/retail

 

One of the first wine regions anywhere to be officially recognized, Chianti Classico is today what was originally defined simply as Chianti. Already identified by the early 18th century as a superior zone, the official name of Chianti was proclaimed in 1716 upon the area surrounding the townships of Castellina, Radda and Gaiole, just north of Siena. However, by the 1930s the Italian government had appended this historic zone with additional land in order to capitalize on the Chianti name. It wasn't until 1996 that Chianti Classico became autonomous once again when the government granted a separate DOCG to its borders. Ever since, Chianti Classico considers itself no longer a sub-zone of Chianti!

 

Isole e Olena was formed in the 1950's when the DeMarchi family purchased two vineyards in the heart of the Chianti Classico region and combined them into one. Since the 1970's, Paolo DeMarchi has become a leading winemaker in the region by making Sangiovese blends, in addition to wines with 100% Sangiovese. This 'Classico' is actually a blend of 82% Sangiovese, 15% Canaiolo and 3% Syrah.

 

Estate-grown, hand-harvested grapes are fermented in stainless steel tanks for 15 days. This authentic and beautiful Chianti Classico offers cherries, orange peel and nutty undertones. It's medium-bodied, very polished and integrated with a fresh, juicy finish. 
 

Produttori del Barbaresco Barbaresco 2017

Barbaresco DOCG

Piedmont, Italy - $54/retail

 

A wine that most perfectly conveys the spirit and essence of its place, Barbaresco is true reflection of terroir. Its star grape, like that in the neighboring Barolo region, is Nebbiolo.

 

Broadly speaking there are more similarities in the soils of Barbaresco and Barolo than there are differences. Nebbiolo ripens earlier in Barbaresco than in Barolo, primarily due to the vineyards' proximity to the Tanaro River and lower elevations. While the wines here are still powerful, Barbaresco expresses a more feminine side of Nebbiolo, often with softer tannins, delicate fruit and an elegant perfume.

 

Founded in 1958, the priest of the village of Barbaresco, recognizing that the only way small properties could survive was by joining their efforts, gathered together nineteen small growers and founded the Produttori del Barbaresco. From its humble beginnings making the first three vintages in the church basement, Produttori del Barbaresco has grown to a 52 member co-operative. The 2017 Produttori Barbaresco offers layers of aromatics woven together with tar, forested earth, dried cherry, and sweet tobacco. The palate is ripe and pure, with raspberry leather, tea leaf, and blood orange. It is mouth-filling, with fruit that is long and persistent, fine tannins, and a lifted finish.
 

 

Arnaldo Caprai "Collepiano" Montefalco Sagrantino 2016

Montefalco Sagrantino DOCG

Umbria, Italy - $59/retail

 

Centered upon the lush Apennine Range in the center if the Italian peninsula, Umbria is one of the few completely landlocked regions in Italy. Its star red grape variety, Sagrantino, finds its mecca around the striking, hilltop village of Montefalco. The resulting wine, Sagrantino di Montefalco, is an age-worthy, brawny, brambly red, bursting with jammy, blackberry fruit and earthy, pine forest aromas. By DOCG law this classified wine has to be aged over three years before it can be released from the winery and Sagrantino often needs a good 5-10 more years in bottle before it reaches its peak. Incidentally these wines often fall under the radar in the scene of high-end, age-begging, Italian reds, giving them an almost cult-classic appeal. Most folks have never heard of this heralded DOCG for extracted Italian red wine.

 

This rich Sagrantino has aromas of blackberry jam, pepper, clove, vanilla and balsamic notes. The massively structured finale brings sweet tobacco, baker's chocolate and currants lingering incredibly long. This is a towering yet sleek vintage of Collepiano that will enjoy a long life. Powerful yet elegant; bold tannins hint at the ability for long aging.