Posted on
By Mark Meissner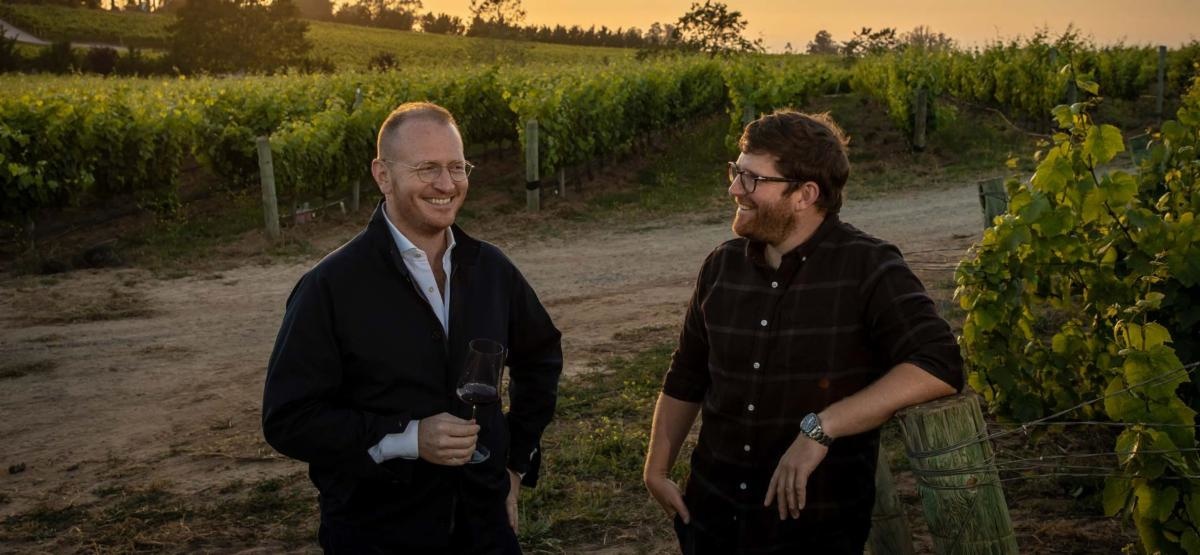 This week, join us for a wine pack of brilliant wines from Railsback-Frères! These are wines truly made for the wine lover who's passionate about continuing the journey. It's a brilliant story of two brothers making pure, terroir-driven wines in Santa Barbara... read on!
This Saturday, join us for a winemaker zoom tasting:
* Surfin' Santa Cruz: Winter Wine tasting with Bradley Brown, rockstar winemaker and owner of Big Basin Vineyards! Five tubular wines, $49 tasting kit, SATURDAY Feb 20th at 5pm. Call for information and reservations.
We have just 10 zoom wine tasting kits now left.... act now! Call to purchase your kit. 704-332-9910
Stay warm and see you soon! And drink more Railsback Frères over these next cold few days...
Cheers!
Mark
RAILSBACK-FRÈRES - Primer
A collaboration in the vineyard...
Railsback Frères began as a rosé project in 2014 by brothers Lyle and Eric Railsback, who call their rosé "Les Rascasses" (scorpion fish in French) as an homage to Lulu Peyraud. Lulu was the proprietress of Domaine Tempier in Bandol, maker of their favorite rosé in Provence. Lyle did National Sales for legendary French importer Kermit Lynch for twelve years before leaving to focus on this Santa Ynez project. His brother Eric started Lieu Dit wines in Santa Barbara, inspired by wines of the Loire Valley, and owns Verve Wine in NYC and San Francisco.
"Eric approached me when he found access to some Mourvèdre, Carignan and Cinsault in Santa Ynez," says Lyle Railsback, "and we produced our first rosé with the 'original recipe' of Bandol: direct-to-press, vinified and aged in old wood, and with malolactic completed. Two years later we partnered with Presqu'ile Winery in Santa Maria, where we now make the wines using only wild, native yeast fermentation. In addition to our dry rosé, we also now make small lots of other Southern French grape varieties, including Vermentino, Carbonic Carignan (à la Maxime Magnon in Corbières), an inky red Mourvèdre, and Syrah from Bien Nacido that's made entirely without the use of SO2."
This week, we will be offering four Railsback Frères wines, which literally JUST arrived:
Railsback Frères Vermentinu (Vermentino) 2019 - $28 retail
California
Railsback Frères Carbonic Carignan 2019 - $35 retail
California
Railsback Frères Grenache 2018 - $45 retail
California
Railsback Frères "Bien Nacido Vineyard" Syrah 2018 - $45 retail
Santa Maria, California
4-pack - $153 retail
5% off - $145.35 THIS WEEK ONLY!
RAILSBACK FRÈRES - This week's four pack:
Railsback Frères Vermentinu (Vermentino) 2019 - $28 retail
California
From the brothers: Our travels to the exotic Mediterranean island of Corsica have uncovered some of our favorite French white wines, from the native Corsican grape Vermentino (or Vermentinu in local dialect). 2019 is our second release of Vermentinu, sourced from two sites in Santa Ynez, half from the marine sedimentary loam of Camp Four, and half from the pure sand of Brick Barn, both harvested by hand from September 19th through the 23rd.  Fermentation and aging was in neutral French oak for six months with or, with only a filtration before bottling.
With aromas of white flowers, pink grapefruit, and a distinctive bitter almond finish, this dry white is as versatile at the table as our favorite Vermentinu from Corsica. Perfect for seafood and white fish dishes, it also goes down easily on its own. Bottles empty themselves quicker than one could imagine.
Railsback Frères Carbonic Carignane 2019 - $35 retail
California
From the brothers: Inspired by the Southern French reds of sommelier cult producer, Maxime Magnon, and Cru Beaujolais from the Gang of Four, our Carignan is made with partial carbonic maceration, making for a juicy-fruited, crushable red that we like to serve chilled or at cellar temperature. Sourced from the Camp Four vineyard, we picked Carignan on three dates, all at between 20.7 and 22.2 brix for a light-bodied and low alcohol, easy-drinking fresh red.
Strawberries, cranberries, and baking spices, with herbaceous flavors of umami and sandalwood. A perfect match for cured meats, dark leafy greens, and of course the ubiquitous burger or pizza night.
Railsback Frères Grenache 2018 - $45 retail
California
From the brothers: Inspired by our favorite Southern Rhône reds, Vieux Télégraphe, and Château Rayas, our pure 100% Grenache is sourced from the John Sebastiano Vineyard on the eastern edge of the Santa Rita Hills AVA. The elevated exposition of this special site gets blasted by the strong winds of the region, not unlike the famous Mistral winds in the South of France. Cool nights and strong winds make for concentrated flavors and lifted aromatics, coaxed by our gifted winemaker, Dieter Cronje.
The 2018 Grenache was picked on October 19th at 22.7 brix, vinified with 25% whole clusters and produced with very low levels of SO2, before being aged in neutral French oak barrels for sixteen months, then bottled without fining or filtration. Only 69 cases were produced. With flavors of raspberry, orange rinds, cinnamon, and the characteristic white pepper of Grenache, our favorite food pairings include roasted lamb, mushroom dishes, or a perfectly grilled ribeye steak.
Railsback Frères "Bien Nacido Vineyard" Syrah 2018 - $45 retail
Santa Maria, California
From the brothers: Some of our favorite wines in France come from the Northern Rhône appellations of Cornas, Côte-Rôtie, and Hermitage, where the Syrah grape reigns supreme. Our 2018 vintage Syrah was inspired by Northern Rhône greats like Thierry Allemand, Auguste Clape, and Gerard Chave, and sourced from the Bien Nacido vineyard in the agricultural heart of the Santa Maria Valley. Once of the coolest climates for growing Pinot Noir in California, we prefer what this site does with Syrah, and our 2018 was sourced from their steepest "Z-block," giving the wine lots of tension.
Harvested on October 20th at just 22.9 brix, we vinified with 75% whole bunches, avoiding any additions of sulphur (SO2), and then aged the wine for 17 months in neutral French oak barrels. Bottling was done without fining or filtration, and only 207 cases were produced.
Our favorite burger night wine, the 2018 vintage is bold, full-bodied, and bursting with aromas of smoke, boysenberry and blueberry fruits, and the classic black pepper spice of Syrah. One of the best pairings we've ever had with Syrah was at a picnic overlooking the vineyards of Cornas, where Auguste Clape's son and grandson served us Caillettes, a local version of meatballs made with liver, cooked greens, nutmeg and wrapped in caul fat. If you're not feeling this adventurous, stick to cheeseburgers, or some thin-crust pizza.