Posted on
By Mark Meissner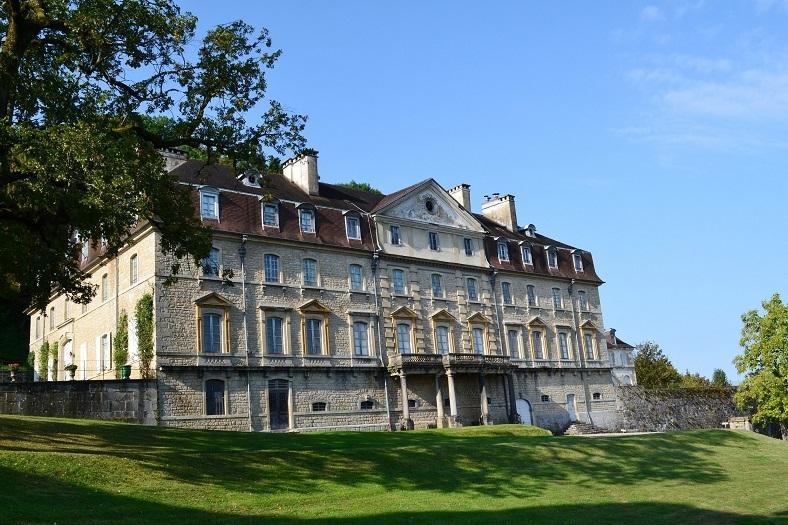 Greetings!
This week we bring you a producer probe featuring two whites and two reds from the Jura region's most historic estate - Chateau d'Arlay!
This icon in the world of french wine is normally only allocated to the best Michelin-star'd restaurants in NY and SF, but with Covid and the odd supply chain quirks, we were able to secure enough wine to pour it this weekend. This estate is the 'First Royal Vineyard of France' dating to the year 630! And if you're wondering about this white-hot wine region called the JURA, a area perfectly wedged between Burgundy and the Swiss border, this weekend offers you a glorious sampling. It all starts at 5pm tonight. Wines are extremely limited and first-come, first-served...
Valentines Day is just a week from Monday and our offerings are quickly selling out... See our offerings below and place your orders before limited collections for 2022 are gone. You can visit us at Petit Philippe or visit our 20 Degrees Chocolate boutique in South End's Design Center.
Be well. And drink more Chateau d'Arlay!
Cheers -
Mark
This week's flight/tasting
PRODUCER PROBE:
CHATEAU D'ARLAY, France's Jura Region
Primer
In early January, we started our aggressive weekly tasting program, with first of the year visits with key french importers and regional distributors. The incredible highlight was an opportunity to taste four wines from the almost "iconic" Château d'Arlay. Historically we have only been able to get a case per year of wine from this heralded domaine out of France's Jura region. So when we were offered a 'substantial' opportunity at their 2022 allocation, we jumped high. Really high! I'm still scratching my head, but suffice to say, it's a unique time (with Covid and what one might call the 'restaurant-omicron effect' as it relates to what would normally be snapped up by NYC and other metro area restaurant groups - with powerful somm-driven groups normally wiping out the US allocations). It's something we definitely took advantage of... and you'll be the ultimate winner here with Château d'Arlay in your cellar.
Admittedly, much of our handsome allocation was snapped up by La Cave members and our wine club subscribers, but we kept a handful of wines for a special tasting room debut this weekend. Suffice to say, we've never been able to pour these wines in the tasting room because we just have never been able to get any significant quantity of wines.
I won't bore you with a long historical perspective on Château d'Arlay, but I'm compelled to tell you that I'm completely smitten with these wines and not just because Château d'Arlay is the 'First Royal Vineyard of France' dating to the year 630! In fact, Château d'Arlay remained in the Laguiche family (for those of you that might recall that name from the 'Le Montrachet' monument in Burgundy) since the 12th century. The domaine has been owned by the Kings of France, Spain and England. These are among a few key reasons why the Château is registered as a national monument in France. It's not only the history buffs coming by the Château every year to visit, it's the somms and the real passionatos of the wine world.
Today, the Count Alain de Laguiche (current generation) has been at the helm of Château d'Arlay since the early 1980s and produces a tremendous lineup of Jurassic wines from their nearly 50 acres of vineyards located just outside the château's walls.
These are incredible wines and are also incredibly well-priced. If you want to get on the Jura train, this is a perfect way to make that happen. And if you don't know the Jura region, just think of it as a heaven for Burgundian varietals, but grown closer to Switzerland, and equally as expressive as burgundy, but at nowhere near the same price point.
Read on and we look forward to seeing you this weekend! It all starts tonight.
 

TASTE ALL FOUR WINES IN THE TASTING ROOM:

 

Flight of 4 - $26/person (2.5 oz. pours)

 

THURS-FRI 5-7:30pm

SATURDAY 1-7:30pm

 

OR ENJOY AT HOME WHEN YOU ORDER THE 4-PACK:

 

$197.00 retail (for all 4 bottles)

 

First-come, first-served.

 

REPLY with your order via email
 

CHÂTEAU D'ARLAY

Chardonnay

'En Treize' Vent' 2019

$55/bottle (retail) 

Dry and mineral-driven I'm a huge fan of this Chardonnay that I'd compare to a village-level white burgundy at close to twice the price. Reasonably round on the plate, still racy and pure - notes of pastry, almond paste, hazelnut and vanilla, with a very long finish.

From the Winemaker, Alain de Laguiche:

A small vintage of old vines, planted in a place called "En Treize Vent" (very windy) and harvested at high maturity. A gastronomic, powerful Chardonnay, which carries within it its Jura character. An elegant and powerful contribution from the Jura to the world of Chardonnay.
 

CHÂTEAU D'ARLAY

70% Chardonnay 30% Savagnin

'Blanc Tradition' 2017

$55/bottle (retail) 

Chateau d'Arlay Tradition Blanc is a mature white wine with aromas of hazelnut, raisins, tea and honeysuckle. On the palate it is creamy, saline and fresh. It has intense flavours of dried fruits, apples and nuts.

Other Notes

Savignan is the other 'famous' white variety of the Jura region. Coupled with Chardonnay this wine is not a typical 'oxidized' example. A gastronomic, intense wine with true Jura power and finesse.
 

CHÂTEAU D'ARLAY

5 Jura varieties !

... and almost a Rosé

'Corail' 2016

 $39/bottle (retail) 

On the nose, this is a very exciting wine. On the palate, this is a wine for the more adventurous - folks that love orange wines and reductive wines with a slight 'sherry-esque' component will adore this wine. A curiously mineral bouquet for a red, with notes of red fruit, undergrowth, and sweet spices with a touch of old leather. Lighter in color and body and a brilliant head-scratcher, not a crowd-pleasing wine for a party, for that, grab the pinot.

From the Winemaker, Alain de Laguiche:

This Corail is my TGV! (Very Great Wine for every day). It is a true "vin d'autrefois", as it was commonly made in the 19th century, the last one still produced today in the Jura, by co-fermentation and maceration of 3 red and 2 white grapes, and patiently aged for 4 years in old tuns. The 2013 vintage was rated 16/20 by the Revue du Vin de France (Feb. 2020)
 

CHÂTEAU D'ARLAY

Pinot Noir

'Rouge' 2017 

$48/bottle (retail) 

Nose of exotic wood, graphite, green pepper, wild red fruits (cherry). The robe is luminous with a vermilion glint. The bouquet mixes ripe red fruits and undergrowth. Fine, tight and natural tannins bring a nice freshness. The wine is round and elegant, revealing a real potential for aging.

From the Winemaker, Alain de Laguiche: Five centuries ago, it was called Noirien in Arlay, and today it is called Rouge de Pinot Noir. It is a grape variety that has been present at the estate since the 13th century and if we continue to make it, it is because the result is good! We make a Pinot Noir for ageing, the 2014 here is still evolving and has very good years ahead of it.
TWENTY DEGREES CHOCOLATES
Orders from our 20 Degrees e-commerce site are available for pick-up at the 20D boutique in South End please! ORDER 
HERE
!
We operate the Petit Philippe wine store on Selwyn Ave with separate inventory. So if you'd like to pickup at PETIT, please place your order via phone 704-332-9910 or at PETIT PHILIPPE (in-store) - Thank you!
 

Hello, I Love You Collection: $88

 

This rockin' collection of ♥ bonbons is sure to make your queen (or king) of angels sigh this Valentine's Day! The vivid leather heart box opens to reveal 35 pieces of handcrafted, heart-shaped caramel and ganache bonbons.

 

Flavors include:

 

Bananas Foster, Hazelnut Latte, Peanut Butter Gianduja, Yin Yang, Dulcey Chocolate Caramel, Chai Tea, Earl Grey Tea, Manjari 64% Dark, Matcha Lemongrass, Hazelnut Praline, Speculoos Spice, Salted Chocolate Caramel, Raspberry Rose, Sweet Passion, Black Forest, Raspberry Pistachio, Sorghum Bourbon Caramel and Vanilla Peanut Crunch.

 

(there will be 2 variants of this product - a red leather heart and a pink leather heart)

 
 

Valentine's 16-piece Assortment: $45

 

Delight your Valentine with a stunning collection of our special-edition heart bonbons complimented by a selection of classic ganaches. 

 

Flavors include:

 

♥ Earl Grey Tea

♥ French Roast

♥ Bahibe

♥ Peanut Butter Gianduja

♥ Dulcey Chocolate Caramel

♥ African Queen

♥ Chambord

♥ Sorghum Bourbon Caramel
 

Valentine's Hearts: 9-piece assortment - $27

 

Our chocolatiers have created a gorgeous collection of heart-shaped bonbons in nine swoon-worthy flavors. 

 

♥ Black Forest

♥ Chai Tea

♥ Raspberry Rose

♥ Bananas Foster

♥ Speculoos Spice

♥ Salted Chocolate Caramel

♥ Sweet Passion

♥ Yin Yang

♥ Manjari 64% Dark

What better way to show your love than with a box of edible art!

For all Valentine's specialties:

LIMITED QUANTITIES; ORDER EARLY!

Order today; Valentine's shipping begins January 31. Final day to ORDER for Valentine's shipping is February 7.