Posted on
By Mark Meissner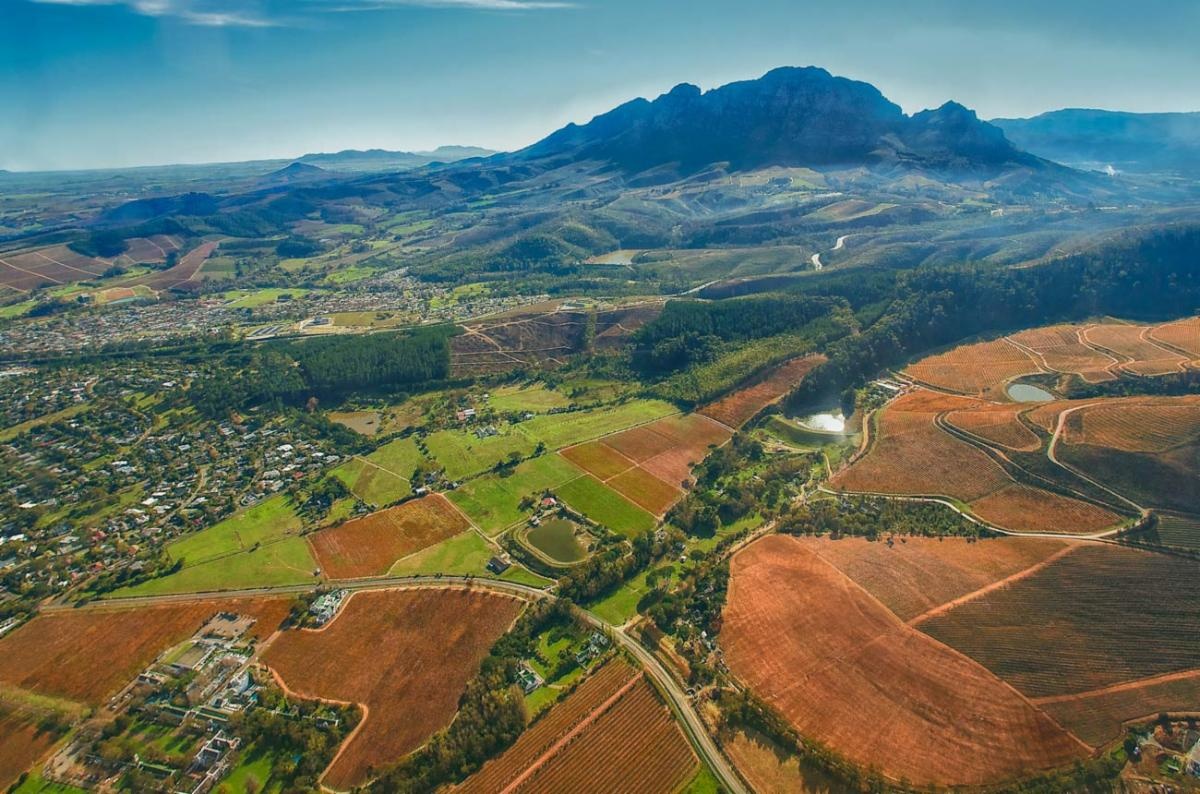 Happy Thursday -
Join us this week, with our showcase wine-pack, as we venture to the only south-of-the-equator wine region which is part of our book - South Africa! With the chilly air in Charlotte, we felt it was fitting to 'heat up' with some brilliant South African red wine from the Stellenbosch area. These wines over-deliver on the quality/value ratio. And the history of South Africa's wine region pre-dates many regions in Europe, so we call it 'Old World' without the premium. Bottom line, we're big fans.
Mark your calendars for our next official Zoom tasting, Friday February 5th at 6pm with Colene Clemens Winery from Oregon. Call or email for pre-reservations, we are 90% sold out at this point...
The PETIT PHILIPPE retail store is OPEN, but any onsite tasting or on-premise consumption remains on-hold and we simply ask that you wear your favorite mask when you shop with us. We also will continue to offer CONTACTLESS curbside/rear parking lot and home delivery.
ORDER YOUR VALENTINES CHOCOLATES SOON! The TWENTY DEGREES chocolate boutique in the South End's Design Center is OPEN Wednesday thru Sunday. See 
www.20degreeschocolates.com
 for hours and online shopping, or just visit us at 1930 Camden Road. We continue to also offer our confections at the Petit Philippe location.
Be well. And this week, drink more wines from South Africa!
Cheers -
Mark
VALENTINES DAY FROM 20 DEGREES CHOCOLATES... they are movin'!
Our limited Valentine's Day offering:
Regular price (LIMITED QTYS!)
$88.00
Our limited Valentine's Day offering:
Regular price (LIMITED QTYS!)
$41.00
Our limited Valentine's Day offering:
Regular price (LIMITED QTYS!)
$25.00
South African Wines: Primer
The wine production area of South Africa is similar in size to Bordeaux's total vineyard area, and the country produces around 4% of the world's wine overall.
Though wine has been produced here for 350 years, South Africa is technically considered a a 'New World' wine region. Stylistically, we consider the wines much more Old World inspired. Since the fall of apartheid in 1994, the wine industry has come a long way. Beforehand, much of the production was in the hands of a state cooperative. Today, there are many eager, ambitious and innovative producers determined to show the world that South Africa can make wine of the finest quality. The most widely planted red wine varieties are Cabernet Sauvignon, Merlot and Pinotage. The important white varieties are Chenin Blanc, Chardonnay and Sauvignon Blanc.
South Africa's climate is Mediterranean, with wet winters and long, dry summers. The cold 'Benguela Current' has a substantial cooling effect on the wine regions and allows for more elegant wines to be produced. It cools the vineyards during the summer afternoons, slowing down the ripening process and intensifying flavors.
Much of the inexpensive wines of South Africa come from the Western Cape, a catch-all appellation covering most of the country's wine regions. The better wines come from smaller regions where more attention is paid to the combination of soil, climate and grape variety. The best white wines tend to come from the cooler coastal areas. Here is the quick recap, by sub-region:
Stellenbosch
The focus for this week, Stellenbosch is the most famous wine region in South Africa and is the home to some of the country's best producers. The mountainous terrain, good rainfall, deep, well-drained soils and diversity of terroir make this a great area for viticulture. The area is rarely to hot thanks to cooling winds from False Bay funneled through various valleys. The main grapes grown here are Cabernet Sauvignon and Merlot.
Constantia
On the southern slopes of the Table Mountain lies the historic Constantia Valley, the cradle of winemaking in the Cape. It is here the world-famous dessert wine Constantia is made from the Muscat grape. The vineyards climb the east-facing slopes of the Constantiaberg, where the vines benefit from the cool sea breeze's contribution to finesse and elegance. Some of the country's best Sauvignon Blanc also comes from this region.
Durbanville
The vineyards of Durbanville, like those of Constantia, lie very close to Cape Town and border on the northern suburbs. The wineries here, situated mainly on the rolling hill slopes with their various aspects and altitudes, continue to make a wide variety of wine styles. Some of the vineyards grow at a height of as much as 380 metres above sea level. Wines from this ward attracting attention are Sauvignon Blanc, Chardonnay, Merlot and Cabernet Sauvignon. Cooling sea breezes, night-time mists and proximity to the ocean are beneficial factors when it comes to the quality of the grapes.
Swartland
Swartland translates to "the black land", and the area takes its name from a native dark bush which gives the landscape a dark color at certain times of the year. Originally, the main wines produced here were full-bodied reds and Port-like fortified wines followed by a reputation for inexpensive table wines. Recently, however, there has been a tremendous transformation and the area is now the center of innovation in terms of quality and pushing limits. The region is particularly famous for old vine Chenin Blanc and some complex and spicy Syrah but also produces excellent Sauvignon Blanc and Chardonnay.
Tulbagh
Surrounded by mountains on three sides, the area is characterized by extreme differences in day and night temperatures. The mountainous terrain also creates various soil types and different microclimates, which can be beneficial to viticulture. With today's high-tech water management and advanced viticultural practices, the real potential of this area is starting to be realized. There are many avant-garde and ambitious winemakers in the region that are growing different grape varieties, though Shiraz has been the most successful thus far.
Walker Bay
This district is mostly famous for its Chardonnay and Pinot Noir. It has a cool climate due to the cooling ocean currents, making it possible to produce elegant, Burgundy-style wines. Fine examples of Sauvignon Blanc, Merlot, and Shiraz are also produced here.
This week's South African wine showcase 4-pk from Stellenbosch!
DeMorgenzon Chenin Blanc 2018 - $44
Stellenbosch, South Africa
Kanonkop Pinotage 2018 - $50
Simonsberg-Stellenbosch, South Africa
De Toren "Fusion V" Red Blend 2017 - $62
Stellenbosch, South Africa
Boekenhoutskloof Cabernet Sauvignon 2014 - $44
Stellenbosch, South Africa
4pack - $200
5% off - $190
 

DeMorgenzon

Chenin Blanc 2018 - $44

Stellenbosch, South Africa

 

DeMorgenzon's Chenin Blanc comes from low-yielding vines planted in 1972, which were originally planted as bush vines but recently lifted onto trellises. The vines are planted in decomposed granite soils, at altitudes of 250 to 300 meters above sea level. Close proximity to False Bay ensures cooling breezes in the warm summer months.

 

This show stopping white displays effusive aromas of white flower, stone fruit, honey and toast which erupt into opulent flavours of pear, orange blossom, caramel and spice. It's a world class wine offering that strikes a brilliant balance between lush fruit and crisp, mouth-watering acidity.
 

Kanonkop

Pinotage 2018 - $50

Simonsberg-Stellenbosch,

South Africa

 

While South Africa has a long and rich winemaking history that's hard to define with just one grape, many assert that Pinotage is the country's most characteristic red-wine variety. A hybrid between Pinot Noir and Cinsault, Pinotage was first created in 1925 by chemist Abraham Izak Perold, who was tasked by the Cape government to find grape varieties that could be successfully cultivated in South Africa. The first documented commercial planting of the grape was in 1943, with many award-winning successes that followed.

 

So while the grape might not be the most recognizable grape variety, we urge you to try this entry-level example from one of South Africa's finest producers, Kanonkop!

 

The grapes are fermented in open concrete vats before maturing for 14 months in second-use French oak barriques, combining the juicy red fruits of Pinotage with the rich complexities of the oak. Consequently, this is a softly structured wine displaying intense red berry flavors joined by coffee, cream and chocolate notes.
 

De Toren

Fusion V Red Blend 2017 - $62

Stellenbosch, South Africa

 

The exquisitely expressive De Toren "Fusion V" 2017 unveils intense aromas of juicy red cherries and ripe blueberries. It further compels with supporting nuances of perfume, creamy notes of cassis and an understated, underlining chalky minerality. The wine is beautifully textured, with detailed fruit flavours of creamy blackberries. Dense, yet vibrant the wine lingers with soft, fine grain tannins inviting one's senses for the next sip.

 

This 'Left-Bank' Bordeaux-style blend has ALWAYS been a Petit favorite red producer from SA and the press has unfortunately caught up with how awesome this wine is for the money.

 

With finely integrated oak flavors, this wine was granted "Platinum" award status by the South African Wine Index. It's an exquisite example of wine that you can blind taste against classified Bordeaux.

 

Varietal Composition: Cabernet Sauvignon: 52%, Malbec: 15%, Merlot: 16%, Cabernet Franc: 12%, Petit Verdot: 5%
 

Boekenhoutskloof

Cabernet Sauvignon 2014 - $44

Stellenbosch, South Africa

 

 

The 2014 Boekenhoutskloof Cabernet Sauvignon is made in the Franschhoek Valley and consists of mostly Cabernet Sauvignon, with some Cab Franc included.

 

Boekenhoutskloof is has roots that go back to 1776! The name means "ravine of Boekenhout" and refers to an indigenous tree that's especially famous for furniture production. The brand logo (not shown here) shows an elegant lady carrying the dove of peace and hope who was once the symbol of the Cape of Good Hope. Now, she makes a promise for the quality of Boekenhoutskloof.

 

A new vineyard planting program was established reflects the quality in the 2014 vintage. Once the grapes are harvested and undergo primary fermentation, racking occurs regularly and the wine is left to age for 27 months in 100% new French oak barrels to ensure the structure and depth of fruit to support the oak. Dark cherry color, complex scents of chocolate and toffee with moderate alcohol. Brilliant SA red that balances power and finesse.