Posted on
By Mark Meissner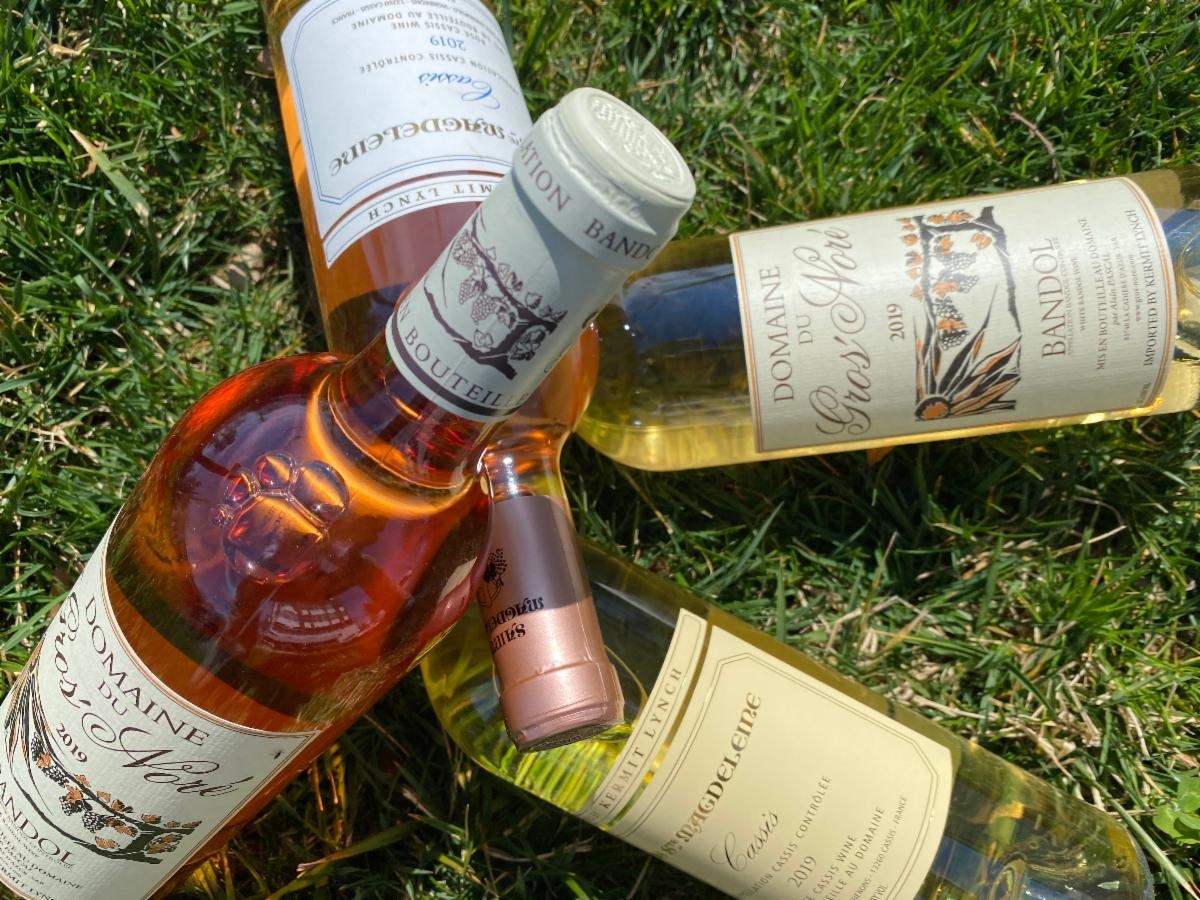 Happy Thursday!
This week we're going on a pre-spring kick with two Blancs and two Rosé wines from two lovely French towns on the Mediterranean - BANDOL and CASSIS! It's a perfect weekend 4-pack! We're also featuring some our first Easter chocolate collections from Twenty Degrees!
Read on for the wine primer and our very special wine offerings this week...
Mark your calendars for our next official ZOOM tasting:
FRIDAY March 19th - Join us for our first-ever BLIND Wine Tasting via Zoom. Details coming soon, so sharpen your palates and get ready for a great online wine challenge and tasting. Mark your calendar for 6pm! Email for tix! We are more than half full...
Get your vaccine! They are now becoming available. The sooner we all are immunized and have some CLT herd immunity, the sooner the tasting room re-opens! Call for limited small wine tasting programs we're introducing to your backyards soon! Or email
[email protected]
The TWENTY DEGREES chocolate boutique in the South End's Design Center is OPEN Wednesdays through Sundays. See TwentyDegreesChocolates.com and see our links below to our 2021 Easter selections... always handmade and always limited!
Be well, be safe and enjoy some Blancs et Rosé this weekend!
Cheers,
Mark
Join us this week as we take you from Cassis to Bandol!
Four brilliant wines, Rose and White...
Cassis is a small, charming coastal village of fishermen, and the wine-producing area in Provence in south-eastern France. The landscape around Cassis is classic Provence: clear, blue Mediterranean waters and terracotta rooflines, overlooked by limestone-white cliffs and surrounded by vineyards and garrigue. 'Garrigue' is the southern French word used to describe landscapes of dry herb-strewn scrubland over limestone soils, which is ideal vine-growing terroir.
This stretch of coastline is ideal for wine production. Protected from cool northerly winds by the surrounding mountains, the vineyards here enjoy sheltered, warm growing conditions. Cassis is known for its full-bodied, herb-scented white wines. A small quantity of rose and red wines made from certain grapes are also produced, although they are somewhat overshadowed by those from Bandol, just a few miles down the coast.
Let's continue to the Bandol wine region of France. Located near the coast east of Marseille and Cassis, it is one of Provence's most internationally recognized wine regions. The Bandol AOC is based around the fishing village of Bandol, west of Toulon, and covers the production of 8 communes with distinctive soils. Bandol is most famous for its rich, peppery, and meaty red wines made almost exclusively with Mourvèdre. But fans of Bandol know that brilliant white AND incredible Rose is also produced here!
THIS WEEK, we'll be focusing on 2 wines from a brilliant producer in Cassis and 2 wines from a renowned Bandol producer!
Snap these up... as these are ALL pre-season and LIMITED. They will NOT be available when the real season starts for these wines...
Clos Ste Magdeleine Cassis Blanc 2019 - $43
Clos Ste Magdeleine Cassis Rose 2019 - $48
Domaine du Gros' Nore Bandol Blanc 2019 - $48
Domaine du Gros' Nore Bandol Rose 2019 - $39
CASSIS + BANDOL "Blancs et Rose" 4pack - $178
5% off - $169.10
CASSIS & BANDOL "Blancs et Rose" - This week's four-pack:
Clos Ste Magdeleine
Cassis Blanc 2019 - $43
Cassis is what importer Kermit-Lynch calls "an earthly paradise."
The vineyards of Clos Sainte Magdeleine are particularly stunning, jutting out on a private cape to meet majestic limestone cliffs, poised spectacularly above the sparkling, azure Mediterranean. Only a handful of vignerons today are fortunate enough to produce A.O.C. Cassis, and the small quantities available are largely consumed locally with fresh fish—the best way to enjoy them.
The Sack-Zafiropulos family has been making wine here for four generations and continues to craft wines of grace and finesse. Their success lies in an uncanny ability to capture nerve and sun-kissed unctuousness in the wines, making them both incredibly food-friendly and delicious entirely on their own.
The aroma has notes of Provençal herbs, anise,white peach, and white acacia. On the palate there is fleshiness and a fresh peach-like acidity. The aftertaste is elegant, dry, honeyed with notes of apricot and peach.
Blend: 40% Marsanne, 30% Ugni blanc, 25% Clairette, 5% Bourboulenc
Clos Ste Magdeleine
Cassis Rose 2019 - $48
This sun-kissed rosé from Cassis is savory, satisfying and marked by notes of tart red fruit, citrus rind, and salty sea air. A true Provencal classic. Drink this now, lay it down, or do both!
Blanc has always been the focus since the wines from Clos Sainte Magdeleine became available in the US in the late 1970s,. Their fennel-and sea-salt-inflected Cassis setting the standard for Mediterranean whites. But vigneron Jonathan Sack also bottles a Cassis rosé each year, a delicate expression of mainly Grenache and Cinsault that is, sadly, made in tiny quantities.
They have crafted what is perhaps the quintessential Provençal refresher—an uplifting nectar of bright citrus, fresh berry fruit, wild herbs, and salty sea air—that is a far cry from the countless technological, mass-marketed examples in production throughout the region.
Yes, not cheap, but worth every penny and every sip! This is an example of something MUCH smaller production than say Domaine OTT. Limited!
Domaine du Gros' Nore
Bandol Blanc 2019 - $48
Alain Pascal could be a character pulled right out of a Marcel Pagnol novel—a kind of Provençal Hercules. Like his father, Honoré, for whom the domaine is named, Alain is a strong, husky man with hands the size of bear claws. That he is a former boxer and an avid hunter should be no surprise, yet his physique matches both his spirit and his wine—this gentle giant and his cuvées are all heart.
For years he sold his prized fruit from Bandol to Domaine Ott and Château de Pibarnon. Though he and his father would bottle their own wine for family consumption, they never labeled it under their own domaine name. In 1997 after his father's death, Alain officially started Domaine du Gros 'Noré, a real shift that has brought him more than just casual notice. Alain is already a leading contender in Bandol, the appellation regarded as the grand cru of Provence.
Crisp and characterful, and loaded with Provençal complexity. 70% Ugni Blanc, 30% Clairette
Domaine du Gros' Nore
Bandol Rose 2019 - $39
Crisp and characterful, and loaded with Provençal complexity, his 2019 is a blend of squarely structured Mourvèdre, balanced with equal parts Cinsault, a more delicate variety, and fruit-forward Grenache. Alain was recently profiled during harvest for the major French news station TF1, and after seeing footage of his rigorous sorting practices, it's easy to see why his rosé tastes so damn good.
   "It all depends on the raw material," he says. "If we don't have that, we can't make a high-quality wine." Standing atop his tractor amid a bounty of freshly-clipped Mourvèdre, he inspects each and every cluster. Grabbing one whole like a giant drumstick, he tears off a bite with his teeth and swishes the skins, seeds, and pulp as if it were already wine. He pauses in reflection, then spits vigorously into an imaginary spittoon. "Too acidic, we can't use that bunch."
Alain and his team pick before dawn to ensure the grapes remain cool. As the sun stretches up over the hills of La Cadiere d'Azur, he practices yet another quality control technique. Holding up a gorgeous, plump cluster of Mourvèdre to the first rays of light, Alain fixates on where the sun enters the translucent skin of some pinker-looking berries, then tosses it to the ground. "Not ripe enough," he indicates. It seems crazy to reject so much decent fruit, especially for a mere rosé, but Alain isn't one to settle, and this is no ordinary rosé. "As soon as my grapes enter the cellar, the wine is ninety percent complete. I am just there to accompany them."
Alain repeats the sunlight test with a different bunch, only this time a glowy halo appears, and every berry looks deep, dark, and densley purple. This one makes it to press. With such ripe fruit, how does Alain keep his rosé so refreshing? "I press gently, never over-extracting. I prefer to lose in quantity over quality, that's how to preserve finesse."