Posted on
By Mark Meissner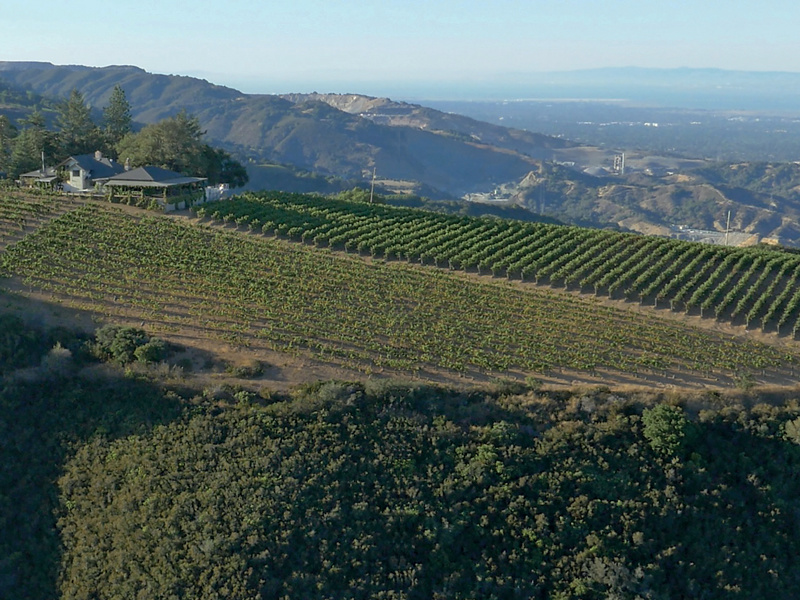 Happy Thursday -
Having grown up in the Bay Area, I'm always delighted to show the awesomeness of the much unknown Santa Cruz area in northern California. Sure, you might have been down the picturesque HWY 1, but the surrounding mountainous area holds considerable 'ground' in the vast world of wine in the New World.
We're so enamored with the AVA that there's a good chance next week we'll continue the local tour!
It is here where you'll find MOUNT EDEN VINEYARDS, in the Santa Cruz Mountains, south of San Francisco Bay. Read on for the incredible story... but the Santa Cruz AVA is home to many other world-class wines that set the standard of California excellence in the 19th century (and even beat the French in the '70s)! This week we're showcasing the Mount Eden estate Chardonnay, along with three reds from Big Basin (recently reviewed over zoom with the winemaker), Kathryn Kennedy (another storied estate with history as impactful as Mount Eden), and Apriori (our newcomer to the shelves).
It's a prized four-pack and available this week for your weekend sipping pleasure.
Mark your calendars for our next official ZOOM tasting:
KIRK VENGE! FRIDAY April 9th - Join us for an all-star, all-red lineup of opulent reds, including the Venge Reserve Cab, Croix and Scouts Honor. Kirk has become somewhat of a celeb in Cali... Details coming soon, mark your calendar for 6pm! Three wineries, one cool winemaker! Pre-reservations via email. $59/kit !
Get your vaccine :) They are now becoming available. The sooner we all are immunized and have some CLT herd immunity, the sooner the tasting room re-opens. Call your local Walgreens for last minute, extra vaccines which are better off used than tossed, right? The resourceful and tenacious folks I know are all vaccinated... Let's do this!
Call for limited, small/private wine tasting programs we're introducing to your backyards this spring. Or email
[email protected]
The TWENTY DEGREES chocolate boutique in the South End's Design Center is OPEN Wednesdays through Sundays! See TwentyDegreesChocolates.com and see our links below to our 2021 Easter selections... always handmade and always limited!
Be well, be safe and enjoy more wines from the Santa Cruz Mountains!
With much gratitude,
Mark
TWENTY DEGREES CHOCOLATES - exclusive 2021 EASTER OFFERINGS NOW AVAILABLE!
The BIG EGG Centerpiece
Our artisans have hand-painted a gorgeous Easter egg made from more than a pound of single origin 46% dark milk chocolate. Entirely edible, this beautiful sculpture makes a perfect centerpiece for your table, and a delightfully sweet indulgence after your Easter meal. Filled with milk and dark chocolate-coated crunchy cereal pearls, 2 solid milk chocolate mini eggs and 3 luscious dark chocolate ganache eggs, plus more than a pound of chocolate shell and base, you can share this masterpiece with a crowd. 
This chocolate 'Sculpture' is ~8" tall and 5" wide!
$79 / LIMITED!
CALL TO PLACE YOUR ORDER AT THE MYER'S PARK STORE 704-332-9910
PICKUP IN STORE ONLY... Again, VERY limited quantities. Item does not ship due to its fragility. 
SANTA CRUZ MOUNTAINS - And the Mt. Eden Estate Primer
MOUNT EDEN VINEYARDS, in the Santa Cruz Mountains, south of San Francisco Bay, has and incredible history. And new stories in history are being made...
In the early 1900's Paul Masson (who grew up in Burgundy) shifted part of his successful California production to the region, and then 35 years later sold his Saratoga winery to a neighbor named Martin Ray, a newcomer to the business who predicted California wines would one day rival those of the old world. Hmmm, he certainly had a good prediction. All I can think of is, "we will sell no wine before it's time." But this is much better than just clever marketing.
By 1976 Martin Ray had become a winemaking legend and the famous 'Judgment of Paris' blind-taste-testing wine competition ended with the French judges declaring several California wines to be as good or better than their renowned French counterparts. TWO of the world-beaters were Santa Cruz Mountains wines! And the quality coming out of the region has only gotten better since.
If you had to pick just one winery to demonstrate the originality of California wine, Mount Eden Vineyards might be the winner. This iconic estate is recognized as California's first 'boutique' winery, focusing on small lots of three grape varieties normally found in far-flung locations: Pinot Noir, Chardonnay and Cabernet Sauvignon. Mount Eden Estate sits just 15 miles from the Pacific Ocean at the top of Table Mountain, 2,000 feet above the Silicon Valley town of Saratoga, at the end of a winding 2-mile dirt road. In 2007 the estate acquired an additional 55 acres nearby (the former Cinnabar Winery property), which they named Domaine Eden. Pre-Covid, over the past decade, we've had them out to Charlotte three times... Can you tell we love them?
There are few that have the history of Mount Eden... David Bruce certainly holds a torch, but unquestionably Kathryn Kennedy takes a seat at the table. Born in 1927, Kathryn moved from Santa Cruz to Santa Clara Valley at the age of 15. She earned a degree from Stanford University at the age of 19. Married, and with the first of her four children, Kathryn moved to her Saratoga property in 1949. Her inspiration to plant a vineyard came from experiencing a fine bottle of Martin Ray Cabernet from the 1950s as well as from observing the workmen tend an old Cabernet vineyard across the road from her home.
Kathryn established her vineyard during "The Wine Boom of the early 1970s". New fashions and lifestyles were being introduced by the likes of Sunset Magazine and Julia Child. Bright colors, fresh California produce, outdoor dining and a taste for the finest foods in the European tradition were all the rage. This included a taste for the classic French Wines and the high art they represented. Kathryn was a pioneering female in the CA wine industry. Her brand was one of the first to bear a woman's name. Her location was unusual too. Although Saratoga had a stellar wine history in the 1880s, by the 1970s it was far from Napa and off the map to all but the most astute. After 35 years, working alongside Kathryn Kennedy, her son Marty Mathis continues their commitment to growing and making world class sustainable wines.
Bradley Brown and Samantha Shakti-Brown founded Big Basin Vineyards in 1998 on a historic vineyard site in the Santa Cruz Mountains next to Big Basin Redwoods State Park. The couple renovated this property where French immigrants farmed grapes nearly 100 years ago and planted their first vineyard (Rattlesnake Rock) ten years ago. They built the winery in 2003 using local redwood lumbar harvested from the estate. It stands where the original house, circa 1890, burned down in the 1970s. Over 90% of the estate has been preserved in its natural state. Relative to Mount Eden or Kathryn Kennedy, Big Basin is part of the new guard in the Santa Cruz mountains. And Apriori Cellars, an even newer guard...
Apriori winery is a collaboration of Patrice Breton and Georges Sabongui, two friends since high school. Both are from Canada. And both had successful careers in the technology industry before dedicating themselves to crafting wine. They also co-founded and operate the Champlain Group, a private equity firm specializing in, none other than, the wine industry. Patrice directs all production operations of Apriori and also owns and operates Vice Versa Wines, a boutique winery based in St. Helena in the Napa Valley. The winemaker is Shawn Johnson, a rising star in the Napa Valley who is assisted by consulting winemaker Philippe Melka. Their small suite of wines include the Pinot Noir bottling we're showing from the Hicks Family Vineyard in the Santa Cruz Mountains. 
It's an awesome lineup this week and it's all about four brilliant producers from the Santa Cruz Mountains!
Mount Eden Estate Chardonnay 2016 - $69
Kathryn Kennedy 'Small Lot' Cabernet Sauvignon 2018 - $52
Big Basin Vineyards "Rattlesnake Rock" Syrah 2015 - $55
Apriori Cellars "Hicks Family Vineyard" Pinot Noir 2015 - $42
4pack - $218
5% off THIS WEEK - $207.10
Santa Cruz Mountains: 4-pack of AVA greats! This week's showcase:
Mount Eden Vineyards
'Estate'
Chardonnay 2016 - $69
Hopefully you read the history in the primer!
Delicate yet persistent aromas of citrus fruit and honeysuckle combine with an "old world" touch of earth.
On the palate, the flavors are expansive with energetic and tense citrus fruit and minerality.
This 2016 is reminiscent of the 2012 with its classic restraint yet with a deep core of acid-laden fruit. 
A truly world-class new world Chardonnay.
Kathryn Kennedy 
'Small Lot'
Cabernet Sauvignon 2018 - $52
This small, 7-acre vineyard on the steep slopes in the Santa Cruz Mountains AVA has been a quiet success story for decades. Kathryn Kennedy was an original and a pioneer in every way, establishing one of the first estates in Santa Cruz that specialized exclusively in Cabernet Sauvingon.
The "Small Lot" bottlings take all the craftsmanship and character of the Estate Cabs and ramp it up two notches.
This is a spectacular wine that convesy the incredible soul of the AVA that Antonio Galloni calls "the greatest and most overlooked terroir in the United States."
Big Basin Vineyards 
'Rattlesnake Rock'
Syrah 2015 - $55
From what could be considered the home estate vineyard of Big Basin Vineyards, the 2015 Rattlesnake Rock Syrah was two-thirds destemmed and spent just under two years in 29% new French oak.
Its deep purple/ruby color gives way to a concentrated, rich, masculine Syrah that has classic notes of blackberries, peppered meats, olive, and hints of bacon fat.
This medium to full-bodied Syrah from Bradley has terrific purity, integrated acidity, and a great finish.
Apriori Cellars 
'Hicks Family Vineyard'
Pinot Noir 2015 - $42
Dark cranberry and red berry aromas make for a very nicely concentrated nose on this bottling, which also shows a crushed stone and slate minerality.
It is a clean, medium bodied style of Pinot Noir, full of dark yet not overripe fruit, offering black plum and more boysenberry as well as loamy soils, forest floor and earthy herbs on the palate, with a baking-spice finish.
This vibrant Pinot Noir displays captivating aromatics with layer after layer of unfolding flavors of red berry tart, wild strawberry and sweet spice, all which linger on the finish.