Posted on
By Mark Meissner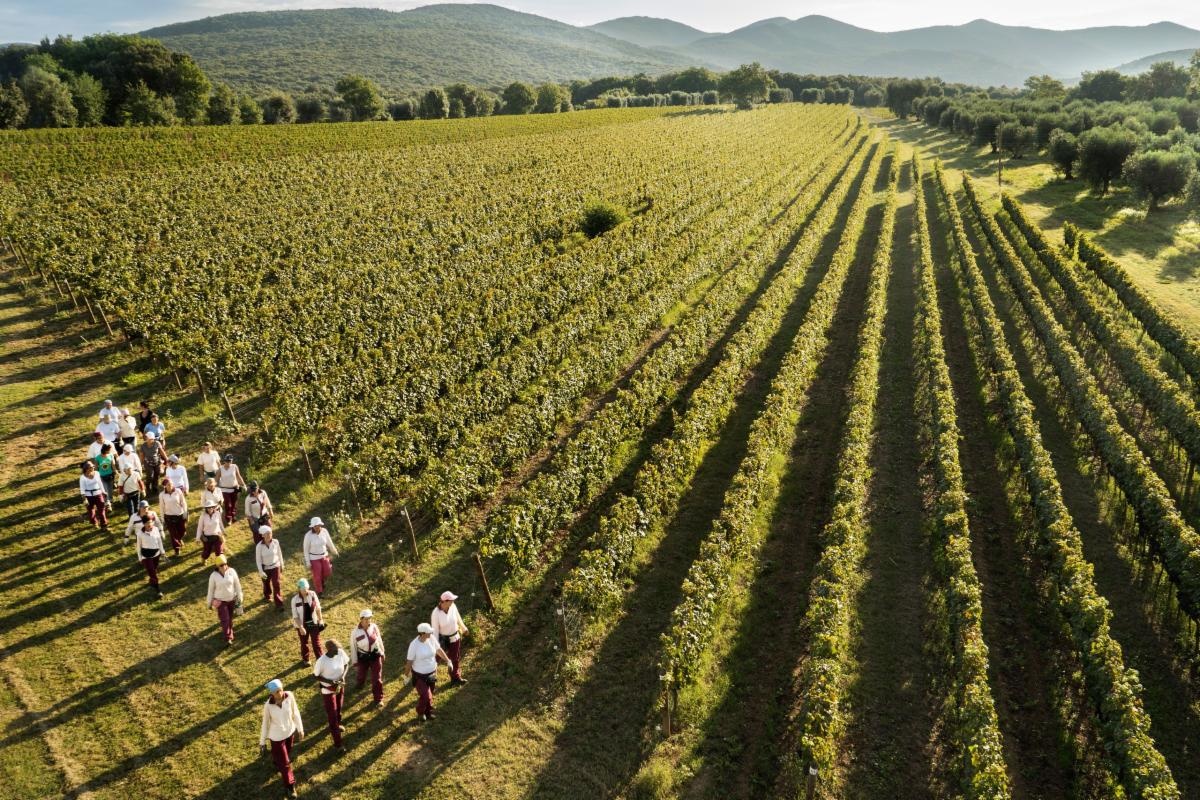 VIVA ITALIA!
This week we take you to Italy for a brilliant VIVA TOSCANA four pack of truly awesome wines from Italy. Vernaccia di San Gimignano, Vino Nobile di Montepulciano, Chianti Classico Riserva and Brunello di Montalcino. All from heralded labels and historic estates. It's a beautiful way to get your weekend going with one white and three reds from the notable appellations of Tuscany! Read on for the primer and the great little 4pk for this week...
Mark your calendars for our next official ZOOM tasting:
FRIDAY March 5th - SENSES WINES Zoom Tasting * Sold Out *
FRIDAY March 19th - Join us for our first-ever BLIND Wine Tasting via Zoom. Details coming soon, so sharpen your palates and get ready for a great online wine challenge and tasting. Mark your calendar for 6pm! Email for pre-reservations. Details forthcoming next week.
The retail store is OPEN, but any onsite tasting or consumption remains on-hold and we simply ask that you wear your favorite mask when you shop with us. We also will continue to offer CONTACTLESS curbside/rear parking lot delivery.
Get your vaccine! They are now becoming available. The sooner we all are immunized and have some CLT herd immunity, the sooner the tasting room re-opens! Call for limited small wine tasting programs we're introducing to your backyards soon! Or email
[email protected]
The TWENTY DEGREES chocolate boutique in the South End's Design Center is OPEN Wednesdays through Sundays. See TwentyDegreesChocolates.com for hours and the latest updates, or just visit us at 1930 Camden Road (just behind Jenny's and Superica).
Be well, be safe and enjoy the wines of Tuscany.
Cheers,
Mark
More than half of Tuscany's hillside vineyards are planted with Sangiovese grapes. Historically the region is known for its production of Chianti. In fact, the Chianti zone is the oldest appellation in the region.
Geographical sub-appellations of Chianti include:
Chianti Classico
Chianti Rufina
Chianti Colli Senesi
Chianti Colli Fiorentini
Colli Aretini
Colline Pisane
Chianti Montalbano
Chianti Montespertoli
These sub-appellations may be featured on Chianti wine labels. Chianti Classico and Chianti Rufina are some of the most distinctive wines coming out of the Chianti area. While the wines must be mostly made from Sangiovese, a small percentage of additional varieties may be used. In the past, white varieties like Malvasia or Trebbiano could be added, though they're no longer permitted. Native red grapes like Canaiolo Nero or Colorino are still allowed but not commonly added. Bordeaux varieties like Merlot or Cabernet Sauvignon are more likely additions. However, the current trend is to go local and aim for 100 percent Sangiovese from single vineyards, when possible.
Tuscany is also renowned for the Sangiovese-based Vino Nobile di Montepulciano, which is made near the hill town of Montepulciano. These wines show similar characteristics as Chianti Riservas. Another Sangiovese-based wine, Brunello di Montalcino is a world-class red that often vies with Barolo for the reputation of Italy's finest and most age-worthy wine. It must be made with 100 percent Sangiovese grapes.
The region's other most significant red wines are the famed Super Tuscans. A local take on the classic Bordeaux-style blend of Cabernet Sauvignon, Merlot, and Syrah (and sometimes Cabernet Franc), these wines were developed, in part, as a reaction to the restrictive regulations in Tuscany during the 1970s. At the time they emerged, they were considered some of the region's best reds. Yet, somewhat ironically, they were technically table wine. In 1994, their Vino da Tavola (VdT) status was elevated to the Indicazione Geografica Tipica (IGT) denomination, which officially endowed these non-traditional wines with a premium quality rating just below the Denominazione di Origine Controllata (DOC), which at that time was reserved for more traditional regional wines.
More recently, in the Super Tuscan heartland, Bolgheri and Bolgheri Sassicaia DOCs were established. While Super Tuscans are still sometimes released without DOC denominations, they are generally regarded as high- to very high-quality wines (and they typically have prices to match). Super Tuscans may be made from a single variety like Sangiovese or Cabernet Sauvignon, or a blend of some combination of these grapes and others, including Cabernet Franc, Merlot, Syrah, and Alicante (Grenache).
But Tuscany isn't just a red-wine-producing region. There are a number of white wines to be explored, including those made from Trebbiano, Vernaccia, and Vermentino. The region is also known for its dessert wine, Vin Santo, which is made from native varieties (usually white, but sometimes Sangiovese is used) and traditionally served with almond biscotti.
Geography
Tuscany is a predominantly hilly region with vineyard elevations rising up to 550 meters above sea level. About a quarter of the landscape is mountainous and a scant 8 percent is officially classified as flat. Approximately 57,942 hectares of the region's nearly 23,000 square kilometers is under vine.
The main wine-growing areas of Tuscany include:
Chianti
Montalcino
Montepulciano
The Tuscan coast
Sangiovese grapes thrive in the interior hillside vineyards in the Chianti zone that runs between Florence and Siena, as well as in the Montalcino and Montepulciano areas, where its best expressions evolve. Cabernet Sauvignon flourishes in the warmer areas along the Tuscan coast.
Soils in Tuscany range from soft and crumbly, marl-like clay-limestone and dense sandstone in the Apennine foothills to sandy clay around San Gimignano and gravelly clay and sandy soils in the Bolgheri and Maremma areas.
Tuscany's climate is Mediterranean with dry, hot summers; warm springs; and mild, rainy autumns and winters. Variations in altitude, exposition, and diurnal temperatures in the foothills contribute to climatic conditions that help balance the sugar, acidity, and aromatics in the grapes—primarily Sangiovese—planted there. Coastal areas like Bolgheri and Val di Cornia tend to be more temperate.
History
In ancient times, the area of Tuscany and its environs were part of the Etruscan empire. The Etruscans were the first vintners to work the land. They trained their grapevines with natural, high-trellis supports like fig, olive, and nut trees. Eventually, the area was taken over by the Romans.
During the Medieval period, wine was a major commodity in Tuscany. Wine sales were documented as early as 1079 in association with the Mercato Vecchio in Florence. Local wine merchants formed a guild in 1282 in an attempt to promote and regulate their trade. Many of the Tuscan wines we know today—Chianti, Brunello, Trebbiano, and Vernaccia—can be traced back to the 14th century.
From the time of the post-World War II reconstruction through the 1970s and '80s, Tuscan wine production focused largely on quantity over quality. It was also during this period that many of the region's large estates, which had been historically owned by local nobility, were sold to non-Tuscans. But the wine region went through a rebirth in the 1970s and '80s, which gave way to the premium quality regional wines that are world-renowned today. Meanwhile, the torch for Tuscan viticulture is being carried by the diverse mix of Tuscan, Italian, and foreign winemakers that have taken over the old estates—and introduced new ones.
The Appellations
Tuscany's appellation system includes three tiers of designations with IGT representing the lowest tier. There are 58 appellations in Tuscany.Jump on board with us as we begin the first week of March exploring four fantastic wines in the heart of Tuscany, Italy!! Here are the appellations we're
Vernaccia di San Gimignano
Vino Nobile di Montepulciano
Chianti Classico
Brunello di Montalcino
THIS WEEK, we'll be focusing on 2 grape varietals (Vernaccia and Sangiovese) and FOUR wines not to be missed!
Montenidoli Vernaccia di San Gimignano "Fiore" 2018 - $29
Poliziano Vino Nobile di Montepulciano 2017 - $31
Castello di Bossi "Berardo" Chianti Classico Riserva 2016 - $34
Casanova di Neri Brunello di Montalcino 2015 - $75
Tuscan 4pack - $169
5% off - $160.55
TUSCANY - This week's four-pack:
Montenidoli
Vernaccia di San Gimignano "Fiore" 2018 - $29
Winemaking & Tasting Notes: 
Elisabetta Fagiuolia is the inimitable force behind the Montenidoli property in San Gimignano, a picturesque medieval town about an hour outside Florence. Elisabetta is one of the great producers of Vernaccia di San Gimignano, one of Italy's best whites, and her Fiore bottling is superb.
Fiore is 100% Vernaccia that is made only from free run juice that ages on the lees in steel for around 12 months. Mid-weight with crackling acidity, Fiore boasts rich orchard fruit and bright citrus, cut by salty minerality and whispers of fresh green herbs. Fiore always shows best with a little bit of air and opens up beautifully.
If you only turn to Tuscany for red wines, you should see what you've been missing.
The next three wines are all about reds and I've included some press notes (not usual for us) but the estates get great (and well-deserved) press, which shows that these are a bit bigger labels, but still worthy of your attention!
Poliziano
Vino Nobile di Montepulciano 2017 - $31
Winemaker Notes
To the Prugnolo Gentile grapes, which characterize the district of Montepulciano, we dedicate the most careful care to express all the potential of a territory with a recognized wine vocation. The result is our Vino Nobile di Montepulciano, structured, long-lived with intense aromas that faithfully represents its Tuscan origins and the ancient link between earth, man and culture.
Press:
Lots of plums on the nose with some flowers. Black cherries and dried flowers, too. Full-bodied with chewy, juicy tannins and a flavorful finish. Deep and rich, yet there's a fresh form to it. -J.Suckling
A step up in price, the 2017 Vino Nobile Di Montepulciano checks in as 85% Sangiovese and the rest Colorino, Canaiolo, and Merlot. Aged all in barrel, this deeper ruby-colored red offers lots of spicy, toasty oak as well as notes of spiced berry fruit, a touch of licorice, medium body, and a silky, seamless texture. Drink this elegant, classy, balanced 2017 any time over the coming 5-8 years. -J.Dunnuk
Castello di Bossi "Berardo"
Chianti Classico Riserva 2016 - $34
Winemaker Notes
This riserva has a luminous ruby red color. Appealing aromas of dark cherries, plums, sweet spice, violets, vanilla and hints of dark chocolate and menthol emerge on the nose. On the palate, the wine is full-bodied but smooth with an almost creamy mouthfeel. Tannins are well integrated with the alcohol, and lead to a subtly sweet, silky finish.
Pair this wine with Korean short ribs, ragù sauces, gnocchi with roasted rabbit, and beef negimaki.
Press:
This is a very subtly played Chianti Classico Riserva that opens to reveal brambleberries, dried orange peel, vanilla, tobacco, cedar, spice box and grilled meats. Very structured on the palate with loads of firm tannins, coated with generous fruit and refreshened by cutting acidity. -J.Suckling
Casanova di Neri
Brunello di Montalcino 2015 - $75
Winemaker Notes
Brunello di Montalcino Casanova di Neri is characterized simply by its white label, to the point where it has now been renamed "White Label" on the American market.
This "Etichetta bianca" is born in vineyards that look to Montalcino from the east, at an altitude which varies from 350 to 480 metres above sea level, very close to the cellar. The main characteristics of this wine are elegance, finesse, and longevity. It matures in large, used barrels for about 42-45 months and perfectly represents the estate's desire to express a product distinguished by character
Press:
The Neri family has created a classic expression of Sangiovese from a classic vintage, while remaining faithful to the house style. In a nutshell, these wines always tend to offer dark plum, clove and fig confit over the tiny berry and blue flower aromas you get from the traditionalists. That said, this Brunello needs ample time to open, and I suggest you splash it into the decanter. The Casanova di Neri 2015 Brunello di Montalcino (this is the one with the white label) stays safely within your expectation of the vintage with its variety-driven aromas of wild berry, licorice, blue flower and balsam herb. This wine sees fruit sourced from a vineyard on the northeast side of Montalcino, with Galestro soils ranging from 330 to 480 meters above sea level. - Wine Advocate (Parker)