Posted on
By Mark Meissner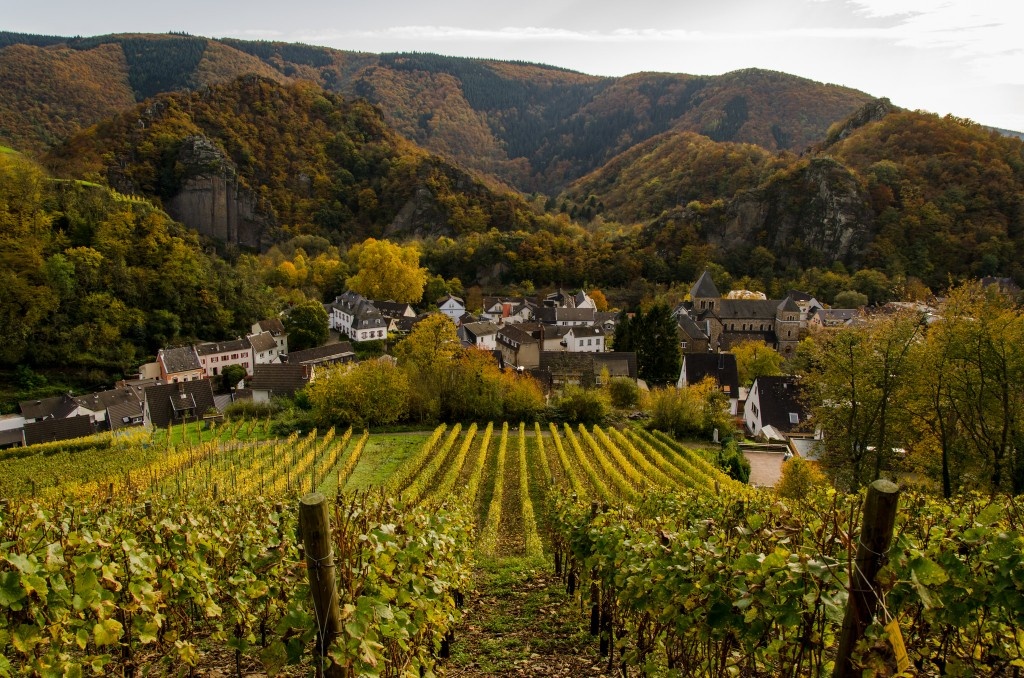 SCHÖNE 'WOCHENENDE WEINE'
AUS DEUTSCHLAND!
Celebrate Sustainability
'Weekend Wines' from Germany
Earth Day 04 . 22 . 22
Join us this week for a flight of wines from Deutschland! In honor of of Earth Day tomorrow (04.22.22), the wines this week demonstrate Germany's dedication to sustainable viticulture and winemaking!
Our German wine lineup this week takes you through three wine regions - from the picturesque Mosel Valley, then traversing southeast towards the Rhein River and the Nahe region, and rounds out the flight in the Pfalz, not far from Heidelberg. It's a very nice primer on dry wines from zee fatherland! Read on for the details and see you this week. It kicks off this evening at 5pm, and continues through Saturday. The tasting room traffic is back, so drop in and enjoy the flight, it's a $18 tasting. You can also pickup the 4-pack, just email us and we'll have your wines ready for pickup - just $116 this week.
Please note our upcoming calendar of events:
MELKA Wine Dinner with Philippe Melka, Thursday April 28th - FULL/SOLD-OUT!
CERETTO Barolo Dinner, @ Aqua et Vino, Thursday, May 5th - Almost FULL
R O S É F E S T 2022 ! (Sat, May 14th) - Email us for pre-reservations
Papapietro-Perry Winery, @ Dressler's Metropolitan, Thursday, May 26th
More details revealed as events are released, but please mark your calendars! Email us for more information and let's plan your next wine moment.
Be well, drink well and have a great weekend.
Prosit!
Mark
THIS WEEKEND:
In honor of the 50th celebration of Earth Day on April 22nd, the wines showcased this week demonstrate Germany's dedication to sustainable viticulture and winemaking.
Germany is considered one of the world's most environmentally conscious nations, with a long history of organic farming. The country is home to one of the first natural wine groups, the Verband Deutscher Naturweinversteigerer, founded over a century ago in 1910, and plantings of organic vineyards in Germany have increased by more than 100% since 2007 and about 300% since 2000! The whole notion and science of Biodynamic farming, which seems to not only be all the rage amongst winemakers, but is proving to be be difference between the terrific and the truly outstanding wines coming into the global wine-trotter scene - and it all started in Germany.
The biodynamic farming movement began around the start of industrialization in the west. A group of farmers in Germany were noticing the impact of agro-industrial practices and the use of chemical fertilizers, which were impacting theirs soils and yields. They were convinced there had to be a more holistic view on farming and working with nature's eco-system. So they approached the father of biodynamic farming, Rudolf Steiner, for his input and inspiration on agriculture, based on his philosophical work on the topic. Ok, Steiner is Austrian, but you see where this is going.
We'll cover the topic more in the future, but for now, let's focus on this week's sustainably-produced German selections. We'll spend the next few days pouring four wines from the following three glorious wine regions in Germany:
THE MOSEL: The Mosel River is the spine of the Mosel valley, changing direction so often as it flows northeast toward the Rhein that it meanders nearly 250 km, to cover about half that distance as the crow flies. Geographically, is my favorite wine region, spanning from Koblenz to Luxembourg and probably some of the most stunning landscape Germany can offer. Together with its two small tributaries, the Saar and the Ruwer, the Mosel composes one wine growing region, considered the oldest in Germany. Here you'll find wine presses from Roman times, a testament to the long history of viticulture here and the large scale of its introduction by the Romans. Around 5,000 winegrowers cultivate 9,000 hectares across 125 wine towns here in the Mosel. As the fifth largest wine region in Germany, it's amongst the most difficult conditions for any winegrower, with its steep, extreme vineyards. Today half of the vineyards are on steep and terraced sites with a slope of over 30 degrees, some planted at an astounding 70-degree gradient! On these precipitous inclines, nearly all grapes have to be picked by hand. The Mosel 'category' is HOT right now, up almost 40% last year (measured by bottles demanded) worldwide by wine aficionados. The Mosel winegrowers rightly see themselves as Riesling specialists, as this noble white variety thrives in the conditions here. The protected valley location makes the region one of the warmest climates in Germany. The steep slate slopes above the rivers store the sun's heat during the day and release it again at night. The roots of the vines penetrate deep into the ground to seek water and minerals. In this way, the winemakers can produce uniquely fine, fruity wines that have an enormous depth of flavor and a relatively low alcohol content - ideal for easy enjoyment.
THE NAHE: The Nahe region is named after the river that traverses the valleys of the forested Hunsrück Hills as it gently flows toward Bingen, on the Rhein. It is a peaceful landscape of vineyards, orchards and meadows interspersed with cliffs and striking rock formations. The wine-growing region on the Nahe has 2,000 years of wine-making tradition. Protection against cold winds by the high Hunsrück, mild temperatures and lots of sunshine create an excellent climate for winegrowing in this sunny valley with low-rain. Although the Nahe is one of the smaller German wine regions, its extraordinary range of soil types is second to none. This is because of its turbulent geological history. For this reason, the region is able to grow a range of varieties and produce a large diversity of wine styles. The steeper sites of volcanic or weathered stone, and those with red, clayish slate seem predestined for elegant, piquant Riesling wines of great finesse and a light spiciness. More than a quarter of the vineyard area of 4,200 hectares is planted with it. Anyone who has enjoyed the Nahe wines, will know the fresh fruit, fine acidity, mineral notes and rich aromas it embodies. No wonder Nahe wine is an insider tip among connoisseurs, a true hidden jewel from Germany's southwest.
THE PFALZ: The Pfalz has many superlatives: the world's largest wine festival in Bad Dürkheim, and also the first and best-known wine route, the Deutsche Weinstraße. For over 85 uninterrupted kilometers, Pfalz's vineyards sweep across this remarkably pretty, peaceful land, linking the 130 wine towns of the region between Bockenheim and Schweigen on the border with Alsace. With 24,000 hectares of vineyards, the region is the second largest wine-growing area in Germany and is made up of two areas, Mittelhaardt-Deutsche Weinstraße and Südliche Weinstraße. The main focus of the winegrowers in the cultivation area (protected by the Pfälzerwald forest) is on classic grape varieties, especially Riesling. The king of white wines has become the undisputed leader in the Pfalz with nearly 6,000 hectares cultivated. Pinot Blanc and Pinot Gris have also been on the rise with now over 3,000 hectares planted. In addition, Silvaner, Müller-Thurgau, Gewürztraminer, Kerner and Morio-Muskat belong to the diverse range of white wines in the Pfalz, as well as lesser known varieties (which we love) like Scheurebe, a wine we're featuring on our flight! The Pfalz's proximity to France can be felt everywhere, not least in the preference for good food. Top chefs have now established themselves along the Deutschen Weinstraße, who successfully experiment with regional cuisine and the premium wines here which complement their culinary creations.
Join us this week, for "WEEKEND WINES" from Germany, sustainably made wines to celebrate Earth Day 2022!
"WOCHENENDE WEINE" AUS DEUTSCHLAND:
Fio Wines "Piu Piu" Pét Nat NV - $34
Mosel, Germany
Schloss Lieser "SL" Riesling Trocken 2020 - $25
Mosel, Germany
Weingut Hexamer "Quarzit" Riesling 2020 - $27
Nahe, Germany
Müller-Catoir "MC" Scheurebe Trocken 2020 - $30
Pfalz, Germany
Flight of 4 - $18/person (2.5 oz. pours)
Thursday/Friday 5-7:30pm and Saturday 1-7:30pm
Or take home the 4-pack! - $116 retail for all 4 bottles
 

Fio Wines "Piu Piu"

Pét Nat NV - $34

Mosel, Germany

 

The name Fio means 'thread' in Portuguese. The estate is a joint venture connecting two families: the Kettern family, who have been making wine in the Mosel for several hundred years, and the Niepoort family, led by famed Portuguese winemaker, Dirk Niepoort. Dirk is known for his international wine projects and had been searching for a project in the Mosel, where he befriended Philipp Kettern of Lothar Kettern in Piesport. The two families shared a common vision for what the wines of the Mosel could be: old school wines made in a classic and slower style, using time as the element missing from many wines rushed to market today.

 

This sparkling natural wine is made from Riesling, but not from a single vintage. In this current release, there are wines that are four to five years old, which were held in stainless steel in a very cold part of the cellar without sulfur. The wines are blended and brought to a warm area where the remaining sugar ferments in the bottle (hence, the bubbles!)

 

This un-sulfured sparkling wine has a cloudy, golden yellow color and offers a lovely intense and aromatic, spicy and structured stone fruit aroma on the nose, along with a very delicate mineral background. On the palate, this is a super fine and elegant sparkling wine with generous, round fruit and mouth-filling texture. This Pét-Nat is not 100% dry, but alluringly fruity and absolutely beautiful.
 

Schloss Lieser "SL"

Riesling Trocken 2020 - $25

Mosel, Germany

 

Schloss Lieser is known as one of the most striking buildings in the Middle Mosel. This beautiful Neo-Renaissance castle was built in 1875 for petroleum magnate Eduard Puricelli on a former church site. Schloss Lieser passed through a number of different hands over the past century and remained a political landmark in the region steeped with history.

 

From 1904, Schloss Lieser served as the principal cellar and press house for Freiherr von Schorlemer's prestigious land holdings which slid into a long decline starting in the 1970s. Thomas Haag, from the venerable Mosel wine-making family Weingut Fritz Haag, and his wife Ute took up the position of Head Winemaker and Director of the estate in 1992. At this time the estate shrank to just six hectares, but located almost entirely in the Grosse Lage (Grand Cru) Lieser Niederberg Helden. After working at the winery for five years, by which time they had already restored much of the estate's reputation, Thomas and Ute were able to purchase the property in the late nineties and continue investments to this day.

 

The nose enjoys a typical bouquet. Aromas of yellow stone fruit, juicy pears and sun-ripened citrus fruits are revealed - finely underlined by mineral nuances. On the palate, this German dry Riesling is textbook greatness, with its wonderful fresh and uncomplicated taste. The filigree fruitiness and the crisp acidity offers a wonderful interaction.
 

Weingut Hexamer "Quarzit"

Riesling 2020 - $27

Nahe, Germany

 

The winery is located in the municipality of Meddersheim in the Nahe. It has been run by Harald Hexamer Jr. since 1999. The vineyards cover 13 hectares of prime Riesling plantings in the area.

 

The wine is named for the quartzite and red slate-dominated soil which supplies both verve and minerality to this Riesling's fruit intensity and terroir!

 

The Hexamer Quarzit is ever so slightly off-dry. It is the wine's inherent fruit flavors of apricot, lychee and lemon mousse - which showcase that hint of sweetness, and which also makes this such a versatile food partner. 

 

Think pears and papayas meet citrus, with loads of lush fruit. So flexible with most dishes and a beautiful example from the Nahe.
 

Müller-Catoir "MC"

Scheurebe Trocken 2020 - $30

Pfalz, Germany

 

The Müller-Catoir family represents 9th generation winemaking (since 1744) from Germany's Pfalz region.

 

This producer has been a showcase label for other German flights over the past decade. Needless to say, we love. The founder, Johann Wilhelm Catoir believed that 100% their wine should only be estate fruit. Today, Philipp David Catoir (the current proprietor) works closely with Martin Franzen, who has been the head winemaker since 2002.

 

1.5 hectares (about 3.7 acres) of the Muller-Catoir estate is planted to the Scheurebe grape, which is not your typical variety in the Pfalz.

 

This is a line drive right up the middle as it speaks perfectly to what this grape can be. Beautiful exotic citrus aromas, white grapefruit, blood orange twist, and totally clean fruit. ]Fresh, clean, bright yellow flowers that have just recently blossomed in the spring, bursting with freshness and spicy aromas and grapefruit peel on the finish. Wow, this is a game changer for German wines and a brilliant finish to your flight.