Posted on
By Mark Meissner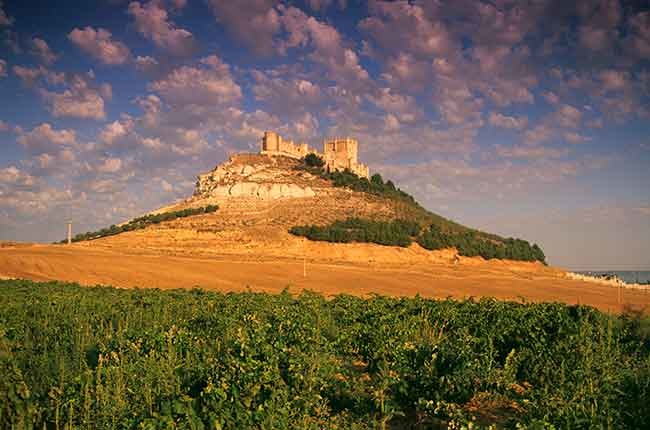 This week we are covering four provinces across the region of Castilla y Léon in Northwestern Spain:
D.O. BIERZO
D.O. TIERRA DE VINO DE ZAMORA
VINO DE LA TIERRA DE CASTILLA Y LÉON
D.O. TORO
When Spaniards talk about making wine, they use the verb "elaborar" (to elaborate), not "fabricar" (to produce or manufacture). To elaborate something implies consciousness, time and the labor of creation and nurturance. Now, more than ever, Spanish wines are being elaborated. After decades of being called a mediocre wine producing country by many wine drinkers, Spain is now taking a top spot on the wine podium.
Castilla y Léon is a prime example of a wine region bent on continuing to push the quality standard in Spain. Here you'll find brilliant whites and reds which compare to some of the best in the worldwide wine market. It's an area not to be missed!
Castilla y Léon is the country's largest wine region, encompassing a vast majority of Spain's smaller provinces, classified under the specific appellation system. The region is elevated on a plateau and is almost surrounded on all sides by mountain ranges and criss-crossed with a multitude of rivers that affect the local climates. You can find a vast majority of quality wine here, from crisp whites (hailing from Rueda), to the full-bodied, bold reds (from Toro and Ribera del Duero). Wherever you find yourself in Castilla y Léon, you're guaranteed to find a wine you'll love.
This week, we're showcasing four great examples that represent the region's breadth AND quality. You may be familiar with Spain's Rioja or Priorat regions, but our goal is to bring you the wonders of the country's northwest.
Mark your calendars for our next official ZOOM tasting:
KIRK VENGE! THIS FRIDAY, April 9th - JUST A FEW KITS REMAINING.
Join us for an all-star, all-red lineup of opulent reds, including the Venge Reserve Cab, Croix and Scouts Honor. Kirk has become somewhat of a celeb in Cali... CALL For your $59/kit or your $299 discounted bottle set of four brilliant wines. 704-332-9910. You can also email us if you already have attended one of our Zoom tastings and have pmt info on file. Thanks!
Get your vaccine! :) We've all been vaccinated! The sooner we all are immunized and have some CLT herd immunity, the sooner the tasting room re-opens. Call your local drugstore for last minute, extra vaccines which are better off used than tossed, right? The resourceful and tenacious folks I know are all vaccinated... Let's do this!
Call for limited, small/private wine tasting programs we're introducing to your backyards this spring. Or email
[email protected]
Cheers!
-Petit Philippe
D.O. BIERZO
Bierzo is a small and ancient region, surrounded by steep mountains in the north-western corner of Castilla y Leon. A little more than three hours East from Rías Baixas, the climate in Bierzo is more extreme with much more continental and Mediterranean climates with very little influence from the Atlantic. The summer days can be as hot as 45°C (113°F) while the nights can drop to 15°C (59°F), making for one of the most extreme diurnal summertime shifts in the world of wine. All of this factored in with the uniqueness of the terroir, rich in granite and slate, adds intricate nuances to the wines of Bierzo. The beauty in this soil's composition is its ability to absorb the heat from the Sun during the day, and in turn, give it back to the vine at night. This allows the vine to continuously ripen despite the cooler overnight temperatures (much like what happens in Châteauneuf-du-Pape).
Until recently, Bierzo was unknown to the international wine market yet, thanks to the investment and innovation that swept Spain in the 1990s, it now counts as one of the country's rising stars, on par with the likes of Rueda and Jumilla. Mencía is the primary grape grown in the appellation, covering nearly two-thirds of the local vineyards and the rest planted to varietals still unknown to the world.  Bierzo also claims the distinction of having the oldest average vine age within Spain (in front of Priorat!) and quite possibly the world.
D.O. TIERRA DE VINO DE ZAMORA
Long seen as a second-rate wine region, Tierra del Vino de Zamora's winemaking history goes back much further than many other regions which have possessed the coveted D.O. status. Dating all the way back to the Roman Empire, the Vía de la Plata (an ancient road system crisscrossing the region) played a critical role for trade between the North and South of Spain and also for the pilgrimage to the cathedral of Santiago de Compostela. From this infrastructure came the creation of vineyards alongside the road to fulfill passersby's need for wine, and the rest is history. The vines have seen their fair share of seasons come and go since the average age of the vines sourced to make wine are on-average, between 120 and 150 years old - simply unheard of in other parts of the world. It's the key to this wine's richness and broad complexity. 
VINO DE LA TIERRA DE CASTILLA Y LÉON
We could not do a feature on the wines of Castilla Y Leon without mentioning Spain's star wine region, Ribera del Duero. But we've set our sight on it's neighbor: Sardon del Duero. Located to the West of the Ribera del Duero DO is Sardon del Duero, a small town that has been growing grapes since the 17th century but was somehow left out of the Denominacion di Origen. Despite being snubbed by its neighbor, this picturesque little town rightfully belongs on the wine map for two reasons: First, the purchase of an ancient monastery and its vast property (500 acres), which was transformed into the best hotel in Spain. The second, a huge investment to develop a new winery to process all the vineyards found around the estate. And with one of Europe's leading enologist at its helm, Abadia Retuerta came to be known as one of the greatest wineries to produce the finest examples of Tempranillo made outside of Rioja and Ribera del Duero. With neighbors such as Vega-Sicilia and Pingus, Abadia Retuerta was driven to success.
D.O TORO
For la piece de resistance, we present you with a very special wine owned by THE ONE AND ONLY: Vega-Sicilia! This estate is THE cream of the crop in Spain when it comes to top-notch wine. If there were another estate to compare it to, Bordeaux's Chateau Lafite-Rothschild comes to mind, in terms of prestige and excellence in craftsmanship.
The arrival of Vega Sicilia in Toro resulted in the establishment of Bodegas Pintia. The grape here is 100% Tinta de Toro, a thick-skinned local name of Tempranillo; and the climate here is far hotter than that of Ribera, meaning faster ripening times and fuller, riper reds with higher alcohol content, ideally suited for long term aging. If you like your BIG, ELEGANT, yet POWERFUL red wine, we've found your next favorite!
(Bodegas Pintia, pictured below.)
Join us THIS week, and GRAB A 4PACK as we taste through one of Spain's key wine regions, Castilla Y Léon!
Manuel Moldes Bierzo Lentura Vino Tinto 2018 - $32
D.O. Bierzo
Viñas del Cénit Tierra del Vino de Zamora Cénit 2011 - $57
D.O. Tierra de Vino de Zamora
Abadia Retuerta "Selección Especial" 2016 - $42
Sardon de Duero, Vino de la Tierra de Castilla Y Leon
Bodegas Pintia "Pintia" 2015 - $89
D.O. Toro
4pack (1 of each) - $220
This week ONLY - $209.00!!
Manuel Moldes Bierzo Lentura Vino Tinto 2018 - $32
In a land known for its rustic, heavy wines, "Lentura" is going against the currant with wines full of vibrant natural tension and freshness, aromas and flavors of bright red cherries and red currants are at the forefront, but a subtle mineral/earthy texture mingled within the vivid acidity rounds out the fresh finish. At first, we thought of this wine to be a beautiful cross between a young Cru Beaujolais and a complex Loire Pinot Noir with a dusting of that Spanish magic, oh-so unique to Bierzo. But you'll have to try it to truly get a sense of what we experienced whilst sampling this gem and to what this up-and-coming region has to offer to the fine wine connoisseurs...
60% Garnacha Tintorera, 40% Mencia
Viñas del Cénit Tierra del Vino de Zamora Cénit 2011 - $57
Viñas del Cénit's vineyards are organized in small parcels of land planted with a substantial amount of old Tempranillo vines, some of which are over a hundred years old and un-grafted. The soil is calcareous, gravel and sand-based, with a layer of red clay underneath. The vine's roots have to dig deep to find nutrients and water just to survive the harsh Spanish Sun and the old vines barely yield anything compared to the more vigorous youngsters in neighboring regions.
Big, unctuous aromas of warm blackberries and black plum leap out of the glass with a firm alcohol backbone, sustaining the complex notes of sandy clay, broadleaf tobacco, lean jerky and coarse vanilla bean. Once it hits your tastebuds, the flavors of heavy black fruit keep going on and on with surprisingly well shaped tannins that don't bruise your palate. If you like your reds big and dense with a variety of flavors, look no further!
100% Tempranillo
Abadia Retuerta "Selección Especial" 2016 - $42
With an exceptional location in the "golden mile" of Ribera del Duero (referring to a stretch of the road between Valladolid and Peñafiel, home to an unparalleled concentration of Spain's greatest wineries) next to the vineyards of Vega Sicilia, Abadía Retuerta, is not included in D.O. Ribera del Duero as it is just outside its limits in the town of Sardón de Duero. This allows them to use varieties that are not admitted by the Regulatory Council of this denomination, and to produce wines of marked character, expressive, amiable, with their own style, modern and innovative, and with the unmistakable seal of Abadía Retuerta.
Just by its deep color you can tell this wine will be exquisite. We found elegant aromas of blackberries, cedar and iron and the palate is quite identical with beautifully integrated tannins. If you haven't had Tempranillo from this area before, you could easily mistake this for a Margaux from Bordeaux, France. We'll be keeping a close eye on all future releases from this estate as they are only getting started...
75% Tempranillo, 12% Cabernet Sauvignon, 9% Syrah, 3% Merlot and 1% Petit Verdot
Bodegas Pintia "Pintia" 2015 - $89
In terms of style, the aim has always been to tame the powerful character of local reds and craft a refined version of the area. The spacious, high-tech facilities are equipped with cold chambers and wood vats to ferment parcels separately. Cold macerations are regularly performed in order to maintain freshness and aromas; other standard features include malolactic fermentation in barrels. The wine is aged in a mix of French (70%) and American (30%) oak barrels.
Pronounced aromas of fleshy black cherry, ripe blackcurrants, shaved bitter chocolate and cracked pepper are just some of the notes that show the most on the complex nose but just wait 'til you take a sip of this heavyweight. The mouthfeel is dense, tannic and ripe from start to finish, which keeps going for well over a minute. Best to have this with your favorite cut of red meat cooked Pittsburgh style: heavily charred on the outside yet so juicy on the inside.
100% Tinta de Toro (Tempranillo)