Posted on
By Mark Meissner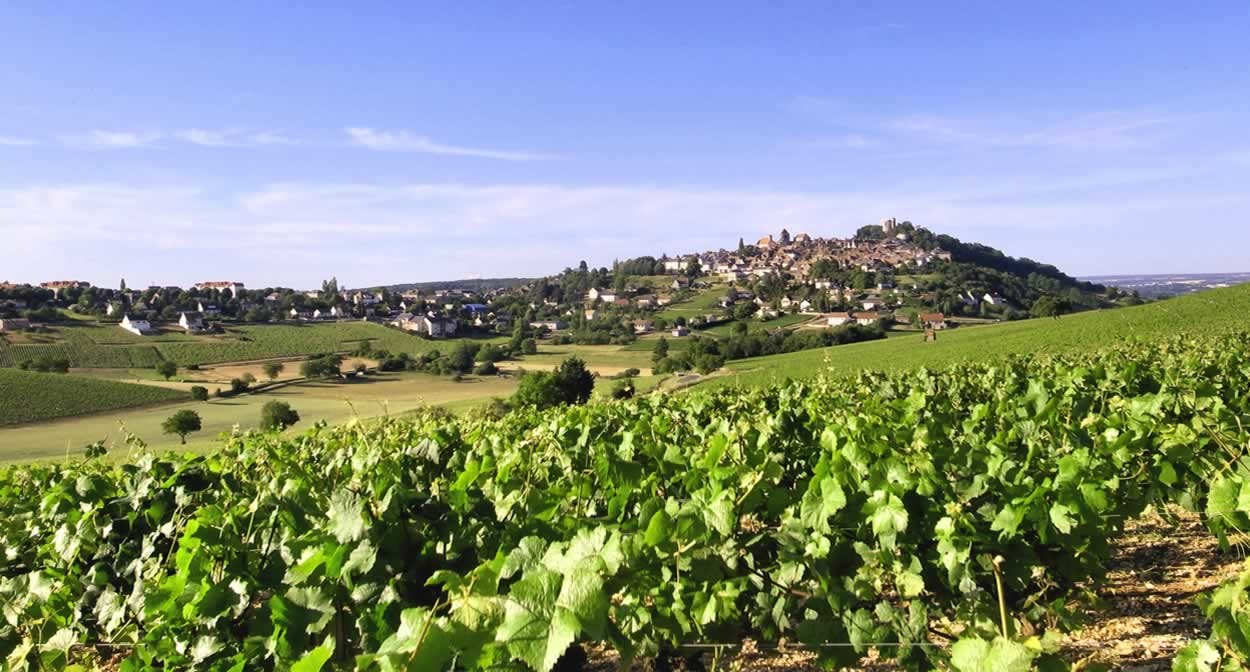 Loire Valley Whites!
Explore France's largest wine region -
Our Sauv Blanc flight starts tonight
Sancerre, Touraine, Mentou-Salon, Pouilly-Fumé
(b
Happy Thursday.
This weekend brings you a very fun study in Loire Valley white wine.
And while most francophiles only think of that perfect glass of Sancerre, there are many other great appellations which beautifully showcase the best that Sauvignon Blanc can be!
Join us this week and re-discover all that is Sauv Blanc from the Loire Valley. The 4-way flight is just $18 and it starts tonight!
Please note some upcoming wine experiences you won't want to miss:
Papapietro-Perry Winery, @ Dressler's Metropolitan, Thursday, May 26th
JUST 6 seats left!
5 Course/5 estate wines, $125/pp. See our announcement.
LARKMEAD Winery, Thursday June 2nd
Details forthcoming, mark your calendar.
Make it a great weekend,
Mark
This week's tasting flight:
LOIRE Valley - Explore Sauvignon Blanc 4 ways!
Starts tonight at 5pm!
Here is the lineup:
Noella Morantin "Stella Maris" Touraine 2020 - $31 retail btl price
Touraine, Loire Valley, France
Domaine Chavet Pouilly-Fumé 2020 - $26 retail btl price
Pouilly-Fume, Loire Valley, France
Domaine Daulny Sancerre 2020 - $32 retail btl price
Sancerre, Loire Valley, France
Domaine Jean Teiller Menetou-Salon Blanc 2020 - $25 retail btl price
Menetou-Salon, Loire Valley, France
Thurs+Fri 5-7:30pm
Saturday 1-7:30pm
Flight of 4 wines - $18/person (2.5 oz. pours of each)
Or pickup the FOUR pack at $114 retail, on special this week for $108.30!
Loire Valley - Sauvignon Blanc: PRIMER
The Loire Valley is France's most diverse wine region, producing exemplary wines in every style. Popularity of Loire Valley wines with sommeliers and wine writers has been growing steadily for the last ten years because for all their variety, Loire Valley wines share important characteristics that make them perfect for contemporary taste.
Moderate alcohol, refreshing acidity and minerality make them ideal food wines.
Pure expression of varietal and terroir unmasked by oak.
Excellent value.
Sauvignon Blanc probably originated in Bordeaux, but it is in the limestone soil of the Centre-Loire, that it shows its best, most characteristic qualities. Although widely planted the world over, and highly successful in such widely different climates as California, New Zealand and Chile, all Sauvignon Blanc aspires to standards set in the Centre-Loire. The climate here is too cold for later-ripening grapes (such as Chenin Blanc) but Sauvignon Blanc buds late and ripens early, making it ideal for a region prone to severe frosts and harsh winds. Sauvignon Blanc is rarely blended with other grapes in the Loire Valley and it is responsible for the distinctive characters of Sancerre, Pouilly-Fumé, Reuilly, Menetou-Salon, Quincy and Touraine Blanc.
Sauvignon Blanc is almost always dry, yet there is diversity within the refreshing, fruity and almost tart style that predominates these wines, and there are few more vivid demonstrations of the ways in which different soils can determine the character of wines made from the same grape, than to taste the great wines of the Centre-Loire side by side.
Much of Sauvignon Blanc is made for early drinking. With their distinctive aroma, which reminds some people of gooseberries and grapefruit - with their fresh, lively acidity - these are ideal wines to drink with the famous goat cheeses of the Loire Valley, with cold shrimp or lobster, or simply with a springtime picnic! Nonetheless, the high acidity of Sauvignon Blanc means that the wines can be kept, and a few producers have experimented with aging exceptionally ripe vintages in oak. These wines are richer and take longer to show their best qualities. With time, however, they develop a remarkably fragrant complexity that makes them seem almost sweet, better paired with aged cheeses, and even with foie gras (so look out Sauternes!)
Enjoy Sauvignon Blanc four ways, four producers and four appellations from the Loire Valley this week:
 

Noella Morantin

"Stella Maris" Touraine 2020

Touraine, Loire Valley, France

$31/btl retail

 

Since starting winemaking in 2001, Noëlla has trained with and worked alongside some of the great names of the Loire. A couple of years with Agnès and René Mosse in Anjou led to her becoming the vineyard manager for Les Bois Lucas. The relationship also came from leasing vineyards at Clos Roche Blanche estate in Touraine, where she befriended local reknown vignerons Roussel and Barrouillet. She now makes wine with fruit from a mixture of owned and leased parcels at her beautiful cellar carved out of the hillside in Thésée.

 

Noëlla allows her Sauvignon Blanc to fully ripen before harvesting, fermenting only with native yeasts - where a longer maturation period in old barrels is the norm - unlike other vigneron practices in the area.

 

This is both rich and vibrant with aromas of fresh pears, honey and fresh flowers. Lovely and lifted with texture through to the snappy finish. The type of Sauvignon Blanc for long lazy dinners in a garden.
 

Domaine Chavet Pouilly-Fumé 2020

Pouilly-Fume, Loire Valley, France

$26/btl retail

 

As Sancerre's proverbial little sibling, Pouilly-Fume is generally produced in a rounder, softer style. This provides a great backdrop for certain winemaking techniques that result in a richer, more new world product - read: malolactic fermentation. 

 

The Chavet family has been growing vines since the 17th century – in the very heart of the region. Domaine Chavet's Pouilly-Fume is a great example of how 'malo' can benefit Sauvignon Blanc. 

 

This wine pours a pale yellow color, offering aromas of citrus, light stone fruit and riper notes.  

 

The palate is light-plus bodied, with a slightly creamy texture and (comparatively) lower acidity enveloping stone and citrus fruits.

 
 

Domaine Daulny Sancerre 2020

Sancerre, Loire Valley, France

$32/btl retail

 

Legend leads us to believe that grapes have been grown in Sancerre since early times. Gregory of Tours mentioned the Sancerre vineyards in his writings as early as 582. In the 12th century, the vineyards developed significantly under the auspices of the Augustine monks at Saint-Satur and the Sancerre nobility. The Sancerre landscape is a combination of hills and valleys. Intense erosion has produced 3 types of soil: Terre blanche (clay and limestone), caillottes and griottes (limestone), and siliceous clay. Sancerre is by far the most notable Sauv Blanc in France.

 

Domaine Etienne Daulny is a prodigious local producer with 16 hectares of vines split between the limestone-chalk soils of Verdigny and the deeper, clay-limestone of Chaudenay. Vines are spread over 50 different plots that are vinify separately before the blend. This Sancerre is a perfect representation of its AOC. ​

 

Made from 40-year-old sauvignon blanc vines, this Sancerre captures the essence of the grape with floral, mineral and ground coffee bean aromas and grapefruit, white peach flavors. A small percentage was aged in older oak, but the fruit from this vineyard is powerful enough to absorb it, giving the wine a bit of texture and body.
 

Jean Teiller Menetou-Salon Blanc 2020

Menetou-Salon, Loire Valley, France

$32/btl retail

 

Statutes dating to 1063 tell us that the Seigneur of Menetou made donations to various religious orders in the region. Meanwhile, from other documents we learn that wines from the Menetou- Salon region were among the most highly prized wines served by Jacques Coeur, a silversmith who took over the Seigneurie of Menetou in 1450.

 

Domaine Jean Tellier was founded in the 1950's by Leon Millet. The Domaine took forward strides in the 1970's with the hard work of Jean and Denise Tellier who believed in the future of Menetou-Salon and worked to enhance the appellation's reputation. In 2003, the 3rd generation of winemakers took the helm, after completing their winemaking studies in Beaune. Vines grown on shallow clay and limestone soils within the communes of Menetou-Salon, Parassy and Aubinges. Grapes are destemmed then see a gentle pressing.

 

Golden color with green reflections. Powerful, rich nose, with notes of citrus, peach, and white flowers. When shaken, the nose reveals even more of its aromatic power and complexity. The attack is crisp and full-bodied.