Posted on
By Mark Meissner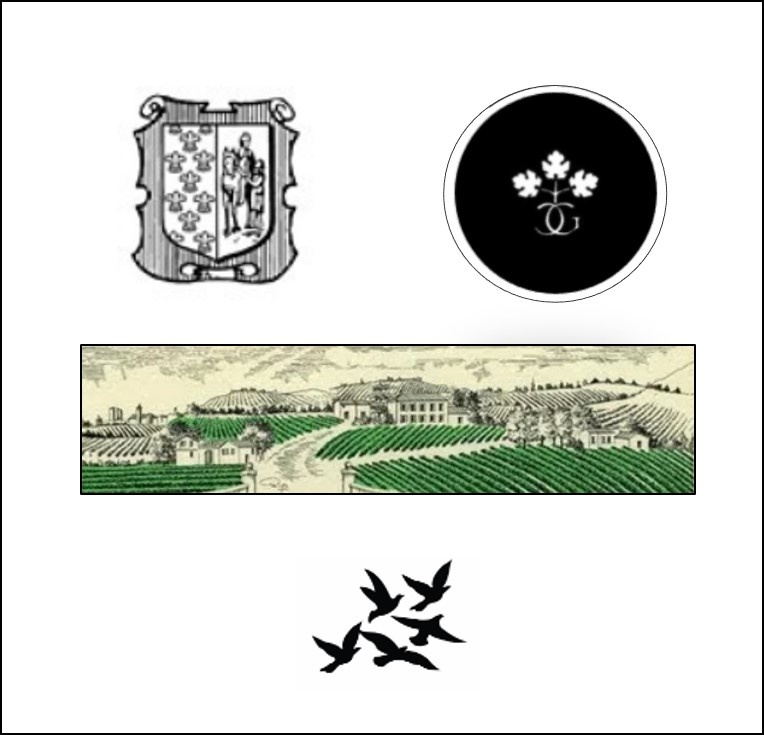 This week we bring you a collection of four wines that we are sure will please all Fathers out there (as well as the family!).
We will start off with a lovely 1er Cru Chablis from Marcel Servin that highlights a 7th generation Family Estate that is recognized as one of the most predominant owner-grower estates in Chablis.
Moving on to Italy, we present a delicate Barbaresco from Giuseppe Cortese that features the Rabaja vineyard known for growing Nebbiolo grapes with intensity and depth while still being approachable in its youth.
Next stop is the Right-Bank of Bordeaux for the famous Chateau Pavie and its 3rd label- Esprit de Pavie. This merlot centric blend shows its versatility at the dinner table with delicate oak that subtly respects the fruit's presence while still lingering on the palate.
To finish up, a Napa Valley Proprietary Blend from Blackbird Vineyards and winemaker Aaron Pott. Think aromas of cherry, black currant, and cedar along with berries, fig, and toffee. Structured tannins will lead the finish- this is the pairing for the main course of your menu.
Scroll down and read below for further information on this week's tasting.
Please mark your calendar, we have some great events on the horizon:
RoséFest Part Deux - Friday, June 24th
Back by popular demand - new Rosés just released! Get your tickets HERE before they sell out!
Bastille Day / Grande Tasting Tour of France - Thursday, July 14th
Grande fête and a celebration not to be missed!
Maison Gardet Champagne with Owner Christophe Prieux
Saturday, July 16th - Wine dinner @ FIN | FINO Uptown
Domaine Clerget with Winemakers Christian & Justine Clerget!
Wednesday, July 27th - Exclusive Burgundy event & dinner @ DRESSLER'S Metropolitan
In addition to the $26 tasting flight of four this week, we're also offering the wines in a package set on deal. You will find the Father's Day wine 4-pk on sale this week for $190.00 
here
.
See you soon and stay hydrated!
Cheers,
Mark
PETIT PHILIPPE
Stewards for your wine journey℠
Stay up to date with our latest offerings on Instagram and Facebook!
This Weekend's Tasting: Four Wines to Celebrate Dad!
Join us Wednesday through Saturday for a tasting flight of four carefully curated wines:
Marcel Servin Chablis 1er Cru 'Vaillons' 2019 - $50/btl retail
Chablis, France
Giuseppe Cortese Barbaresco Rabajà 2018 - $57/btl retail
Piemonte, Italy
Château Pavie "Esprit de Pavie" Bordeaux 2016 - $36/btl retail
Bordeaux, France
Blackbird Vineyards "Arise" Proprietary Red 2018 - $57/btl retail
Napa Valley, California
Flight of 4 - $26 (2.5 oz. pours)
5:00 - 7:00pm Wednesday
4:00 - 7:30pm Thursday - Friday
1:00 - 7:30pm Saturday
 

MARCEL SERVIN

CHABLIS 1er CRU 'VAILLONS' 2019

CHABLIS, FRANCE

 

$50.00 (purchase it online 

here

)

 

Vaillons has the same Kimmeridgian subsoil as Chablis' best vineyards. This chalky clay soil is the result of an ancient sea that once covered the area leading to a limestone rich soil which distinguishes this 1er Cru with minerality and brightness. 

 

Varietal: Chardonnay following the Servin method of winemaking that balances traditional and modern techniques.

 

Taste:  A nose of nicely defined quince, pineapple, lime and light passion fruit aromas. The palate is well balanced-full and rich. Minerality, saline undertones, and some ripe fruit balance a dry finish.
 

 

GIUSEPPE CORTESE

BARBARESCO RABAJA 2018

PIEMONTE, ITALY

 

$57.00 (purchase it online 

here

)

 

The 2018 vintage stands out for its harmonious, well-balanced expression, with a luscious floral-scented bouquet, magisterial structure, and lingering taste. Crisp and elegant with a succulent dry mouthfeel. 

 

Varietal: 100% Nebbiolo grapes grown in Barbaresco's prestigious Rabajà vineyard, located in the Langhe hills just to the south of Cortese's winery. Aged 22 months on Slavonian oak barrels then another 13 months after bottling.

 

Taste:  Unfiltered to preserve its richness, this remarkably elegant Barbaresco offers concentrated aromas of raspberries, roses, violets, leather and spice. Light red fruit some orange peel on the palate. Full-bodied with robust flavor and firm tannins. Some aeration helps mellow the bouquet.
 

CHATEAU PAVIE

"ESPRIT DE PAVIE" 2016

BORDEAUX, FRANCE

 

$36.00 (purchase it online 

here

)

 

Esprit de Pavie is the 3rd label of Château Pavie- the famed Premier Grand Cru Classé (A) from Saint-Émilion. Ripe berry fruits are well integrated with soft tannins and acidity to give a harmonious, perfumed wine with a warm, juicy texture.

 

Varietal: 100% estate-owned fruit consisting of 65% Merlot, 20% Cabernet Franc, and 15% Cabernet Sauvignon from Saint-Émilion and the Castillon region of the Right Bank. Alcoholic fermentation begins naturally in temperature controlled tanks. After several weeks of vatting, malolactic fermentation is made in tank. The wines are then aged for 15 months in barrels.

 

Taste: The wine displays a very attractive profound deep violet color and is youthful in appearance. The aromas are a perfect reflection of the wine's intense color: red currant, fresh fig, and blackberry anchor an attractive aromatic diversity that is lively and spirited, on an underlying foundation of fine oak. A firm, gripping texture shows off well-integrated, finely-grained tannins imparting an attractive balance. Its well-built profile displays a young vintage's liveliness.
 

BLACKBIRD VINEYARDS

"ARISE" PROPRIETARY BLEND 2018 NAPA, CALIFORNIA

 

$57.00 (purchase it online 

here

)

 

Arise, a classic Napa blend, expresses luscious flavors that showcase terroir-driven Right-Bank inspired winemaking that have become a hallmark of Blackbird Vineyards. The 2018 proprietary vintage is wonderfully aromatic, rich, and polished.

 

Varietal: 37% Cabernet Sauvignon, 27% Merlot, 26% Cabernet Franc, 6% Syrah, 4% Petit Verdot. Aged 21 months in French oak barrels (75% new, 25% seasoned). Winemakers: Aaron Pott & Kyle Mizuno.

 

Taste: Beautiful aromas of ripe cherry, black currant, cedar cigar box and coffee in a very integrated yet complex nose. Boysenberry pie, dried fig, and toffee awaken the palate. Supple tannins give buoyancy, leading to a lingering finish of plum, toasted almond, and chocolate.
Don't Forget to Stop by Petit Philippe
for your last minute Father's Day chocolate gifts from
Twenty Degrees!