Posted on
By Mark Meissner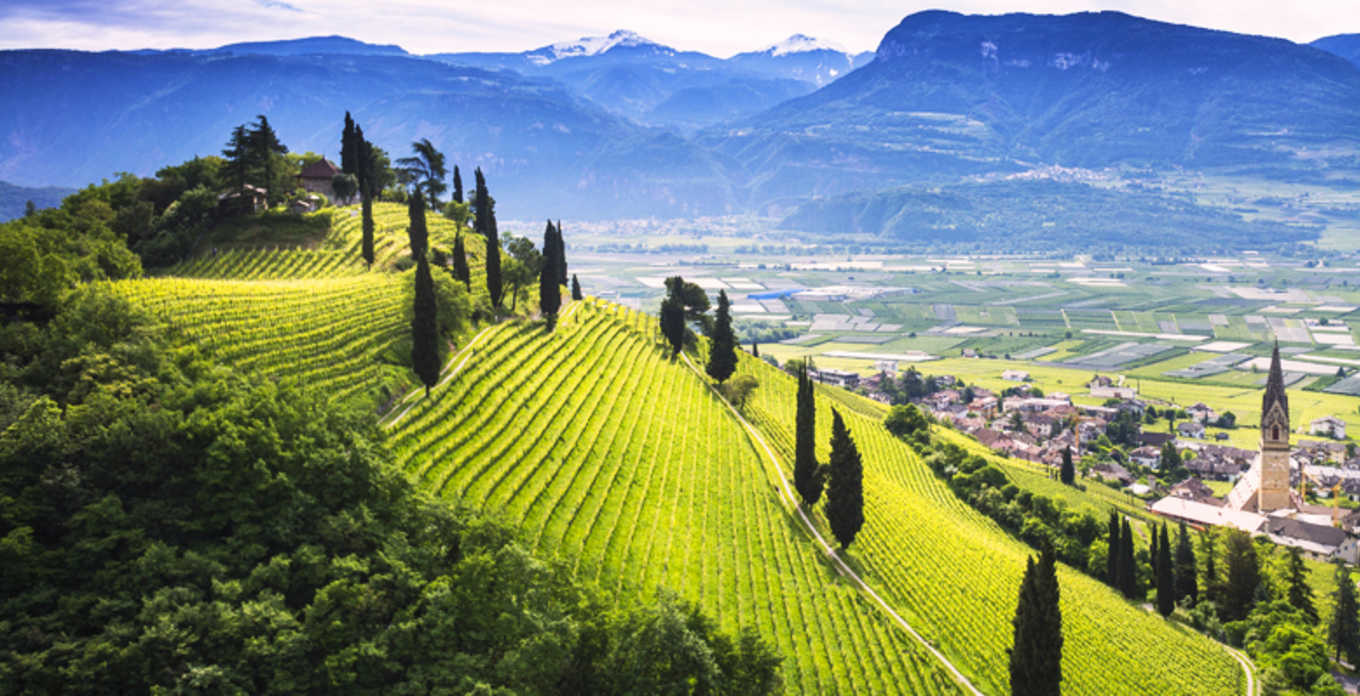 VINO DEL NORD - ITALIA
A tour from Alto Adige to Valle d'Aosta
Hopefully y'all had a fantastic Memorial Day. This week, we bring you a short tour across Italy's Lombardi, Dolomiti, Lake Region and Valle d'Aosta. It's beautiful journey across northern Italia's wine landscape. Read on and join us, it starts tonight through Saturday.
Today, I'm thrilled to also introduce Javier Arévalo, the newest member to the team at Petit Philippe. Since 2017 Javier worked as Head Bread Baker both at the Great Harvest and more recently with Noble's Copain Bakery here in Charlotte. Before Javier was drawn to fine food and baking, he worked with BofA in management roles within both their Corp HR and IT Tech Ops functions - which was the natural path following his MBA studies at the University of South Carolina. His professional career started in Engineering as a key member of Walmart corporate's Supply Chain modeling team - his first professional stint after graduating from Georgia Tech in Industrial & Systems Engineering. Javier's family is originally from Venezula and moved to the US with his parents, who landed brilliant professional opportunities in Atlanta, which is where Javier grew up as a young boy. Javier's diverse background and impressive CV might have you wondering what he'll be doing with us at Petit Philippe. Suffice to say, a LOT, particularly when it comes to our Park Road project and plans to transition the store. So stay tuned, we have some great things in-store for you (and Javier). In the meantime, if you see Javier at Petit, please welcome him! He's no stranger to the store and he'll be excited to fill you in more. I'm very pleased to have him on board!
Onto upcoming events:
Larkmead Wine Dinner - Thursday, June 2nd @ Del Frisco's
We have 1 seat left for tomorrow's repast
Bastille Day / Grande Tasting Tour of France
Thursday, July 14th
Domaine Clerget with Winemakers Christian & Justine Clerget!
Exclusive Burgundy Event - Thursday, July 28th
In addition to the $18 tasting flight of four this week, we're also offering the wines in a package set on deal. You'll find the Northern Italian wine 4-pk on sale this week for $117.80 
online
here
.
As mentioned last week, we currently are only offering in-store pickup for online orders, but soon will be adding our shipping module to all local and nationwide areas within our laws. Stay tuned for more updates!
See you soon and drink more northern Italian wine!
Cheers,
Mark
PETIT PHILIPPE
Stewards for your wine journey℠
This Weekend's Tasting: Northern Italian Tour
Join us tonight through Saturday for a tasting flight of four carefully curated wines:
Elena Walch "Castel Ringberg" Pinot Grigio 2020 - $30/btl retail
South Tyrol, Italy
Cà dei Frati "I Frati" Lugana Turbiana 2020 - $25/btl retail
Lombardy, Italy
Grosjean "Torrette" Petit Rouge 2019 - $29/btl retail
Vallée d'Aosta, Italy
Foradori Teroldego IGT 2019 - $40/btl retail
Dolomite Mountains, Italy
Flight of 4 - $18 (2.5 oz. pours)
5-7:00pm Wednesday
4-7:30pm Thurs-Friday
1-7:30pm Saturday
 

ELENA WALCH

'VIGNA CASTEL RINGBERG'

ALTO ADIGE PINOT GRIGIO 2020

 

$30.00 (purchase it online 

here

)

 

A single vineyard Northern Italy Pinot Grigio with a lot of character!

 

Varietal: 100% Pinot Grigio. Gentle pressing, followed by static clarification. A part ferments in stainless steel tanks under controlled temperature (20°C). 15% of the must ferments in French oak barriques followed by partial malolactic fermentation. The blending occurs shortly before bottling in springtime the following year.

 

Taste: A clear straw yellow with a complex variety of fruits, especially ripe pears and Kaffir lime blossom, as well as spicy sage notes inform the bouquet. Structure and elegance, power and harmony dominate the palate, combined with creamy fullness and density.
 

1 / 1

CA' DEI FRATI

TURBIANA DI LUGANA DOC 2020

 

$25.00 (purchase it online 

here

)

 

Cà dei Frati is born in vineyards located on the southern shore of Lake Garda, in Lombardy Italy and is the symbolic wine of the company, which has made it known throughout Italy and the world.

 

Varietal: 100% Turbiana- an Italian white wine grape that makes fruit forward wines with high acidity and aromas, gentle salinity, and flavors of orchard and stone fruit. Vinification partly in steel and partly in barrique and an aging in barrique for 10 months.

 

Taste: Straw yellow tending to gold with a nose that reveals hints of ripe honeydew, peaches, yellow apples, fleshy roses with fresh and balsamic notes.
 

GROSJEAN "TORRETTE"

VALLÉE D'AOSTA PETIT ROUGE 2019

 

$29.00 (purchase it online 

here

)

 

Grosjean's Torrette, a traditional Northwest Italian blend anchored by the indigenous Petit Rouge cultivar, is charming and delicious in its youth but takes on more weight and gravitas with some bottle age.

 

Varietal: 80% Petit Rouge, along with Vien de Nus, Doucet, Furmin, and Mayolet. Vinification in both stainless steel and oak casks.

 

Taste: Buoyed by high acidity and snappy red fruit with a hint of green peppercorn, the wine is balanced by notes of crushed rocks and earth.
 

FORADORI

TEROLDEGO

VIGNETTI DELLE DOLOMITI 2019

 

$40.00 (purchase it online 

here

)

 

Winemaker and owner Elisabetta Foradori is regarded today as one of Italy's most important winemakers as well as a leader in the global natural wine movement as she has reinvigorated the Teroldego vineyards by completely rebuilding the viticultural practices of the region.

 

Varietal: 100% Teroldego a red varietal that originates from the vast Dolomites mountain range in northern Italy. A close cousin of Syrah, it thrives exceptionally well in a cooler climates and on soils of alluvial origin, rich in gravel and sand. Vinification includes 12 months in oak barrels.

 

Taste: Of medium weight and intensity, it gives off a lovely bouquet with notes of bright unripe red cherries, alternated with mountain herbs, crushed rocks and a pine note lingering in the background. The palate shows off the affect a cool continental climate on a grape varietal with snappy acidity and sharpness of fruit. Again, it's all about that red cherry front-of-palate. This red would be the perfect companion to an artisanal, house-made pizza with any toppings of your choice.