Posted on
By Mark Meissner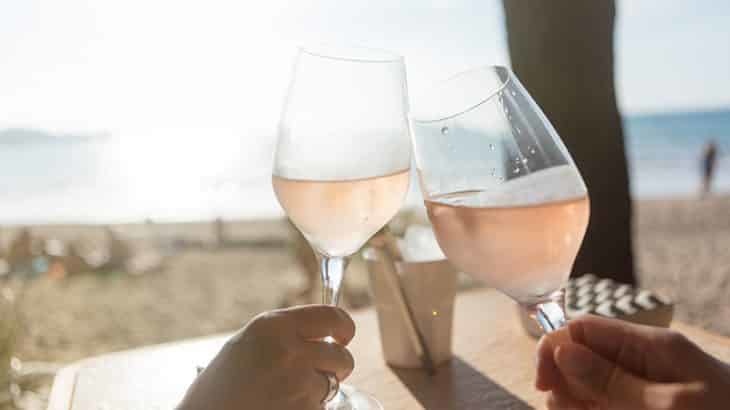 ROSÉ KINDA WEEKEND!
RoséFest Part Deux tomorrow night, a few tix remain.
Separate Rosé tasting breakaways, tonight and Saturday only.
The HEAT is on. And this weekend is all about Rosé! If you have signed up for RoséFest Part Deux, see you tomorrow at 6pm! A few 
tix
 remain for just $35 for TEN new releases and available for purchase 
HERE
.
If you can't make tomorrow evening's 
ROSÉFEST Part Deux
, join us tonight and Saturday for a smaller subset of the wines! Read on for the details and drop by starting tonight at 5pm.
Please mark your calendar, we have some great events on the horizon:
RoséFest Part Deux - Friday, June 24th
Back by popular demand - new Rosés just released! Get your tickets HERE before they sell out!
Bastille Day / Grande Tasting Tour of France - Thursday, July 14th
Grande fête and a celebration not to be missed!
Maison Gardet Champagne with Owner Christophe Prieux
Saturday, July 16th - Wine dinner @ FIN | FINO Uptown
Domaine Clerget with Winemakers Christian & Justine Clerget!
Wednesday, July 27th - Exclusive Burgundy event & dinner @ DRESSLER'S Metropolitan
Lastly, if you are a big fan of DOMAINE OTT Rosé, the wine arrives TOMORROW! If you'd like to reserve bottles, please CALL us at 704-332-9910. Our allocation is almost gone and we're the biggest supporter in the state!
See you soon and drink more Rosé!
Cheers,
Mark
PETIT PHILIPPE
Stewards for your wine journey℠
Stay up to date with our latest offerings on Instagram and Facebook!
This Weekend's Tasting: Rosé Breakdown!
If you can't make the BIGGER RoséFest Part Deux on Friday evening, join us tonight and Saturday for a subset of four wines:
Domaine Paul Thomas Rosé 2021 - $29
Sancerre, Loire Valley, FR
Idlewild "Flora & Fauna" Rosé 2021 - $29
North Coast, CA
Domaine Lafond "Roc-Épine" Rosé 2021 - $27
Tavel, Rhone, FR
Domaine Bastide Blanche Rosé 2021 - $33
Bandol, Provence-Alpes-Côte d'Azur, FR
Flight of 4 - $16 (2.5 oz. pours)
4:00 - 7:30pm Thursday ONLY
1:00 - 7:30pm Saturday ONLY
Friday evening is ROSÉFEST Part Deux, get your tickets 
HERE
 

Domaine Paul Thomas Rosé 2021

Sancerre, Loire Valley, FR

 

$29.00 (purchase it online 

here

)

 

Michel Thomas and his son Laurent took over the estate in 1970 from Michel's father, who started in 1946. The total production is less than 12,000 cases per year. They export 65-70% of their production, mainly to Japan and Russia. They farm 40 parcels located in four villages, across three soil types, focusing on the grapes of the area: Sauvignon Blanc and Pinot Noir.

 

Varietal: 100% Pinot Noir. Vines are 20-55 years old! Terroir (soil type) is a blend of "Caillottes" and "Terre Blanche". Everything is machine harvested (which means it is 100% destemmed). 50% Direct press + 50% Saignée (bled) with 12-24 hours of skin contact maceration with fermentation in stainless steel tanks.

 

Taste: Light, bright pink. Red currant, strawberry and chalk on the nose, with a touch of orange fragrance. Dusty red fruit and citrus flavors are braced by tangy minerality, which adds lift and cut. Uncompromising in the best way, finishing with excellent clarity and echoes of lemon and orange zest.
 

Idlewild "Flora & Fauna" Rosé 2021

North Coast, CA

 

$29.00 (purchase it online 

here

)

 

Sam Bilbro followed his love of all things Italian when he made the leap to create Idlewild Wines, which focuses entirely on Italian varities grown in California. Sam grew up in a winemaking family, as his father stared Marietta Cellars.

 

Varietal: Dolcetto, Nebbiolo, Barbera fruit mostly coming from Fox Hill Vineyard and Lost Hills Ranch. Soil is well drained with concentrations of gravel and sandstone and schist. It is unconventional for Nebbiolo, Dolcetto, Barbera, and Grignolino to be co-fermented for a Rosé. Grapes ripen at very different times and are whole cluster pressed, fermented via native yeast, left on all the lees and solids, and aged in neutral oak,

 

Taste: Aromatically subtlety, with grapefruit pith, tarragon, pomelo, chervil, minerality, alpine wildflowers, salty ocean air, and slight notes of fresh pine needles. The three varieties can all be seen in the structure: Nebbiolo lends the crunchy mineral structure, Dolcetto lends a delicate softness, and Barbera lends screeching acidity.
 

Domaine Lafond "Roc-Épine" Rosé 2021

Tavel, Rhone, FR

 

$27.00 (purchase it online 

here

)

 

Pascal Lafond's beautifully made wines from Tavel, Lirac and Chateauneuf-du-Pape are among the finest values the region has to offer. This 65-hectare family-run estate, located in the Rosé-only appellation of Tavel, produces what is widely considered (by Robert Parker, among others) to be the best Tavel available. Tavels have a great historic reputation, having been favored by King Louis XIV, as well as famous authors like Balzac and Mistral.

 

Varietal: 60% Grenache 60%, 10% Cinsault, 5% Syrah, 5% Carignan, plus Clairette, Picpoul, Bourboulenc, and Mourvèdre. Soil is rocky, sandy and lime/clay. Fruit is destemmed, then macerated for 24 to 48 hours and pressed. Tavels are always bone dry, but the high percentage of the fruity Grenache (30-60% of the blend by law) and Cinsault gives the wine charming aromas and flavors.

 

Taste: This wine has a very pure soft pink color. The dominant aromas are complex, red and white fruits mixing with floral tinges. With time these fruity aromas tend to mellow, with touches of spices and kernel-fruits, while the color turns into amber tints.
 

Domaine Bastide Blanche Rosé 2021

Bandol, Provence-Alpes-Côte d'Azur, FR

 

$33.00 (purchase it online 

here

)

 

Bought in 1972 in a case of love at first sight, the domaine was restructured to become a staple of the Bandol appellation. Michel and Louis Bronzo acquired Bastide Blanche with the goal of producing Bandol wines of comparable quality to southern France's more renowned appellations at the time. Today they are recognized as one of the top producers in the country. Low yields and an impeccable cellar help to create some of the most expressive wine of Bandol, the icon AOC of Rosé.

 

Varietal: 60% Mourvèdre, 20% Cinsault, 10% Grenache, 10% other white varieties. Environmentally friendly, the area is certified organic and uses no synthetic pesticides, and harvested off of vines growing in clay-limestone soil, fermented without added yeast during vinification,

 

Taste: Complex nose of exotic fruit, citrus and spring roses. It starts off broad on a structured palate but remains smooth and fresh. A good balance between fleshiness, tone and fruit. Notes of red berries, blood orange, and fresh cut herbs dominate this savory and balanced wine.