Posted on
By Mark Meissner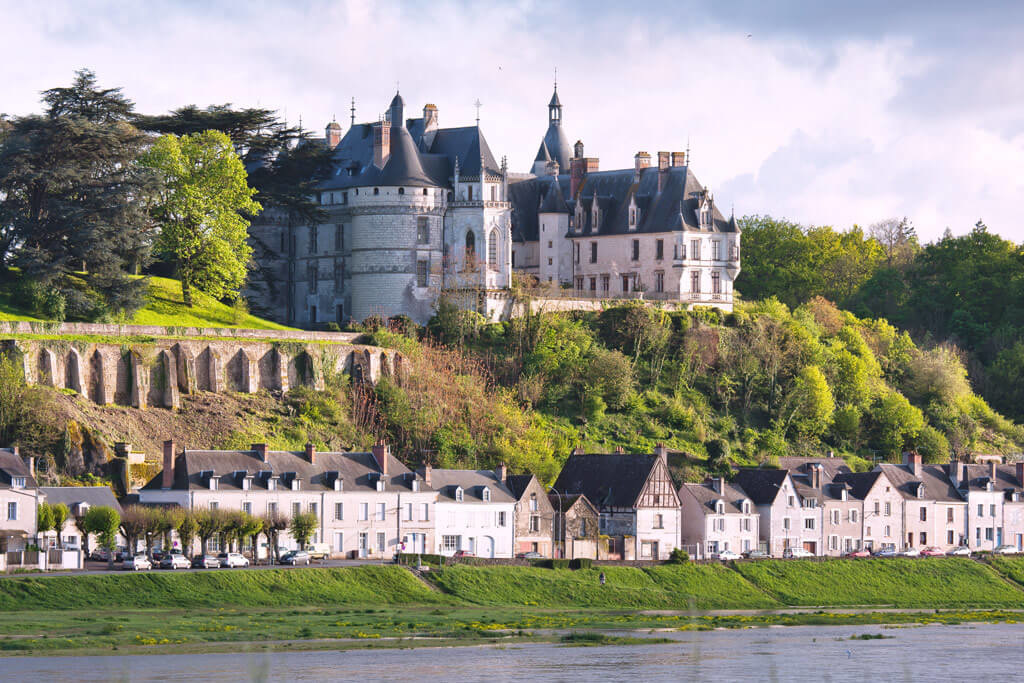 Happy Thursday!
Join us this afternoon and all weekend for a ride down the Loire River, past Chaumont-sur-Loire (above) and a virtual tour of this fabled valley of castles and vineyards. The Loire Valley is located in the middle stretch of central France, comprising about 800 square kilometers and boasts being the biggest area in France ever to be included in UNESCO's World Heritage list! And while the area is large and picturesque, the varietals are chiefly known to be Sauvignon Blanc, Chenin, Muscadet or Cabernet Franc. This weekend, however, we'll introduce you to a few other brilliant 'lesser-known-of' varietals from the LOIRE.
If you've been vaccinated, feel free to remove your mask, and sip with us, inside or out. Shop and sip without inhibition.
See you today and tomorrow for our LOIRE Valley lineup and read on...
Make it a great weekend and drink more Loire Valley wines.
With much gratitude,
Mark
This weekend's flight:
LOIRE VALLEY Varietal View
Flight of 4 wines: $20 tasting
Friday 5-8pm
Saturday 2-8pm
For this week's tasting, we'll be showcasing not the 'usual suspects' from the Loire valley, grapes such as Sauvignon Blanc, Muscadet, Pinot Noir and Cab Franc. We are going to take you to the road less traveled and go off the map with varietals and appellations that are the great sleepers of the region! Join us for grapes once forgotten and areas typicilly overshadowed by some of the bigger names in the region. We'll shepherd you down a new path of discovery with these unsung varietal heroes that helped shaped the region long ago. All of you foodies out there will love the versatility of these wines with any of your favorite dishes! Here's the lineup:
Domaine Benoît Daridan
Romorantin
Cour-Cheverny AOC 2014
$26 bottle
Denis Jamain "Domaine de Reuilly"
Pinot Gris Rosé
Reuilly AOC 2019
$25 bottle
Pierre-Olivier Bonhomme "La Tesnière"
Pineau d'Aunis
VDP Loire 2019
$44 bottle
Domaine des Hauts Baigneux
Grolleau Rouge
VDP Loire 2018
$31 bottle
 

Domaine Benoît Daridan

Romorantin

Cour-Cheverny AOC 2014

$26 bottle

 

For the first wine in our line-up, we introduce you to a little-known varietal called Romorantin, originally native to Burgundy. The story goes that King François 1er introduced this grape variety to the region in 1519 with the planting of vine stocks from Burgundy near his mother's castle in the town of Romorantin. After being planted in several different wine-growing areas, Romorantin thrived at its best around the village of Cour-Cheverny. It was actually so successful that it has become the exclusive grape variety for this appellation.

Flash forward to the 21st century and you'll find Benoît Daridan not only at the helm of his family's estate, but also as a frontrunner of the region's most gifted producers. Benoît is the 7th generation to make wine from this sleeper grape and we find that he does the best job at showing what Romorantin should really taste like. Quince, stone fruit, honey and flint stone make up the bulk of the intricate nose, all of which would make you believe this white wine to be overly ripe on the palate. Au contraire my friends, the acidity is so soft and helps reveal layers of complexity to a well-rounded white wine. Best to enjoy this beauty with a rich dish such as Truite aux Amandes (trout with almonds) or better yet, pan-seared pork medallions.
 

Denis Jamain "Domaine de Reuilly"

Pinot Gris Rosé

Reuilly AOC 2019

$25 bottle

 

Yes, you're reading the label correctlh, Pinot Gris Rosé! It is quite uncommon to find such a wine anywhere in France besides Alsace. However, a few plots of this delicious grape can be found sprinkled here and there in Burgundy and the Loire Valley. For the latter region, Denis Jamain is one of the few faithful growers that saw the grape's potential, in an area dominated by Sauvignon Blanc and Pinot Noir. His Pinot Gris is directly sent to the press where a very short maceration on the skins takes place to give it enough of that copper hue to the juice. This allows more flavor into the end product and we don't mind that one bit. Super elegant aromas of peach juice, dry pineapple lead the way on the nose and the palate is where the magic happens. Broad, dry flavors of the aforementioned descriptors coat your taste buds, and a surprisingly lush finish brings the wine into balance. Denis did an amazing job with this gem, and we can't wait to get our hands on more wine from his collection down the road. Did we mention that this rosé was our best-selling wine during our Roséfest tasting not long ago? Give it a whirl, you won't be disappointed! Food wise, pair with spicy chicken skewers, summer salad with ricotta or even a fresh fruit tart.

 
 

Pierre-Olivier Bonhomme "La Tesnière"

Pineau d'Aunis

VDP Loire 2019

$44 bottle

 

This is another one of those varietals that faced certain extinction, to make way for easier-to-market and easier-to-grow grape varieties such as (you guessed it) Sauvignon Blanc and Cabernet Franc. But thanks to the dedication of a few winegrowers who refused to see Pineau d'Aunis disappear, it is making a comeback with determination! For fans of Poulsard, Gamay, Pinot Noir and lighter Cabernet Francs, here is one you shouldn't miss. This red grape is light in body and color with softer tannins, but it is far from bland and boring. The acidity is perfectly dialed in, the array and complexity of aromas and flavors is so easy to come by and most importantly, its versatility in food pairings is unmatched. Fresh aromas and flavors of blackberries and figs with subtle hints of underbrush and licorice, all of it framed by a juicy frame without going sweet - think light tannins. Perfectly balanced, as all wines should be, we know you'll enjoy this lovely red! Pierre-Olivier Bonhomme knows how to wrangle this finicky grape to make it one-of-a-kind. With years of experience under his belt, he crafts wines from only the finest micro-plots that preserve Loire's small-time varietals. See for yourself why this is going to be the "new" red to keep on eye in the near future. Pair with anything from chicken, pork, beef, tuna, salmon, cheeses, charcuteries - the possibilities are endless.

 
 

Domaine des Hauts Baigneux

Grolleau Rouge

VDP Loire 2018

$31 bottle

 

To close out our tour of under-the-radar grapes from the Loire Valley, we had to go with a red variety...traditionally used to make rosé. Grolleau is the main grape in Rosé d'Anjou because of its thick skin, giving richer color to the wine. But Grolleau is seldom seen on its own as a true red wine. Wine critics and snobs alike have been giving it a bad reputation for years, saying it was a weak varietal and that it should be completely ripped out. We have a countering point of view. The Domaine des Hauts Baigneux is the brainchild of two lifelong friends, Nicolas Grosbois and Philippe Mesnier, who decided to buy up 12 hectares of vines right outside of Chinon. They do source the local stalwarts such as Chenin Blanc, Sauvignon Blanc and Cabernet Franc, but fondly manage a little Gamay and Grolleau! All of the fruit sourced for this bottling comes from the lieu-dit (said place in French) "Hauts Baigneux". As an homage to the unique terroir found here, they decided to name their venture after it and haven't faulted since. The proof of their passion and knowledge can be found in this alluring red which has bright aromas of polished cherry, tart red currant with just a hint of minerality layered in the background. At first sip, the acidity will jolt your senses, but each sip afterwards will be refreshing, thanks to light tannins and a nice medium body. It goes really well on its own, especially to beat the Summer heat, but can be enjoyed with a nice french goat cheese, falafels or even steak fajitas.
 

Domaine Tempier

Bandol Rosé 2020

Just in, call for availability!

 

Easily our most allocated Rosé and THE icon from Bandol.

 

From twenty-year-old vines in one of the most famous rosé regions in the world, this phenomenal wine drinks beautifully upon release, and will age for 10+ years.

 

Most rosé is produced with the intention of drinking immediately, we recommend saving a few bottles of this every vintage, to watch it evolve over the years.

 

Extremely limited (max 6-pks please), so this weekend is your time to pickup some up - next time is summer 2022.