Posted on
By Mark Meissner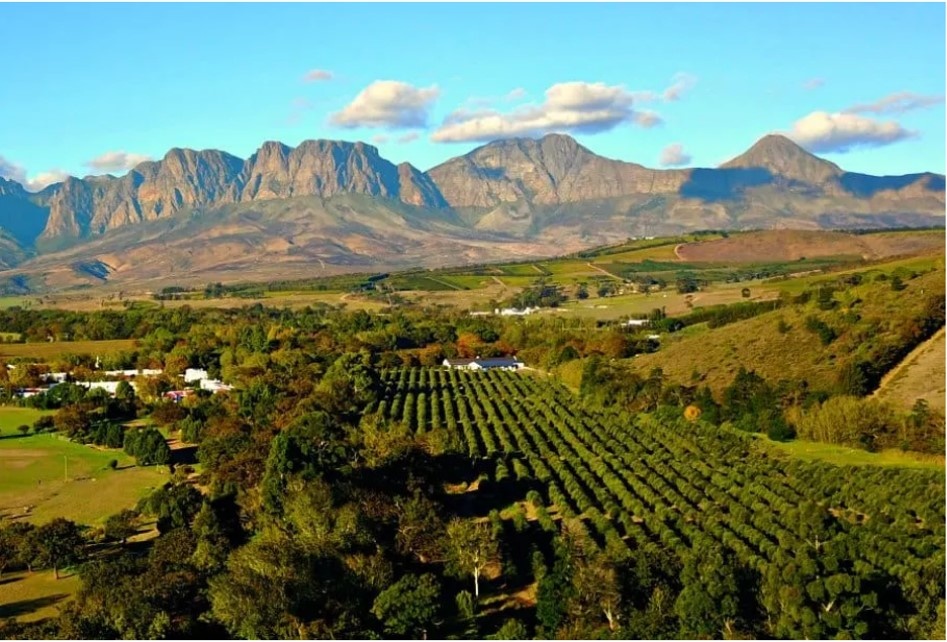 SOUTH AFRICAN EXCURSION
Discover a new favorite from the Western Cape
This week we take you on a wine excursion across the Western Cape of South Africa. Join us for a flight of wines from Stellenbosch and Hemel-en-Varde Valley, near Walker Bay. The estates being showcased benefit from southerly breezes and higher altitude vineyards, producing high expression varietal examples we believe will become new favorites on your wine journey. Our flight brings you the more notable grapes from South Africa - classic Chenin Blanc and a not-so-ordinary Pinotage, along with elevated examples of Chardonnay and Cabernet Sauvignon that highlight the brilliant wines of the Western Cape. We look forward to serving you and please read on for the deets - it starts Thursday evening and continues through Saturday. We will be closed tonight at 6pm for a private tasting. Thanks for understanding.
Please mark your calendar, we have some great events on the horizon:
RoséFest Part Deux - Friday, June 24th
Back by popular demand - new Rosés just released! Tix coming soon. Stay tuned for our announcement!
Bastille Day / Grande Tasting Tour of France - Thursday, July 14th
Grande fête and a celebration not to be missed!
Maison Gardet Champagne with Owner Christophe Prieux
Saturday, July 16th - Wine dinner, details forthcoming
Domaine Clerget with Winemakers Christian & Justine Clerget!
Wednesday, July 27th - Exclusive Burgundy event & dinner
In addition to the $25 tasting flight of four this week, we're also offering the wines in a package set on deal. You will find the South African wine 4-pk on sale this week for $185.25 
here
.
See you soon and drink more South African wine!
Cheers,
Mark
PETIT PHILIPPE
Stewards for your wine journey℠
Stay up to date with our latest offerings on Instagram and Facebook!
South Africa - Western Cape, Primer
This week, we take you on a virtual wine tour of South African wines from the Western Cape. So grab your crisp glass of Chardonnay and join us for an excursion to the Winelands. The Western Cape is South Africa's main wine-producing region and is not far from the center of Cape Town. Here you'll find lush, green vineyards surrounded by majestic mountain ranges. Dating back 350 years, the Cape's wine areas are divided into six regions encompassing 26 districts, but our tasting this week will focus on heavily on Stellenbosch, along with the lesser known enclave known as the Hemel-en-Aarde Valley, in the Walker Bay district. Here's some background on these two regions, to prepare you for the flight:
Stellenbosch is one of the most popular tourist destinations for wine tasting in the Western Cape. Steeped in history, the district features some of the best examples of Dutch architecture and is home to more than 150 wine estates and producers. Stellenbosch is known for the quality of its blended reds and produces wines from almost all the grape varieties. The Stellenbosch region is also where Pinotage was born in 1924 from a crossing of the Pinot Noir and Cinsault wine grape varieties. French Huguenots were the first to plant vines in the Stellenbosch region in the 1690s and the region is still at the forefront of the growth in the country's wine industry, home to nearly a fifth of all South African vines today. The Stellenbosch region's mountainous terrain, good rainfall, well-drained soils and diversity of terroir make it one of the most sought after viticultural areas in the country for both winemakers and visitors alike. The region is divided into a number of wards and several unofficial areas, which each has its own distinctive terroir. Its hot, dry climate make it ideal for producing premium red-wine grapes. Cabernet Sauvignon dominates plantings, but Merlot and Shiraz are also widely planted. Cool breezes from False Bay cool down the vineyards nearer the ocean, where white Sauvignon Blanc and Chenin Blanc find their homes.
Hemel-en-Aarde is home to about 20 wine producers (and growing) and there are several factors that, in combination, set it apart from other South African wine producing areas. Firstly, the Hemel-en-Aarde is an area of unusual grape varietal focus for South Africa where plantings are overwhelmingly made up of Pinot Noir and Chardonnay. Secondly, there are no large volume producers and production is on average small and very high-end. In terms of the number of trophies, classic scores, gold medals and 5 star ratings per case of wine produced, the Hemel-en-Aarde is unmatched. Thirdly, the properties are almost all family owned and operated, by the families that pioneered them from unplanted ground. Unusually close proximity to the cooling influence of the South Atlantic Ocean and a more southerly location than the traditional South African winelands, makes the Hemel-en-Aarde one of the coolest, most maritime, wine producing areas in the country.
This Weekend's Tasting: South African Varietal Expedition
Join us Thursday through Saturday for a tasting flight of four carefully curated wines:
DeMorgenzon Reserve Chenin Blanc 2020 - $46/btl retail
Stellenbosch, South Africa
Hamilton Russell Chardonnay 2021 - $50/btl retail
Hemel-en-Aarde Valley, South Africa
Kanonkop Pinotage 2019 - $50/btl retail
Stellenbosch, South Africa
Boekenhoutskloof Cabernet Sauvignon 2014 - $49/btl retail
Stellenbosch, South Africa
Flight of 4 - $25 (2.5 oz. pours)
4 :00 - 7:30pm Thursday - Friday
1:00 - 7:30pm Saturday
 

DEMORGENZON

RESERVE CHENIN BLANC 2019

STELLENBOSCH,SOUTH AFRICA

 

$46.00 (purchase it online 

here

)

 

New world Chenin Blanc that speaks to the quality of wines being produced in Stellenbosch Valley near Cape Town, South Africa. This DeMorgenzon Reserve offering strikes a brilliant balance between lush fruit and crisp, mouth-watering acidity.

 

Varietal: 100% Chenin Blanc from low-yielding vines planted in 1972 at 250 to 300 meters above sea level within close proximity to False Bay (ensuring cooling breezes in the warm summer months). Handpicked fruit that was cooled and gently pressed whole bunch. Fermentation occurred naturally in French oak barrels (20% new), using indigenous yeasts, with about 20% of the volume completing malolactic fermentation. 

 

Taste: This white displays effusive aromas of white flower, stone fruit, honey and toast which erupt into opulent flavors of Asian pear, orange blossom, caramel, and cedar spice. Lengthy pleasant finish that evolves after opening.
 

 

HAMILTON RUSSELL VINEYARDS

CHARDONNAY 2021

HEMEL-EN-AARDE, SOUTH AFRICA

 

$50.00 (purchase it online 

here

)

 

Regarded as one South Africa's best Estate producers, Hamilton Russell has a storied history of harnessing Chardonnay's true identity that few outside of France have been able to accomplish. Full of complex, layered elegance, purity and mineral liveliness.

 

Varietal: Chardonnay with 9 months of barrel aging. This vintage was later and cooler than usual with fruit quality and acidity at exceptional levels that stand out for their complex, layered elegance, purity and mineral liveliness.

 

Taste: Orange cream, fruit pith, and lime zest aromas and flavors are brought beautifully into focus by a tight line of bright natural acid and a long, dry minerality. An elegant, yet textured and intense wine with a strong personality of both place and vintage.
 

KANONKOP

PINOTAGE 2019

STELLENBOSCH, SOUTH AFRICA

 

$50.00 (purchase it online 

here

)

 

Kanonkop Wine Estate, considered one of South Africa's First Growths, highlights Pinotage's sense of place as a native grape varietal by producing a vibrant and sultry wine with a lingering finish.

 

Varietal: 100% Pinotage grown as bush vines only. Fermented in open top concrete fermenters with three days of skin contact. After malolactic fermentation the wine is matured for 16 months in 80% new and 20% second fill 225L French oak barrels.

 

Taste: Vibrant aromas of blueberries, ripe plums, black cherries, and vanilla on the nose. The palate is sultry and luxurious, with densely packed flavors of berry compote, wild plum and savory notes. Ripe tannins are beautifully intertwined between the layers of fruit, adding a dense and broad texture to the wine. The subtle spicy tone and plush black cherry finish completes a very elegant and age-worthy wine.
 

BOEKENHOUTSKLOOF

CABERNET SAUVIGNON 2014

STELLENBOSCH, SOUTH AFRICA

 

$49.00 (purchase it online 

here

)

 

The Boekenhoutskloof label features seven chairs that pay tribute to the 18th century craftsmen who created beauty from nature, in the pursuit of fine winemaking. Claret like in its profile, this Cabernet exhibits richness, texture and elegance.

 

Varietal: 92% Cabernet Sauvignon, with 8% Cabernet Franc. Once the grapes are hand-harvested and undergo primary fermentation, racking occurs regularly and the wine is left to age for 27 months in 100% new French oak barrels to ensure the structure and depth of fruit.

 

Taste: Dark cherry color with light herbal nose and a long finish. Brilliant red that balances power and finesse. Wild berry, stewed dark fruit, fig, and cassis with spicy notes abound. The tannins are refined, well integrated and suggest the wine is ready to be enjoyed now given the vintage age.