Posted on
By Mark Meissner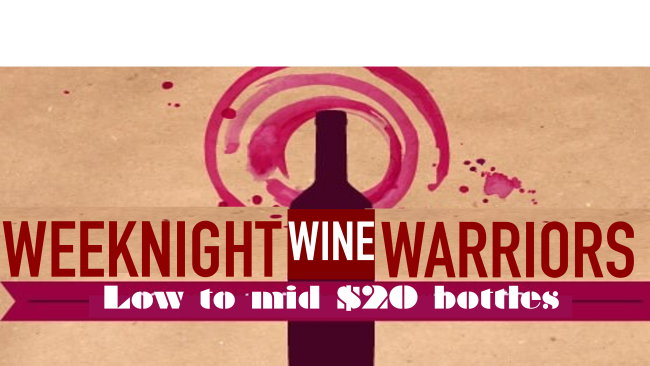 This week we bring you a special focus on what we've term'd over the past decade as "weeknight wines"... starting tonight and for the rest of the week!
These are $20 to mid $20s bottles which we also might call Monday, Tuesday or Wednesday night wines.... the good news is, we'll be showing them all week and through Saturday. So stop by - we'll be pouring from California, France, Italy and Spain - two whites and two reds that will ABSOLUTELY delight you, and without breaking the weeknight wine budget. Join us. Special 'stock up' case pricing on orders!
Autumn is now just about a week away, which means LOTS of great new arrivals for the season. If you'd like to subscribe to our seasonal premium allocations (released weekly), please email me.
Here are some of our upcoming tasting room events, please make note:
WEEKNIGHT WINE WARRIORS SEPT 15-18
FAR MOUNTAIN WINERY with Christophe Courteaud FRI SEPT 24TH !
FALL HARVEST GRAND BURGUNDY TASTING SEPT 25 + OCT 2 (for more information, please email me)
PAX! Producer Probe/New Releases OCT 7-9
Come taste with us anytime, this week: Wednesday thru Friday from 5pm to 7:30pm and all day Saturday afternoons from 1 to 7:30pm. It's always changing every week as we focus on regions, grapes and producers to further your own personal wine journey.
With much gratitude,
Mark
This week's focus:
Weeknight Wine Warriors
Flight of 4 wines: $15 tasting!
Here is the line-up, in planned pour order:
Marchetti
Verdicchio dei Castelli di Jesi Classico 2020 - $20 !
Château Lestrille
Entre Deux Mers Blanc 2020 - $20 !
The Paring
California Red Blend 2016 - $27 !
El Coto "Coto de Imaz"
Rioja Reserva 2016 - $27 !
$15/flight of three
Full 2.5 oz, half glass pours
WED/THURS/FRI: 5-7:30pm
SAT: 1-7:30pm
 

Marchetti

Verdicchio dei Castelli di Jesi Classico 2020 - $20

 

Winemaker Maurizio Marchetti is the great-great grandson of an Italian spice trader who whose many passions included wine and Chinese silks. Five generations later, he's now a master vintner like his father, the man who helped establish the Marche region's prestigious Conero DOC.

 

This low yielding Verdicchio is a hallmark of the varietal, with refreshing citrus fruits, playful acidity, and complex minerality. Made only with juice from a gentle half-press, it is precise and lovely, well-deserving of the storied Marchetti name.
 

Château Lestrille

Entre Deux Mers Blanc 2020 - $20

 

The area of Entre-deux-Mers, south of St. Emilion and Pomerol and north of Sauternes, is known for producing light, crisp white wines that pair perfectly with oysters, light fish dishes or simply by the glass.

 

Estelle Roumage's version is made with 70% Sauvignon Blanc, 10% Semillon, 10% Sauvignon Gris and 10% Muscadelle.

 

This dry white is complete with notes of grapefruit and savory herbs, and makes for an uncomplicated, yet very tasty glass of wine!
 

The Paring

California Red Blend 2016 - $27

 

This Cabernet-inspired blend displays classic notes of cassis, tobacco and chocolate. Focused fruit and shapely tannins shine as hallmarks of what we've come to expect from the sandy soils and slightly cooler climate of these outstanding vineyard sites.

 

50% Cabernet Sauvignon, 20% Merlot, 20% Cabernet Franc & 10% Petit Verdot

 

Winemaker notes: Fills the palate with bright red fruit and black plum. A constant play between sweet and savory. Gentle and dusty tannins lead the way into an incredibly long and precise finish. Mulberry and a wonderful tension between tannic structure and bright acidity. Balanced and refined, a study in elegance!
 

El Coto "Coto de Imaz"

Rioja Reserva 2016 - $27

 

Winemaker Notes:

Intense cherry color with garnet edge. On the nose, powerful aroma, complex, ripe fruit and fine cocoa. Fleshy on the palate, powerful, velvety, with ripe tannins and good acidity.

 

Supple and graceful tannins encase the cherry tart, violet and cola notes of this mocha-tinged red. Accents of loamy earth, anise and herb sail on through the finish.

 

A brilliant choice to accompany game, red meat and almost any protein for the grill!