Posted on
By Mark Meissner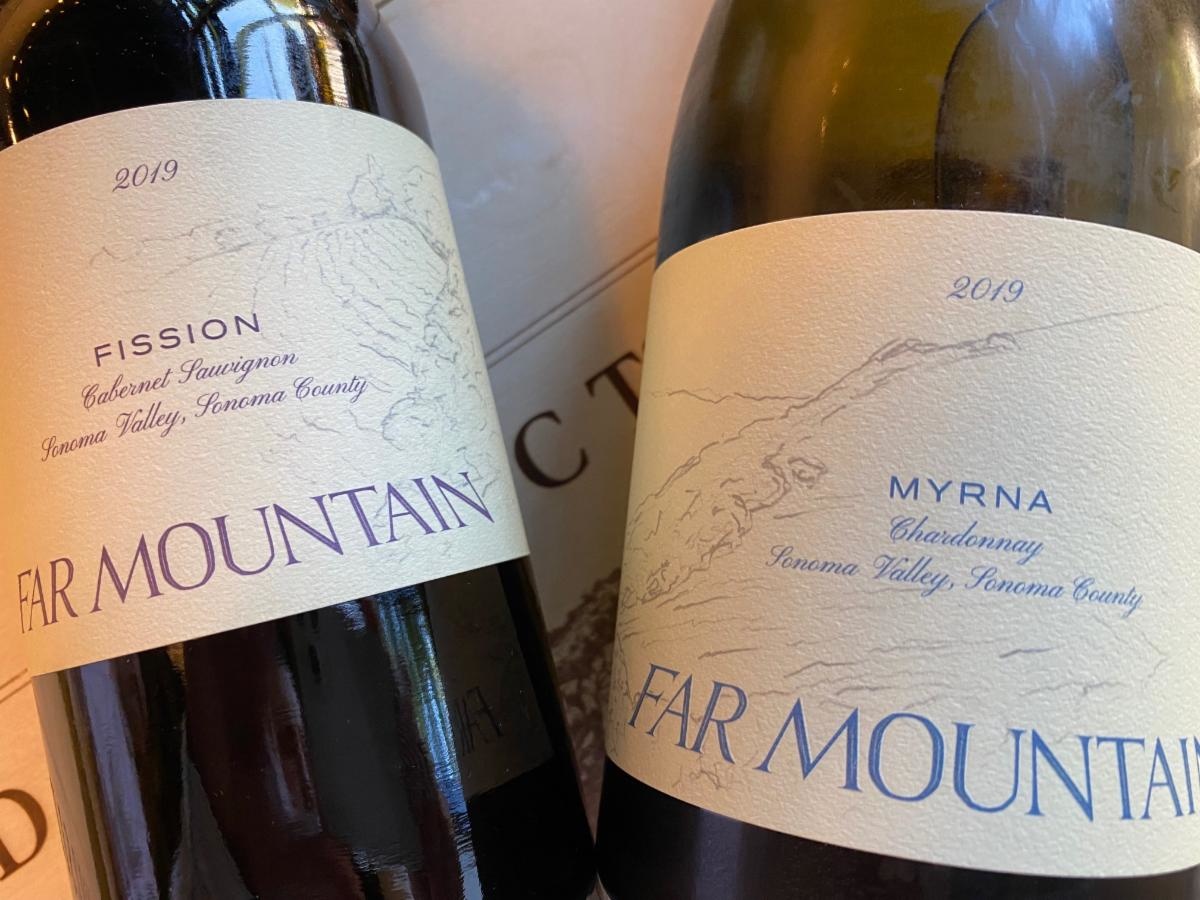 FALL IS HERE! And the weather outside is awesome. This week we bring you a NEW label to the shelf, FAR MOUNTAIN! It's a special focus this week, starting tonight and for the rest of the weekend. We'll be pouring in tasting, flight and glass format all weekend... And if you love a deal, drop in tomorrow from 5:30-7:30pm and taste for free with brand ambassador, Christophe Courteaud. We're THAT excited about this brilliant new effort from Sonoma.
Over the last three decades, Mai Errazuriz and husband Rodrigo Soto have worked for a number of leading wineries in North and South America. The duo founded the winery based on the belief that some of the greatest potential for wine in California exists in remote pockets in the mountains of the Sonoma Valley. We will be pouring the Far Mountain Fission Cabernet Sauvignon and the Myrna Chardonnay. Both incredible expressions of mountain fruit from some brilliant vineyards. Read on and don't miss this one!
Here are some of our upcoming tasting room events, please make note:
FAR MOUNTAIN WINERY SEPT 23-25
Gratis tasting & visit w/ Christophe Courteaud FRI SEPT 24!
PAX! Producer Probe/New Releases OCT 7-9
Bordeaux 2018: 2nd labels of grand cru classé OCT 14-16
Vineyard29! Vintner Event: Oct 15
Exploration of the Northern Rhône Oct 21-23
Halloween in Cali: Central Coast Varietal View Oct 28-30
Come taste with us anytime, this week: Wednesday thru Friday from 5pm to 7:30pm and all day Saturday afternoons from 1 to 7:30pm. It's always changing every week as we focus on regions, grapes and producers to further your own personal wine journey.
With much gratitude,
Mark
This week's focus:
FAR MOUNTAIN WINE
A special showcase with Christophe Courteau of VINTUS, ambassador to FAR MOUNTAIN winery. Meet with Christophe friday evening from 5:30pm to 7:30pm and enjoy a gratis tasting! OR... drop in tonight, tomorrow and Saturday for one of the following options:
TASTING of 2 wines: $10 tasting!
(1-1.5 oz tasting pours) - free, on Friday! Until supplies run out!
FLIGHT of 2 wines: $17 flight!
(2.5 oz half glass pours)
($15/glass for the Far Mountain Chardonnay 2019)
($19/glass for the Far Mountain Cabernet 2019)
See the wine descriptions and winery primer below!
AND... if you're still on the fence, as mentioned, we're so enthusiastic about these wines that you can come in Friday evening and meet with brand ambassador, Christophe Courteaud and taste for FREE... from 5:30-7:30pm (FRIDAY ONLY) and only while supplies last...
Tastings/Flights and glass pours happen:
WED/THURS/FRI: 5-7:30pm
SAT: 1-7:30pm
FAR MOUNTAIN, Primer!
Far Mountain is based on the belief that some of the greatest potential for wine in California – and anywhere in the world – exists in remote pockets in the mountains of the Sonoma Valley. The growers the winery works with have taken decades of risks in both planting their vineyards and the farming choices they make today. The winery's work is to channel the drama of these surroundings into wines that dazzle with energy and stand out immediately. Wines that bring a sheer pleasure in their flavors and textures, as well as unfold slowly, with never ending detail and fascination. It is a specific vision, literally chiseled by the landscape.
Isolated. Awe-inspiring. Pulsing with beauty. If you have walked in the mountains of the Sonoma Valley, you know the feeling: warm sunlight filtering through groves of redwood and oak. The mellow golden fields of grass. The coolness in the breeze, an echo of the Pacific. The scents that you seem to absorb through your skin. The theater around you is so immense, yet you feel the scene is intimately yours. You linger because you don't want to come down. You will not happen to drive by the vineyard sites Far Mountain works with and, in some cases, you will have trouble even finding them on a map. They are each tucked away and part of a greater environment, with both extreme beauty and extraordinary winegrowing characteristics that cause anyone who sets foot to shake his or her head in wonder. 
Over the last three decades, Mai Errazuriz and her husband Rodrigo Soto have worked for a number of leading wineries in North and South America. Far Mountain is a name they chose in trying to describe the vineyard sites they work with and the greater settings in which those vineyards lie. There is a beautiful symmetry in these places, in that they are not only special sites for wine growing, but places they were physically drawn to because of their splendor. It would be a dream to take everyone who tries their wines and bring them up, for example, to Bald Mountain. It is truly one of the beautiful places on this planet, a place that for three decades Mai and Rodrigo had passed within 3 miles of on a nearby road but never had an inkling existed. Those last 3 miles took a lifetime to travel, but from the first visit that place gave them the same sense of elation they've felt traveling around the world and coming upon other areas of extreme beauty. A hyper awareness of the physical present, of the sound of shoes on dirt and stones, of the direction of the wind.
In that sense, the name Far Mountain also represents a journey. It came about because of an almost far-fetched opportunity that Mai and Rodrigo dove into without second thought. And it's a new journey now, seeking to make wines that bring that sense of wonder that truly great wine can achieve – a pure physical pleasure, and also a summation of place, experience, planning, and chance.
Where the Chardonnay is grown: BALD MOUNTAIN & THORNTON VINEYARD
Heading west up the Oakville Grade from Napa, or coming east on Trinity Road from Sonoma, is one of the rights of passage when you first visit Napa and Sonoma. Incredibly steep and full of twists and turns, you climb from one valley into the mountains and extraordinary redwoods of the Mayacamas range and come down into the other valley. The 11 miles take about half an hour. Halfway up, at the peak of the ridge, there is a side road that even those who have crossed the pass many times will not have noticed. You already feel remote within the majestic surroundings, but as you take the small side road and head north up the ridge, you feel you are in uncharted territory. The road leads to Bald Mountain, the second highest peak in the mountain range, and another steep side road sweeps you to the west side of the peak, where nestled into it you find one of the most stunning vineyard settings imaginable.
Planted in 1972, Bald Mountain vineyard is remarkable. In a cool bowl at the bottom of the site we found exactly what we were looking for in Chardonnay plantings. The vineyard is planted to heritage California clones that we believe thrive in poor soils, and develop a true depth of texture and flavor. Vines grow on pure fractured and tectonic rock, which is truly a dramatic sight. This mountain factor is very present in the finish of the wine, its chalkiness, salinity and minerality translating in a bright and genuine way.
Thornton Vineyard, the second source for Myrna, is one that excites us equally and adds a dimension that we believe Sonoma achieves almost uniquely well in California: Chardonnay carved by the combination of Pacific Ocean influence and vineyard altitude. The vineyard lies directly west of the town of Sonoma, at the southern base of Sonoma Mountain in an area that falls under both the Sonoma Valley and Sonoma Coast appellations; this apt crossroads describes the various elements that make this vineyard so interesting. The vines here, nearly thirty years of age, look east and capture a ripeness that balances the wine on a knife's edge. The wine bursts with brightness and citrus, with a firm mineral backbone.
WINEMAKING
The grapes were whole cluster pressed at fractional pressures, collected separately, and left to settle for 24-36 hours. The objective is to expose the must to oxygen at this stage, for elements prone to oxidation to drop out, and to have multiple pressings to follow through the aging process.
The must then goes right to barrels, 18% of which were new, with 1, 2, 3 and 4 year old barrels making up the rest of the total. There is lees contact throughout the aging, with stirring a bit more frequently early in the aging, down to once a month near the end. These phenolics from the lees, accentuated by the thick skins of the old Wente clone from Bald Mountain, develop into the notably sappy yet soft texture of the wine. 30% of the wine went through malolactic fermentation and we can say, as with the percentage of new oak as well as the aging – 1 year rather than the 16-18 months that might be expected – we believe that over-influencing the wine in any dimension detracts from the inherent qualities we feel every time we taste.
Where the Cabernet is grown: The ALTA VISTA VINEYARD
As you leave the town of Sonoma and head north into the hills of the Mayacamas mountain range that separates Sonoma from Napa, within a mile and a half you are on a narrow, rutted road at the bottom of a valley, sparsely populated, and then you start climbing, and find yourself almost entirely surrounded by forest, scrub and rock.
When you close the car door and turn to look up at the Alta Vista vineyard, it's like striding across a stage and looking up at the lights and rising rows of an audience. It feels like you are in an ancient Roman amphitheater, a player on stage, with the terraced row of vines looking down on you.
The vines at Alta Vista are fully adapted, they are truly part of the site. They are old — fifty years old — which is exceptional by California standards. They come from a different era, planted on St. George rootstock (also difficult to find nowadays) but who can argue with the choices made at a time when scientific understanding of viticulture was almost primitive compared to today. Because these vines have still never been irrigated (again, extremely rare in the region), they produce beautiful fruit at twice the age most vines in California have to be replanted. They adapt to the influences of weather, and their deep root systems (20-40 feet down) bringing layers of complexity to the fruit development. The bedrock of volcanic origin contains more than just basalt, it is also made up of a lot of fractured and decomposed granite. The beauty of the mountain factor is very present in the wine, through its structure, its earthiness, chalkiness, mineral and graphite character, and above all a very defined structure.
WINEMAKING
The Cabernet Sauvignon is handled extremely gently, more similarly to the way many producers handle Pinot Noir. Specifically, the clusters are destemmed with the aim of keeping whole berries, and then go into open top fermenters. Limited punchdowns and pumpovers are carried out depending on the stage of fermentation.
The wine essentially settles and macerates, rather than forcing extraction. This approach is entirely dictated by the Alta Visa site. The site has so many expositions, and we believe either has some other varieties (Cabernet Franc) or because of age has Cabernet mutations that behave differently. They want to gently accentuate all these complexities, and the intense fruit and general velvety plushness that the grape tannins show even on the vine don't need further enhancement.
The wine goes to barrels that are 27% new, mainly from two cooperages, and the remainder are 1, 2 and 3 year old barrels. The aging is also restrained, 1 year instead of the 18-24 months you might expect, as they do not want to extract too many oak flavors from the barrels, and believe the details of the site and the structure provided by the elevage need to be maintained rather than overwhelmed. The wine is never racked until final blending before bottling.
The end result is a wine with not only deep and pure fruit, but rich savory and earth tones, and a finishing minerality that is almost saline. That precise and complex aftertaste, defined by far more than fruit flavors, is where you find truly great wines.
VINTAGE
2019 was a spectacular vintage — an amplified version of the 2018 growing season in terms of slow, steady growing conditions, perfect balance in the vines, slow ripening, great concentration and bright acidity. The beauty of these old vines is that because they are so well established, the vines become fully ripe with less accumulation of sugar.
 

FAR MOUNTAIN

Myrna Chardonnay 2019

$59/btl

 

Myrna's focused intensity of fruit and texture reflects its two extreme mountain and hillside vineyard sites. The word Myrna translates to "beloved", a reflection of Far Mountain's feelings about truly great Chardonnay: wines that can translate from their sites intense minerality, texture and a dazzling spectrum of flavors.

 

TASTING NOTES:

Myrna combines Bald Mountain's surprisingly delicate floral notes that move quickly to ripe yellow and more exotic fruits with salty, lime and green fruit-inflected notes from Thornton. The sappy texture of the wine makes its presence felt, and this grows into a more defined and powerful structure with layers of spice persisting through the finish, with a beautiful clear lift.
 

FAR MOUNTAIN

Fission Cabernet Sauvignon 2019

$75/btl

 

Fission is a pure mountain wine, with a dark depth of fruit chiseled by the cool elevation of its two vineyard sites. A wine of texture, with the intensity and sappy concentration we associate with old vines, it builds into powerful tannins that remain refined, almost cloaked by the seductiveness of the fruit and the gently building structure. The name Fission was ultimately chosen to reference the textural and mineral characteristics that the unique volcanic soil brings to this wine.

 

TASTING NOTES:

From the first tastings the character of the vineyard appeared: a beautiful and intense ripeness of black fruits, with a seamless, soft and silky flow through the mid-palate. There is not just fruit, but obvious earthy and mineral characteristics. And it is a wine of texture, with a sappy concentration that we identify with old vines. A build into powerful tannins that remain refined, almost cloaked by the seductiveness of the fruit and the gently building structure. The name Fission was ultimately chosen to reference the textural and mineral characteristics we believe the volcanic soils bring to the wine.