About us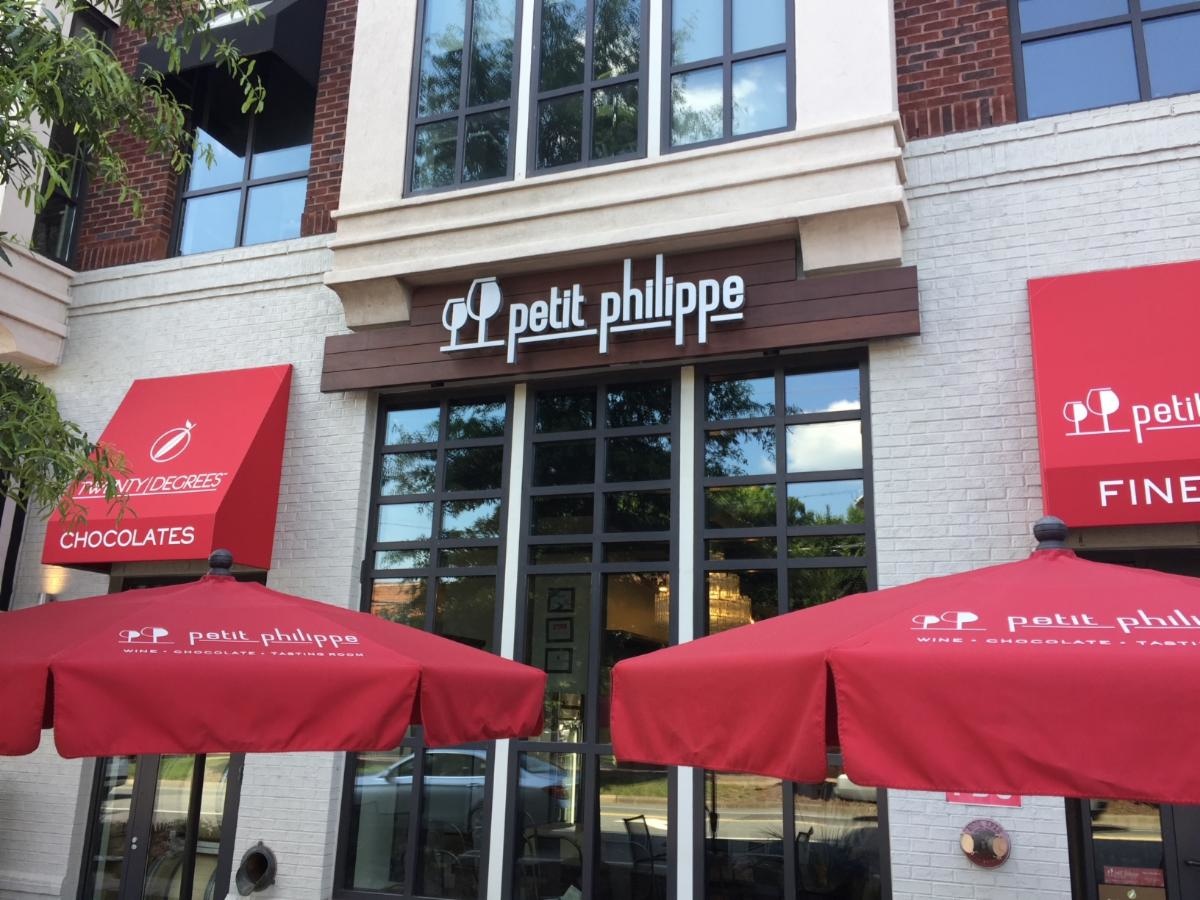 Welcome to Petit Philippe! If you're taking the time to read this section, you probably love wine, chocolate and other small but indispensable indulgences. We share your passion for the sweet life and appreciate your interest in Petit Philippe. We're Mark Meissner and Casey Hickey – husband and wife, corporate refugee cum wine aficionado and pastry chef/chocolatier, and proprietors of Petit Philippe. Mark oversees the wine selection and wine tasting room while Casey creates the house-made, small-batch artisan chocolates and confections under her brand, Twenty Degrees Chocolates.

Petit Philippe is our brainchild. Our passion. Our business. The culmination of years of dreaming, what-iffing, and expounding on an idea hatched over a romantic dinner and too much wine in Strasbourg, France, just hours before we became engaged. It's our leap of faith, and some may say evidence of our dwindling sanity. It's the thing we decided we simply must do if we're to look back in 20 years and have no regrets. As parents, it's our way of truly living what we hope to teach our sons, Max and Michael, about finding meaning and joy through work. That life isn't about what you do, but rather what you do with it. So we hope you'll receive our invitation to share in our appreciation for the transcendent power of honest, delicious, soulful wine and food.
 
PROPRIETORS
Mark is a San Francisco Bay-area native and the son of German immigrants. Before launching Petit Philippe, his work in finance took him around the globe, including a two-year stint working in Grenoble, France. It was in Grenoble that Mark's real passion for wine was stoked and, incidentally, where he befriended Philippe, our company's namesake! Since returning to the States, Mark has learned the art and science of garage winemaking and furthered his passion for wine while living in San Francisco and Marin County – a quick drive to California's famed wine country. He has achieved Level One Sommelier status through the Court of Master Sommeliers and is currently working on his Level Two preparations for the Court of Master Sommeliers exam.  Mark also continues to hone his wine knowledge every day in the shop. His love of wine and his generous spirit really shine in the tasting room when he's waxing poetic about a particular vintage or helping a customer find just the right bottle to mark an occasion or create a special memory.

Casey grew up in Greensboro, graduated from Carolina and lived in Philadelphia, Washington, DC, and finally San Francisco – where she met Mark. After years of living a double life – weekdays in an office working as a fundraiser, nights and weekends scouring cookbooks, hosting dinner parties and making wedding cakes – she had an 'early mid-life epiphany.' At the age of 35, she quit her perfectly good job in San Francisco and, at Mark's urging, moved to Paris to attend pastry school. After an intensive course of study at Le Cordon Bleu, coupled with months of 'research' exploring the city's patisseries and chocolateries, she earned her Diplôme de Patisserie. She has since worked in several Bay Area pastry kitchens, and earned her Professional Chocolatier certification from Ecole Chocolat. She brings passion, joy and humor to her creations and is grateful every day for the chance to do what she loves.